Mayo's good…
IN THE LEAD up to this game, we said the Connacht champions had to tick several key boxes to give themselves a chance and they did just that. We worried about their finishing ability but if Cillian O'Connor wasn't steady over deadballs not only would it hurt them on the scoreboard, it would hurt them in open play as well. If the opposition believed it was a weak spot, it would have given them an excuse to foul and thus, it was important that the full-forward laid down a marker early.
Within 10 minutes he had nailed his first two from way out the field and not only that, he did it into Hill 16. Thereafter, the crowd quietened and O'Connor spent the rest of the day doing the same. It was crucial and the sign of a player at the top of his game as his technique passed the pressure test.
But just as important was what Mayo did after he sent those scores over and indeed often it was O'Connor orchestrating those around him in a way we'd have expected from an older head like Andy Moran were he fit. Every time the ball went dead at Stephen Cluxton's end, the Mayo front six were quick in getting tight on their men, forcing the kickouts to go long. Dublin may have won some of those kickouts but Denis Bastick and Eamonn Fennell were the players coming down with the ball and they lacked mobility to the extent they were bottled up and turned possession over. That hurt the favourites more than anything in the first half and it was in a large part down to what Mayo were doing in front of the Dublin goalkeeper.
While it gave Mayo plenty of ball to break with, credit them for they made the most of it across the first 50 minutes. They played an orthodox game and Lee Keegan and particularly Richie Feeney got on a mound of ball and broke forward from wing-back. In doing so they gave the Mayo attack width and an overlap and it caused huge trouble for a narrow Dublin defence.
But if their gameplan was good, so was their toughness. In the second half Rory O'Carroll tried to haul Enda Varley off the ground after the corner-forward was taken out. It was an incident so similar to the league final when Noel O'Leary dangerously did the same thing to Donal Vaughan. But there was one key difference. This time Mayo weren't going to be pushed around and they arrived with numbers and were up for the fight. They were the better team and crucially, they weren't going to be bullied out of that role.
Mayo's bad…
It was so spectacular it can be hard to get your head around the fact that this was just a semi-final, nothing has been won and the county needs to calm down. It made James Horan's logical assessment of proceeding afterwards all the more impressive. But if part of that is down to his level-headedness, another part was down to the last 20 minutes because during that time, and there's no other way to say this, Mayo choked and only David Clarke's brilliant shot stopping kept them from their most spectacular collapse.
Worse still, that spell went against everything Horan has tried to do for this team. In 1996, he has previously noted that he and his teammates  lost that All Ireland to Meath because of technical deficiencies. They made the wrong handpass with the right because they couldn't make it with the left and it put them on the back foot, and they held the ball and got bottled up because they couldn't make a kickpass of 20 yards. Because of that, for the last two years Horan has worked on Mayo's most basic skills.
The improvements were very visible for the most part but Mayo's choices towards the finish were appalling as they reverted to type under huge pressure. They missed two goal chances when they just needed a point to seal the win and then there was Alan Dillon. Late on, he received the ball on the right touchline and when he looked up he saw three unmarked Mayo men on the other side of the field, completely free and close to goal. But he went for a short, easy pass which he mishit and only Clarke's save from Eoghan O'Gara seconds later stopped it from being the defining moment of the day and possibly the defining moment of Alan Dillon's impressive career.
If they fear victory in the final and it makes them take the wrong options, Mayo won't get lucky a second time.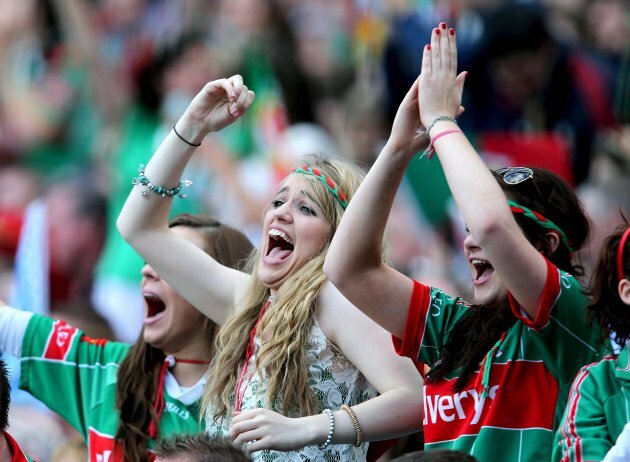 (©INPHO/Lorraine O'Sullivan)
And Mayo's ugly
There's no avoiding this. Just as there's no avoiding that it's a major part of the game. In Ulster, we saw Donegal at it. In the Tyrone game in particular we saw Kerry at it. And had Dublin been in a similar position, we reckon they might have gone at it too. But Mayo's cynicism across the last quarter was no pronounced that it almost cost them the game.
It was clearly a ploy throughout the match to slow up Dublin and whenever the opposition won a free, they had a man stand in front of the kicker until the defence had settled, denying the quick break. But what was also a ploy was the way they halted the last 15 minutes when going down with cramp at every opportunity. As of now there's nothing referees can do about cynical play and it's why the GAA need to reintroduce the sin bin.
But if Mayo are to do it again this season, they'd be wise to wait a little bit longer. By going down and wasting time, they were sending a message that it was time to hang on and hope for the best. Regardless of the lead, 15 minutes is a long time to hang on for and they very nearly couldn't do it.
Exclusive Six
Nations Analysis
Get Murray Kinsella's exclusive analysis of Ireland's Six Nations campaign this spring
Become a Member
Crossing the line
If Mayo got so much right on the pitch, then Dublin got so much wrong off the pitch. Pat Gilroy has been a key part of the county's evolution but yesterday was his worst day as manager.
If you were Kevin McMenamon would you bother going back training at 7am come January? The treatment of the player yesterday was worse than it has been in previous seasons. None of the forwards were firing yet he was left on the bench as Eoghan O'Gara came on, and then Alan Brogan. Of course Brogan is the key man in this team but only when he has two legs. Yesterday, he couldn't swing his boot hard enough to make a 20-yard pass yet still he was brought on before McMenamon.
Everyone could see that Michael Dara MacAuley needed to be moved to a two-man midfield earlier, replacing Eamonn Fennell or Denis Bastick, and McMenamon needed to take up a position in the half-forward line where he'd offer something different by running from deep at pace. It took too long for that to happen and Gilroy will be left wonder all off-season what might have been had he not waited an age to make the obvious and crucial move.
Cue the madness
Across the weekend in Dublin, we got a feel for what an occasion college football is. It's so much more than a game and from Friday morning through to Sunday night, there was nowhere you could go to avoid the fact it had taken over town. It was an event, an occasion and it was brilliant. But now we've an even better occasion to look forward to as Mayo-Donegal doesn't just bring novelty, it brings madness and two of the most passionate and colourful sets of supporters in the country who are beyond desperate for success.
How both teams handle the build-up will be huge, but as for the rest of us, we might as well embrace every moment of hype between now and the latter stages of September. Already we cannot wait for football final weekend because we'll never have seen anything similar before.