THE MAJORITY OF this Mayo group have had two cracks at an All-Ireland final under both James Horan and Stephen Rochford, and they've still failed to land that coveted Celtic Cross.
James Crombie / INPHO James Crombie / INPHO / INPHO
"It's a long trek to get back here but I have no doubt the lads will look to regroup over the winter and see what that takes them next spring and into the summer," said Stephen Rochford in the Citywest Hotel on Monday morning.
"It's something that we'll look to get over during the winter."
The big worry for Rochford and Mayo fans is whether this ageing group of players go one better in 12 months' time.
Andy Moran, Alan Dillon and David Clarke will be 34 by next September. Keith Higgins will be 33. Colm Boyle will be 32. Seamus O'Shea and Chris Barrett will be 31. Tom Parsos will be 30. Donal Vaughan and Kevin McLoughlin will be 29, while Lee Keegan, Aidan O'Shea and Jason Doherty will be 28.
Are their best days behind them? It remains to be seen the physical toll this year's epic 10-game summer will have on the Mayo legs, but its unlikely to hamper them for 2018. A season after their 10-game run to the title in 2008, Tyrone strolled to the Ulster crown and made it to the All-Ireland semi-final before falling to Cork.
But what about the psychological toll of another devastating defeat? They've now lost four All-Ireland finals by a combined total of seven points. Repeated heartbreaks can warp a team's self-perception. Every flaw is magnified. Every one-point defeat feeds the internal anxiety that perfection is required.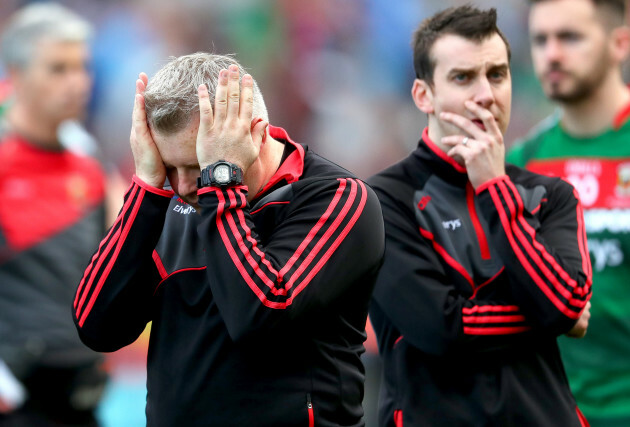 James Crombie / INPHO James Crombie / INPHO / INPHO
At the Citywest on Monday, a downbeat member of the Mayo backroom team tried to put a positive spin on their latest defeat.
"The only thing is, losing yesterday means we've a better chance of winning the All-Ireland in 2018," he told me.
It's true, if Mayo have beaten Dublin a week ago, the outpouring of joy and wild celebrations would have meant their chances at retaining the All-Ireland would be unlikely in 2018.
But are they really more likely to win the All-Ireland after experiencing another fall at the final hurdle?
Not so long ago it was believed that, in modern day Gaelic football, it was almost impossible to retain an All-Ireland. The great Kerry side of 2006-07 were the only team to string together back-to-back All-Irelands since 1990.
Dublin have put that myth to bed by completing the first three-in-a-row since 1986.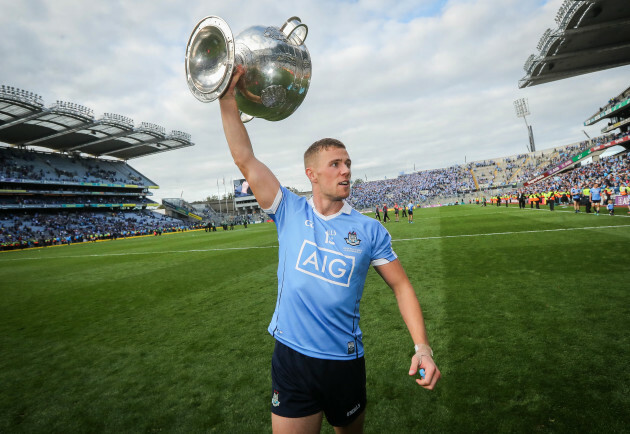 Ryan Byrne / INPHO Ryan Byrne / INPHO / INPHO
The belief that retaining the Sam Maguire was so tough is based on the theory that winning takes away motivation, while losing inspires us to come back better the next year. Michael Lewis, author of the landmark 2003 book Moneyball, broached this subject in his latest publication.
In The Undoing Project, Lewis looks at the difficulties of overcoming a substantial loss. It's written around the working partnership of Israeli behavioural psychology experts, Daniel Kahneman and Amos Tversky. Much of their work centers around on the concept of loss aversion.
They looked at a simple question: Which is harder to overcome, winning a championship or losing one? Kahneman and Tversky found that people fear loss twice as much as they relish success.
To translate that idea to Gaelic football, once a team experiences the pain of defeat, the impulse to take risks is diminished. The pain of losing far outweighs the joy of winning. A losing finalist often makes poor decisions going forward, according to the pair of psychologists.
Sports psychologist Kieran Shannon, who worked with the squad under James Horan, spoke about the acute trauma of a final loss on Morning Ireland earlier this week.
"One of the paradoxes of getting to a final is it's harder to get over a defeat like that,"he said.
"The pain is much more keenly felt than a team that exits at an All-Ireland quarter-final stage."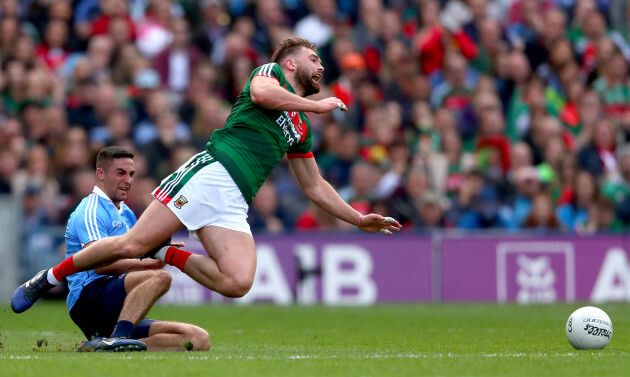 James Crombie / INPHO James Crombie / INPHO / INPHO
63 minutes into the game last week, Mayo found themselves two points to the good. They had Dublin on the ropes, but still Stephen Cluxton was the one lifting the big prize in the Hogan Stand 15 minutes later.
In his Irish Times column this week, Jim McGuinness bemoaned Mayo's failure to close the game out.
"This was their time to take a deep breath and set about taking their All-Ireland," he wrote.
"They didn't Manage The Game. Instead, they maintained this kind of purist honesty: they persisted in playing the game in all-out warrior mode. And they had done enough of that.
"Why not play on the break for seven minutes? Fall back, defend from the fifty and exploit the fact that onus is on Dublin to come and get the scores.
"Slow down the kick out. Foul deep out the field. It doesn't have to be cynicism. If you win a free, just leave the ball down and let someone else come to take it. Twenty seconds here, ten seconds there.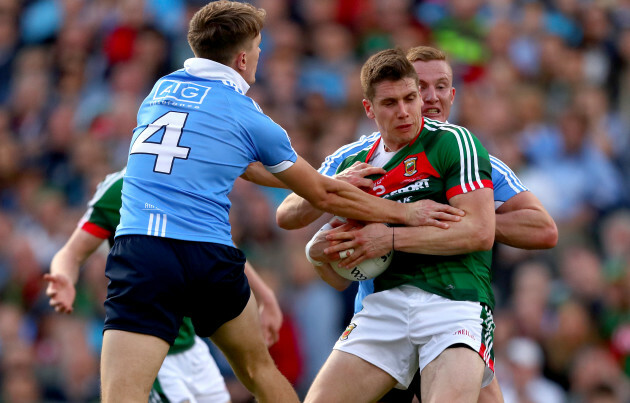 James Crombie / INPHO James Crombie / INPHO / INPHO
"If Mayo could have protected that two-point lead until injury time, everything changes. Injury minutes are not like normal minutes.
"Mayo's task was to stop playing the game and start managing it. Everything that you have learned in your life about football: put that into action there and then to buy you and your team-mates time to stop the opposition. Just stop. Spoil."
If Mayo did decide to flood their defence with bodies and Dublin still found a way to win, imagine the backlash they'd have faced. They'd have been accused of losing their bottle with the game on the line.
Did that potential backlash come into their thinking? Did they deem it better to keep going in warrior-mode, than retreat and face the consequences of a different kind of defeat?
Through various interviews from the Dublin camp this week, it's emerged that they had talked through different scenarios ahead of the game.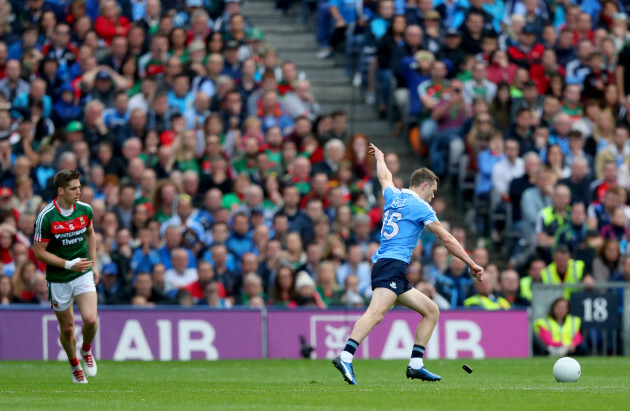 James Crombie / INPHO James Crombie / INPHO / INPHO
When Dean Rock kicked his 76th minute free, the Dublin forwards were under strict instruction to pull and drag their markers, slowing the game down.
Ciaran Kilkenny took his time walking off the field after his black card, Cormac Costello tossed a number of David Clarke's tees away. Dublin played keep-ball and ran down the clock, happy to go all the way back to Stephen Cluxton in order to hold onto possession.
The squad even engaged in booing and shouting at Dean Rock as he took frees in training sessions leading up to the final.
Sports psychologist Keith Begley believes what cost Mayo was an "inability to control their emotions and anxiety under pressure."
In the latest post on his website, Begley referenced Lew Hardy's 1996 paper – The Cusp Catastrophe Model – which suggested that players in teams with tradition of success are less susceptible to suffering from performance anxiety at key moments in games.
"They rarely suffer the burden of having a huge weight of expectation on their shoulders as there are often a number of their team-mates that have had previous success," Begley says.
"Many players in traditionally successful counties often see success as a divine right."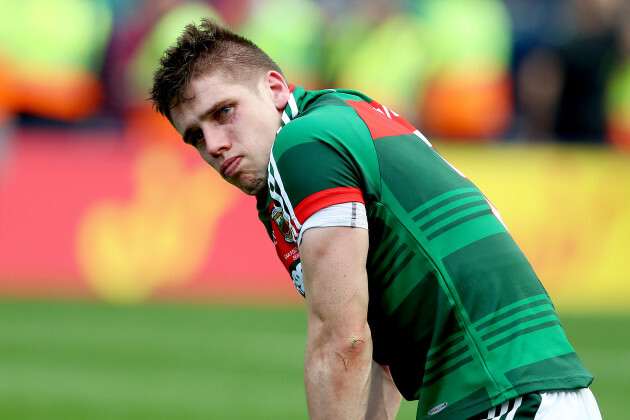 Tommy Dickson / INPHO Tommy Dickson / INPHO / INPHO
The problem for Mayo is every flaw is multiplied until they win an All-Ireland.
Aside from psychological issues, whoever is in charge next year needs to build a stronger bench. Rather than bringing in rookies like Conor Loftus late on, Mayo might be better served by following the Dublin model and start with youth before finishing with experience.
Dublin brought in Paul Flynn, Diarmuid Connolly, Kevin McManamon, Bernard Brogan, Niall Scully and Cormac Costello, compared to Mayo's Diarmuid O'Connor, Stephen Coen, Conor Loftus, David Drake, Danny Kirby and Ger Cafferkey. It's no comparison.
And while Dublin may have a stronger hand, now is the time for Mayo to ask hard questions of themselves.
What happened to wing-forward Fergal Boland, a favourite of Rochford's during the league? Have they given up on Evan Regan entirely? Why were All-Ireland U21 winners Liam Irwin and Michael Hall allowed walk away from the squad earlier this summer?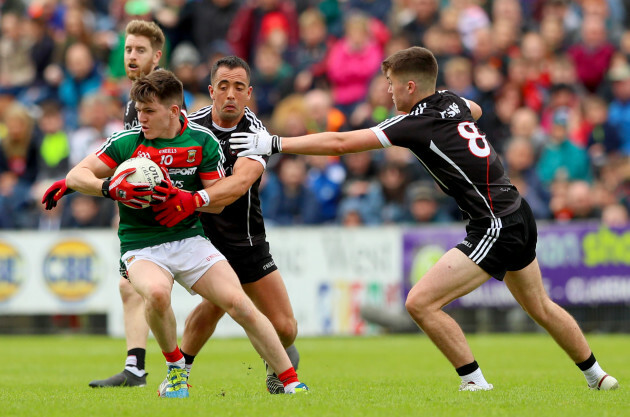 James Crombie / INPHO Fergal Boland in Connacht SFC action against Sligo earlier this summer James Crombie / INPHO / INPHO
Rochford has been hesitant to trust youth during his tenure. Shairoze Akram and Fionan Duffy are two players who must be blooded during the 2018 league.
While Dublin have a very obvious continuity from minor and U21 to senior, the dots back along the production line are not being connected in Mayo. Jim Gavin brought through Rory O'Carroll, James McCarthy, Jonny Cooper and Dean Rock from his 2010 All-Ireland winning Dublin U21 side.
And it's not all Mayo's fault. In in 2013, 2016 and 2017, they've come up against a Dublin team that's considered at least the second best of all-time, while a Jim McGuinness masterclass in 2012 saw Donegal scupper their chances.
In any other era, this group of players would be littered with Celtic Crosses. That's just the cruelty of sport.
They'll be back next year "to fight the good fight" as Cillian O'Connor put it, but shaking off the mental scars is another issue entirely.
The42 Podcasts / SoundCloud
Subscribe to The42 podcasts here: