It was a historic afternoon in Elvery's McHale Park as London featured in their first ever Connacht senior football final against Mayo.
As always, we'd love to hear your comments. Send them to fintan@thescore.ie, tweet them @TheScoreGAA, find us on Facebook, or leave a comment below.
Full-Time: Mayo 5-11 London 0-10
It's Connacht football final day in Castlebar as we're gearing up for the meeting of Mayo and London at 2pm.
Taoiseach Enda Kenny is just being introduced to the two teams in Elverys McHale Park at the moment.
Here's the Mayo team that is named to start today:
MAYO: Robert Hennelly (Breaffy); Tom Cunniffe (Castlebar Mitchels), Ge Cafferkey (Ballina Stephenites), Chris Barrett (Belmullet); Lee Keegan (Westport), Keith Higgins (Ballyhaunis), Colm Boyle (Davitts); Aidan O'Shea (Breaffy), Seamus O'Shea (Breaffy); Kevin McLoughlin (Knockmore), Alan Dillon (Ballintubber), Richie Feeney (Castlebar Mitchels); Andy Moran (Ballaghaderreen), Alan Freeman (Aghamore), Darren Coen (Hollymount/Carramore).
And here's the London team that is named to start:
LONDON: Declan Traynor (Fulham Irish); Philip Butler (Tír Chonaill Gaels), Stephen Curran (St. Kiernan's), David McGreevy (Kingdom Kerry Gaels); Séamus Hannon (Fulham Irish) Captain, (Shane Mulligan (Fulham Irish), Anthony Gaughan (Neasden Gaels); Caolan Doyle (Tír Chonaill Gaels), Paul Geraghty (Neasden Gaels); Gregory Crowley (Parnells), Damien Dunleavy (Neasden Gaels), Ciaran McCallion (Kingdom Kerry Gaels); Eoin O' Neill (Tír Chonaill Gaels), Lorcan Mulvey (Fulham Irish), Cathal Magee (Tír Chonaill Gaels).
Mayo manager James Horan has made four changes from the team that comprehensively defeated Roscommon at the Connacht semi-final stage.
Andy Moran makes his first start since tearing his cruciate ligament in last year's All-Ireland quarter-final win over Down. While Robert Hennelly, who was forced to leave the county squad due to work commitments 12 months ago, makes his first start in goal since the 2011 All-Ireland semi-final against Kerry.
Hennelly has been recalled to the side after both regular netminder David Clarke and his deputy Kenneth O'Malley were both unavailable for this game due to injuries.
Moran comes into the attack at right corner-forward while Darren Coen is drafted in at left corner-forward. The players to make way up front are Cathal Carolan and Enda Varley.
The final change comes in defence as Donal Vaughan is forced to miss out due to a hamstring injury which sees Keith Higgins move into the centre-back berth and Chris Barrett slot into the side at left corner-back.
London are unchanged from the side that defeated Leitrim in their semi-final replay.
There's already been success for Mayo football today as they defeated Roscommon in the Connacht minor final by 3-7 to 1-10. Here's how they won that game.
The national anthem is being sung in Castlebar as we get set for action. Massive day for London football as they face off against the home side and raging hot favorites Mayo.
Cork's Conor Lane is the referee for today's game.
We're underway with Mayo wearing a red strip and London wearing a white strip.
Early free in for Mayo with Andy Moran dragged down.
Mayo 0-1 London 0-0: 2 mins – Kevin McLoughlin taps over the resultant free for Mayo.
Darren Coen off target with the latest scoring chance for Mayo.
Aidan O'Shea dominating in the aerial exchanges early on for Mayo around the middle.
London attack with speed, lead by Damien Dunleavy, but their well-worked move is ultimately defended well by Mayo as they swarm on the London attack.
Mayo's shooting has been poor in the early stages with Alan Dillon and Darren Coen both off target.
Mayo 0-1 London 0-1: 7 mins – London have drawn level with Lorcan Mulvey firing over a free.
Mayo 0-2 London 0-1: 8 mins – London snuff out a goal threat but then lose the ball with a stray hand pass and Richie Feeney capitalizes to shoot over for Mayo.
Mayo 1-3 London 0-1: 11 mins – Disaster strikes for the underdogs as Alan Freeman finds the net for Mayo. London were left to rue poor defending as Shane Mulligan coughed up possession and Freeman raced through, jinked past the cover and tapped the ball to the net with his left foot. And now Freeman has hooked over a point to increase his sides lead.
Mayo 1-3 London 0-2: 13 mins – Paul Geraghty fires over London's second point of the game. They badly needed that score.
Mayo 1-4 London 0-2: 15 mins – Lee Keegan taps over a point off his left after good work by Andy Moran to create the chance for Mayo.
Mayo 1-5 London 0-2: 16 mins – And Mayo's lead is extended with Kevin McLoughin getting off the mark on this occasion.
London have the ball in the net through Eoin O'Neill but it's disallowed for a challenge on Mayo goalkeeper Robert Hennelly.
Nearly a second goal for Mayo but Seamus O'Shea blazes the ball wide after he had galloped through the London rearguard.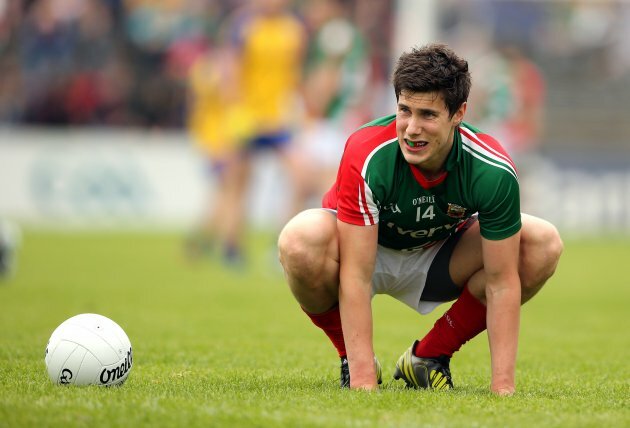 Mayo goalscorer Alan Freeman.
Mayo 1-6 London 0-2: 21 mins – Alan Freeman strikes another point for Mayo.
Mayo 2-6 London 0-2: 23 mins – Mayo hit the net again through Darren Coen.
This is starting to look ominous for London as Mayo counter attack with Freeman and Feeney creating the opening to Coen to smash a powerful shot to the roof of the net.
Yellow card for London's Shane Mulligan.
London have made their first change of the game. In defence Cathal Og Greene, a 2003 All-Ireland minor winner with Laois, comes on for Tony Gaughan.
Mayo 2-6 London 0-3: 28 mins – Lorcan Mulvey taps over a free for London after Paul Geraghty was pushed in the back by Seamus O'Shea.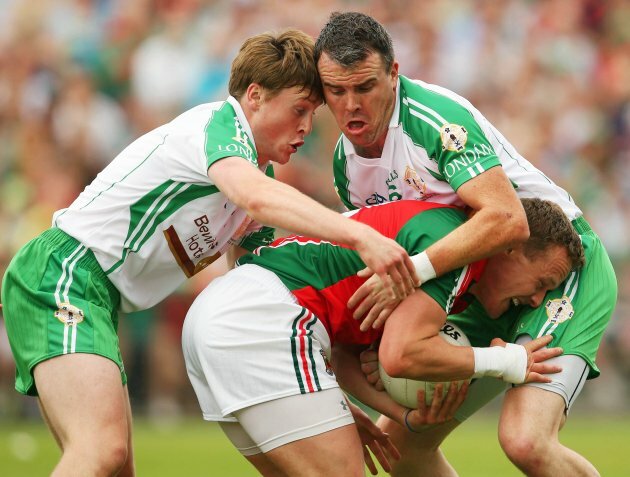 Colin Daly coming on for London instead of Caolan Doyle.
Mayo 2-6 London 0-4: 32 mins – Lorcan Mulvey grabs another free for London.
Colm Boyle with the latest scoring chance for Mayo but he screws the ball wide. 10 wides so far for Mayo.
One minute of additional time to be played.
Half a goal chance for London but Lorcan Mulvey's shot is brilliantly blocked down by Ger Cafferkey.
Mayo 2-6 London 0-5: 36 mins – Another free by Mulvey helps London eat into Mayo's lead.
Half-Time: Mayo 2-6 London 0-5: That's how it stands at the break with Mayo enjoying a seven-point advantage.
Mayo enjoy a seven-point lead with the goals from Alan Freeman and Darren Coen proving the difference. Aidan O'Shea has dominated at midfield but Mayo are not hammering home their superiority with their shooting in front of goal poor. At one juncture they lead by 10 points in the opening half but that advantage has been whittled away.
London will be happier with the manner in which they closed out that half. Lorcan Mulvey has tagged on a few points from frees and they've made a couple of changes to try to break even around the middle. London were hit badly by their habit of taking the ball into contact early on with Mayo's physique allowing them to execute turnovers and that lead to the two goals they notched. We'll be back shortly with the second-half action.
One change for Mayo at half-time as Cillian O'Connor, who has been hampered with a shoulder problem recently, coming on for Darren Coen.
Mayo 2-6 London 0-6: 36 mins – First blood to London in the second-half as they win the throw-in, Cathal McCallion runs through before being fouled and Mulvey taps over the free.
Mayo 2-8 London 0-6: 37 mins – Mayo's challenge is steadied by points from Lee Keegan and Andy Moran.
What a goal chance for London. But Colin Daly smashes his shot across the goal and wide despite the fact that he had men free alongside him.
Mayo 3-8 London 0-6: 41 mins – And that's the difference between the teams. Mayo go down the other end with Aidan O'Shea charging through and he passes to Cillian O'Connor who has the simple task of planting the ball in the net.
Mayo 3-9 London 0-6: 42 mins – And now O'Connor curls over a free off his right foot. He's a big addition to the Mayo attack in the second-half.
Sean Kelly is on for London instead of Eoin O'Neill.
Mayo 3-9 London 0-7: 44 mins – Mulvey grabs another point in response for London from a free.
London nearly in for a goal again but Mayo clear the ball off the line.
Mayo 3-9 London 0-8: 48 mins – Sean Kelly fires over a free for London.
Mayo 4-9 London 0-8: 48 mins – Cillian O'Connor fires home Mayo's fourth goal of the game after Andy Moran passes the ball across. Looks like game over here in Castlebar.
Couple of Mayo changes to tell you about. Michael Conroy and Donal Vaughan both in for Alan Freeman and Richie Feeney.
Enda Varley is on for Andy Moran in the Mayo attack.
Cillian O'Connor will take it.
And O'Connor strikes the ball to the bottom corner of the net for Mayo's fifth goal.
Mayo 5-9 London 0-8: 56 mins – O'Connor completes his hat-trick in what has been a really impressive contribution since coming off the bench at half-time.
Mayo 5-10 London 0-8: 60 mins – Cillian O'Connor taps over another free for Mayo.
Shane McHale is on in the Mayo defence for Ger Cafferkey.
Mayo 5-11 London 0-8: 66 mins – Cillian O'Connor fires over a free for Mayo to extend their lead.
Mayo have this one wrapped up but they're not going to be happy with the quality of their shooting as they have racked up plenty wides.
Mayo 5-11 London 0-9: 71 mins – A late point for London from Padraig McGoldrick. That's the Exiles second score from play today.
Mayo 5-11 London 0-10: 72 mins – Another for London as Mulvey drills the ball over the bar.
Full-Time: Mayo 5-11 London 0-10: And that's it in Castlebar. Mayo claim their third consecutive Connacht title as they run out winners by 16 points. They march onto the All-Ireland quarter-final stage whereas London will face Cavan next week in Round 4 of the All-Ireland football qualifiers. That's all from us today, thanks for joining us.
Sharknado also stars John Heard, who was ONLY THE BLOODY DAD IN HOME ALONE!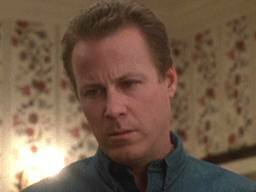 He also played Bette Midler's love interest in Beaches. Let's liveblog Beaches another night shall we? You're ALL the wind beneath our wings.