So would Connacht champions Mayo continue their winning ways or would Ulster champions Monaghan stay unbeaten?
The teams met in today's All-Ireland minor football semi-final and we had all the action.
As always, we'd love to hear your comments. Send them to fintan@thescore.ie, tweet them @TheScoreGAA, find us on Facebook, or leave a comment below.
RESULT: Mayo 3-19 Monaghan 1-12
Welcome to Croke Park for the first of today's Gaelic football showdowns. It's the minor teams of Mayo and Monaghan who are in opposition.
Here's the Mayo team for today's game:
Mayo: Mark Mulligan; Eddie Doran, Seamus Cunniffe, David Kenny; Michael Hall, Stephen Coen, Sean Conlon; Conor Loftus, Michael Plunkett, Cian Hanley; Darragh Doherty, Liam Irwin, Tommy Conroy.
And here's the Monaghan team for the match:
Monaghan: Conor Forde; Shane Treanor, Kevin Loughran, Paul McArdle; Adam Kieran, Aodh Curran, Mikey Murnaghan; Mervyn Brown, David McAllister; Michael O'Dowd, Ryan McAnespie, Desmond Ward; Conor McCarthy, Barry McGinn, Ferghal McMahon.
Wicklow's Anthony Nolan is the referee for this game. In the event of a draw, extra-time will be played. Both teams currently in huddles on the Croke Park pitch before throw-in.
We're getting set for the throw-in between this year's Connacht minor football champions and the Ulster minor football champions.
One late change for Monaghan sees Mark Magee into the team for Barry McGinn. There's wholesale positional changes for the Farney youngsters.
Mayo 0-1 Monaghan 0-0: 2 mins – Mayo start brightly with wing-back Michael Hall tearing forward and popping over a neat point.
Mayo 0-2 Monaghan 0-0: 4 mins – Another Mayo defender gets on the scoresheet with centre-back Stephen Coen converting on this occasion.
Great goal chance for Monaghan as Ferghal McMahon flicks the ball on for David McAllister who races through but his left foot shot is diverted away by the foot of Mayo goalkeeper Mark Mulligan.
Mayo 0-2 Monaghan 0-1: 5 mins – But Monaghan get a point from the resultant '45 courtesy of goalkeeper Conor Forde who shows the same proficiency from placed balls that Monaghan senior netminder Rory Beggan did this summer.
Mayo 0-2 Monaghan 0-2: 7 mins – Monaghan draw level courtesy of midfielder David McAllister as he taps over a free.
Mayo 0-3 Monaghan 0-2: 9 mins – Mayo grab a point courtesy of Tommy Conroy's piledriver that whistles just over the bar after a fine cross field ball by Cian Hanley released him into space.
Mayo 0-4 Monaghan 0-2: 10 mins – Great kicking style by full-forward Liam Irwin for Mayo as he slots over a free.
Mayo 0-5 Monaghan 0-2: 11 mins – Really good enterprising play by Mayo as they attack the Monaghan defence and it is centre-back Stephen Coen who gets up in support to launch over a fine point.
Monaghan yet to score from play as Mayo getting a grip on this game.
The Mayo side that are in action today.
Pic: INPHO/Lorraine O'Sullivan
Mayo 0-6 Monaghan 0-2: 14 mins – Mayo really exploiting the space in the Monaghan defence with their latest point being notched by centre-forward Michael Plunkett from Ballintubber.
Hawkeye just after being used for the first time today and it deems that a Monaghan point effort did indeed tail wide.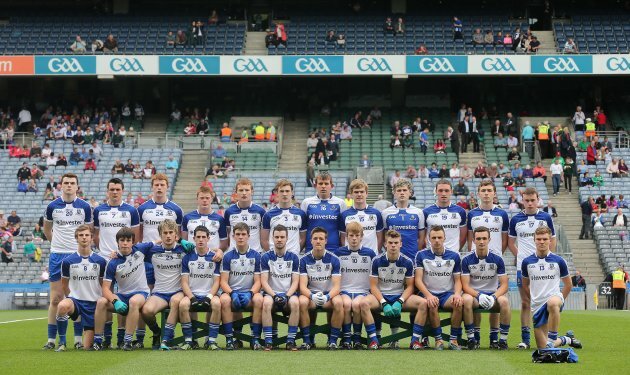 The Monaghan minor team
Pic: INPHO/Lorraine O'Sullivan
Mayo 0-7 Monaghan 0-2: 18 mins – Cian Hanley gets on the scoresheet to point for Mayo as they stretch their lead. Yet they had an overlap there and could have got in for a goal.
Mayo 0-7 Monaghan 0-3: 20 mins – David McAllister grabs another point from a free for Monaghan.
Mayo 0-7 Monaghan 0-4: 21 mins – Monaghan claw back the Mayo lead through McAllister as he clips over another free.
First change of the day comes on the Monaghan side as Donal Meegan replaces Mervyn Brown.
Goal for Monaghan from Conor McCarthy!
But then Mayo hit back with a goal from Conor Loftus!
Mayo 1-7 Monaghan 1-4: 23 mins – Big drama with two goals inside a minute. First McCarthy drew Monaghan level as he struck their first score from play this afternoon with a great individual effort as he finished with assurance to the net. But Mayo hit back with a high ball causing problems for the Monaghan defence and the ball fell to Conor Loftus who engineered the space to hit a shot that beat the Monaghan defender on the line.
Hold up here at the moment as Mayo's Cian Hanley looks to be in a bad way after shipping a challenge. He's being treated to by medical personnel and is set to be replaced by Padraig Prendergast.
Big applause here in Croke Park as Hanley, a younger brother of AFL player Pearse, is stretchered off.
Mayo 1-8 Monaghan 1-4: 29 mins – Prendergast makes a quick impact for Mayo as he gallops through the defence before being fouled and Irwin curls over the resultant free.
There'll be 5 minutes of injury time here due to that Hanley injury.
Mayo 1-9 Monaghan 1-4: 32 mins – Conor Loftus tears through the Monaghan defence and fires over his first point of the game for Mayo to add to his earlier goal.
Mayo 1-9 Monaghan 1-4: 32 mins – Then Monaghan pull a point back, their first point from play today, through their goalscorer Conor McCarthy.
Mayo 1-9 Monaghan 1-6: 33 mins – And now it's a three point game after Ferghal McMahon converts a free for Monaghan. They are bringing on Niall Loughman for replace Adam Kieran in defence.
Mayo 1-10 Monaghan 1-6: 35 mins – Terrific long range point for Mayo from Darragh O'Doherty.
Half-Time: Mayo 1-10 Monaghan 1-6: And Mayo hold a four point advantage at the break. We'll be back shortly with the second-half action.
Barry McGinn is on the Monaghan team for the second-half as he replaces Michael O'Dowd.
Mayo 1-12 Monaghan 1-6: 32 mins – The second half starts the way the first half finished with Darragh O'Doherty on the mark as he points for Mayo twice in succession.
Mayo 1-12 Monaghan 1-7: 34 mins – Fine point for Monaghan from Conor McCarthy.
Cian Hanley being stretchered off during the first-half
Pic: INPHO/Ryan Byrne
Goal for Mayo from Michael Plunkett!
Mayo 2-13 Monaghan 1-7: 35 mins – Is that game, set and match to Mayo? A point effort hits the post and Plunkett is first to react to shoot to the net. Then Liam Irwin grabs a point and they go nine clear.
Mayo 2-13 Monaghan 1-8: 36 mins – Ryan McAnespie pulls a point back for Monaghan from play as they bring on Ciaran Martin for Paul McArdle in defence.
Mayo 2-14 Monaghan 1-8: 39 mins – Mayo really starting to pull clear now as Darragh O'Doherty fires over a lovely point from play.
Mayo 2-15 Monaghan 1-8: 40 mins – Mayo completely on top here as Padraig Prendergast grabs another neat point.
Mayo 2-16 Monaghan 1-8: 44 mins – Michael Plunkett hits another point for Mayo.
Mayo 2-16 Monaghan 1-9: 46 mins – Monaghan's best forward today Conor McCarthy is on target from play.
Adam Treanor replaces Shane Treanor on the Monaghan team.
Mayo 2-16 Monaghan 1-10: 49 mins – McCarthy cuts through the Mayo rearguard and tries to rifle in a goal but the ball flies over the bar.
Conor Byrne replaces Darragh Doherty in the Mayo attack.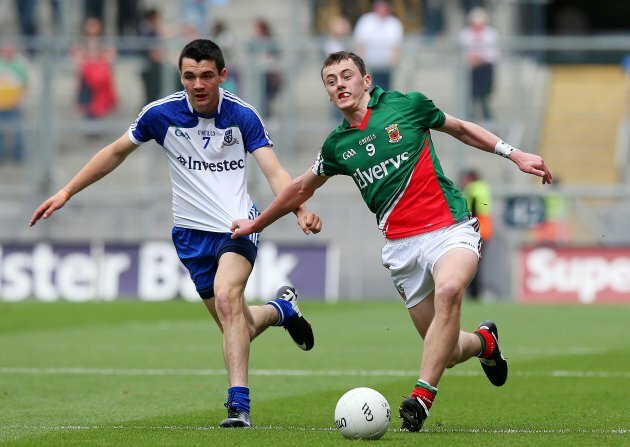 Mayo's Diarmuid O'Connor and Mikey Murnaghan of Monaghan.
Pic: INPHO/Lorraine O'Sullivan
Mayo 2-18 Monaghan 1-10: 52 mins – Mayo stretch their lead through lovely points from wing-back Michael Hall and substitute Padraig Prendergast.
Eddie Doran is replaced in the Mayo defence by Ronan Finn.
Mayo 3-18 Monaghan 1-10: 54 mins – Third goal of the day for Mayo arrives from Tommy Conroy who finishes emphatically to the roof of the net.
Mayo 3-18 Monaghan 1-11: 55 mins – Point back for Monaghan courtesy of Ferghal McMahon.
Mayo 3-18 Monaghan 1-12: 56 mins – Substitute Adam Treanor with another point for Monaghan as he smashes over a fierce shot.
Michael Plunkett is replaced in the Mayo attack by James Langan.
Mayo 3-19 Monaghan 1-12: 59 mins – Quality point for Mayo from substitute Conor Byrne. They've brought on Fionan Duffy for Liam Irwin.
Full-Time: Mayo 3-19 Monaghan 1-12
All over and Mayo run out comfortable victors in this All-Ireland minor semi-final. They get the day off to a good start for the Connacht county in Croke Park.
Mayo will contest the decider on September 22nd against Tyrone or Roscommon. Thanks for joining us this afternoon.