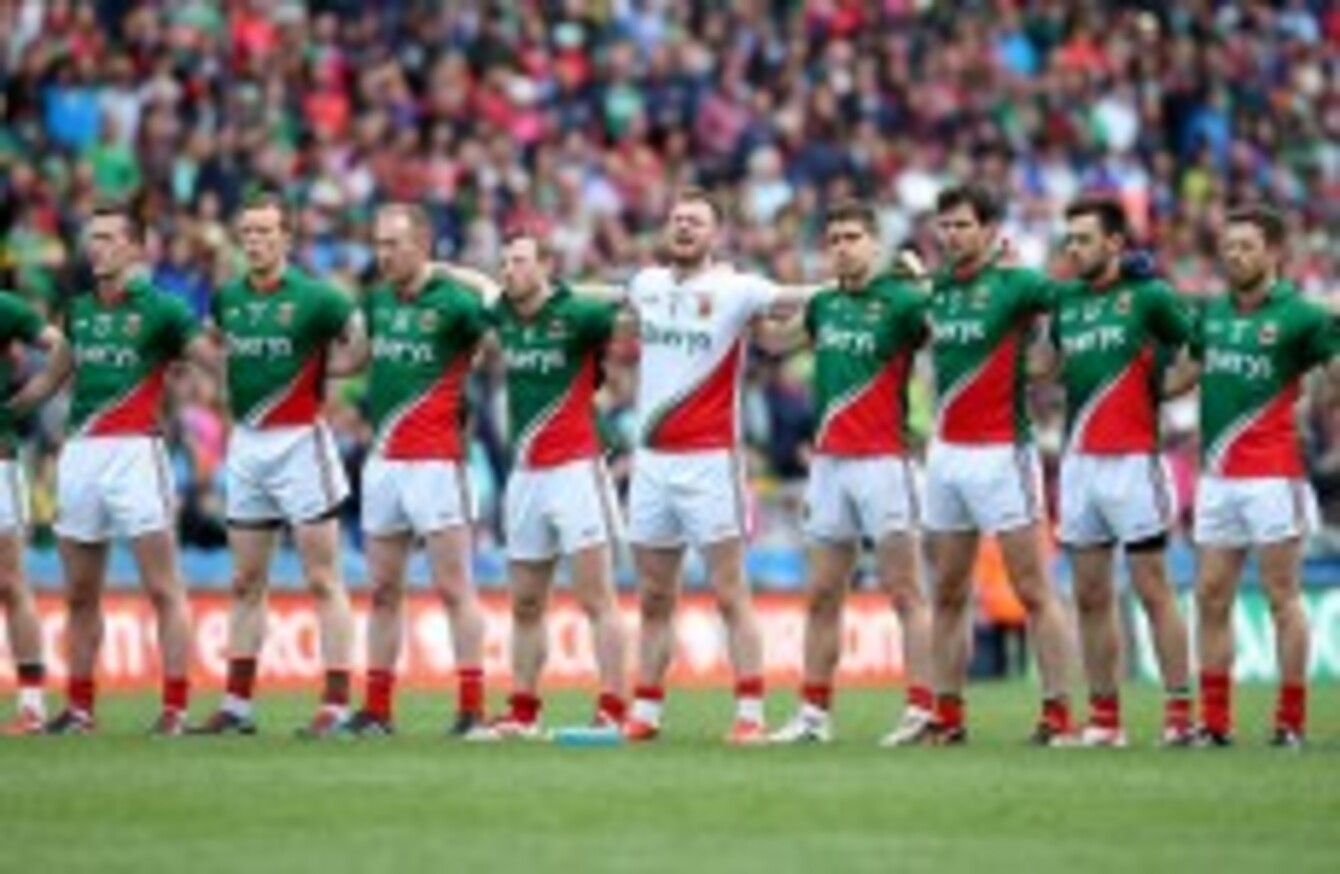 The Mayo football side before this year's battle with Cork.
Image: Donall Farmer/INPHO
The Mayo football side before this year's battle with Cork.
Image: Donall Farmer/INPHO
MAYO'S LATEST QUEST for Sam ended in August of 2014, when Kerry won a gripping All-Ireland semi-final replay at the Gaelic Grounds in Limerick. And on the night of August 30, James Horan revealed that he was stepping down as team manager.
In the few days that followed the Kerry defeat, the Mayo GAA Twitter feed was almost propagandist in its content. Supporters and players alike were fawning in their praise of Horan and the work that he had done over four seasons.
The Mayo GAA Twitter account happily re-tweeted whatever came its way. I had never seen a defeat celebrated in that manner.
The team's sport psychologist, Kieran Shannon, penned a gushing tribute in the Irish Examiner newspaper. It all seemed a bit too surreal to me. We had, after all, failed to win the All-Ireland again.
I thought about John Maughan and how he was pilloried, despite leading the county to three All-Ireland finals.
Okay, Mayo lost all three but Horan brought the team to two finals, and lost both. And yet the manner in which Horan was acclaimed and lauded was in stark contrast to Maughan.
John Maughan was slated for putting Pat Holmes on Maurice Fitzgerald during the 1997 All-Ireland final. It was a move that backfired, but Horan wasn't immune in that sense.
Think back to the 2012 All-Ireland final, when Kevin Keane was named at corner back but marked Michael Murphy instead. Ger Cafferkey was surely the man for that job and Keane proved in the second half that he was the man for Colm McFadden.
But while Keane was struggling with Murphy, Donegal made hay. Keane was scapegoated and hasn't played too many games since for Mayo. That can't be good for a player and his confidence. Similarly, Cafferkey was hung out to dry when he struggled with Kieran Donaghy in the closing stages of the drawn All-Ireland semi-final against Kerry, and the replay that followed.
Ger's a top class player but his form wasn't the greatest in 2014. Kevin Keane is there… he's another full-back, so why didn't Horan give him a go? Horan didn't have to leave Cafferkey isolated. He could have put him into corner back for a spell, let him rebuild his confidence and go from there.
My own personal view is that the sky-high opinion of Horan is a little exaggerated.
This is the best Mayo team we've had in years, but is it really the best ever… which is the opinion of some on the various fan forums?
That's over the top.
You can't compare different eras. Whether or not Mayo have missed their chance of All-Ireland glory is a moot point. There's a good team there and they'll keep going and keep trying. I sincerely hope that they get over the line but the chances were there in 2012 and 2013.
Donegal didn't play particularly well in the 2012 All-Ireland final and still got over the line. Same with Dublin a year later!
In that Dublin game, Keith Higgins was left marking Eoghan O'Gara for the final quarter of an hour in the game – despite the fact that O'Gara was playing with a torn hamstring. At the other end of the field, Dublin's Rory O'Carroll was concussed.
Dublin were effectively playing the game out with 13 players. In that situation, it's not entirely a management call. One of two things should have happened. Zippy should have taken it upon himself to bomb on, knowing that O'Gara was a busted flush. Or one of the other players should have said to Zippy, 'Push on…!' Mistakes were made and yet that's never been discussed in Mayo.
People have questions but they weren't asked and answered. If you lose a game against a team that plays well but you do too, there should be no need for too many complaints. But when there are glaring incidents and decisions that effectively cost Mayo the game, and perhaps an All-Ireland title, questions have to be asked and somebody has to be held accountable.
Four Connacht titles in-a-row during the Horan era was a good achievement but I'd question the quality of the other teams in the province. Leitrim and Sligo are in the doldrums compared to how they once were, while both Roscommon and Galway appear to be in transition but will get stronger.
Of course, the lines are fine and the margins slim. Before the All-Ireland semi-finals in 2014 all of the talk was that it would be a Mayo-Dublin final. Everybody forgot about Kerry and Donegal. Fans will say that Mayo could have beaten Donegal or Dublin but the opposite applies.
The simple fact of the matter is that we fell short again and we have to pick ourselves up… again.
I would agree that the choice of venue for the Kerry All-Ireland semi-final replay was unfair. But with Croke Park out of commission, it was effectively a halfway house for Kerry and Mayo. Okay, Kerry might have played there a few times before but so what?
And let's be honest, we shouldn't have been going to Limerick in the first place. We should have been preparing for an All-Ireland final. With just minutes left in the first Kerry game, we had it in our hands. It was our own fault that we didn't close the game out. Credit to Donaghy and James O'Donoghue for engineering that late goal but it was ours for the taking.
The replay brought more ifs and buts. Robbie Hennelly's late free dropped short and Kerry won in extra-time. The nasty clash of heads involving Cillian O'Connor and Aidan O'Shea cost us dearly – and that wasn't a management issue. It was just unfortunate.
Mayo would struggle without one of those players but with both of them suffering the after-effects, it was a cruel double-blow. O'Shea is a huge player for Mayo. He's big, dominant and physical. And Cillian is now one of the best forwards in the country.
In that regard, Horan built an excellent team that is now challenging consistently at the top. But that's where Mayo should always be – and deserve to be. Despite that semi-final loss, optimism remained high in the county, fuelled by the Twitter machine and the favourable coverage that followed.
But then Mayo shot themselves in the foot again over the appointments process that saw Noel Connelly and Pat Holmes succeed Horan.
A laughing stock again in how we managed that transition.
I read that the County Board studied Kevin McStay's proposal but didn't deem it good enough. What exactly do they want? McStay would have been a good appointment. He would have freshened things up, however Holmes and Connelly will do a good job, I'm sure.
I played with and against Noel for a few years and Pat gave me my break as a young county senior footballer during that memorable summer of 2002.
Mayo football will survive. There's a good group of players there. But this latest affair has led to fresh embarrassment. The County Board and its inner workings have been called into question once again.
But if anyone is to blame, it's the clubs of Mayo.
They had their chance to speak up and do something about the situation but remained silent. We're to blame because I still consider myself a Shrule man. Always have been, always will be. But where are the people who will stand up and ask the hard questions?
I'll always voice my opinion on Twitter and my brother Kenneth, an infrequent user of social media, felt strongly enough about what had happened to air his views too. Will the famine continue with that kind of stuff happening? There's a good chance it will if things don't change.
*****
And yet, someday, I do believe that Mayo will get there.
We will lift the Sam Maguire cup and wash away all those years of hurt.
And I hope that I'll be there to see it.
Not only will the players involve have deserved it, but so too will the thousands of men who pulled on that shirt since 1951. The men who set out at the start of every year with that dream dancing in their minds. And when it does happen, I'd hope that they won't forget the men who went before them.
Men like Brady, Nallen, Heaney and Dillo. Men like my brothers Kenneth and Trevor. Men like Chuckie, Clarkey, McDonald, Austy and Billy Joe. Men who would go through a brick wall for Mayo football. Those guys all slipped quietly into retirement without fulfilling their dream.
All they ever wanted to do was play for Mayo and win the All-Ireland. I was the same. And when it happens – and it will – they'll still feel part of it.
Because they know what it's all about. That One Sunday.
****************
This is an extract from 'One Sunday: A Day In The Life Of The Mayo Football Team' by Conor Mortimer with Jackie Cahill. More information available here.