Tommy Grealy / INPHO Mayo's Barry Moran and Patrick Durcan with Tipperary's Michael Quinlivan. Tommy Grealy / INPHO / INPHO
OUR GAELIC FOOTBALL columnist Rob Carroll takes a closer look at Mayo's progression to the All-Ireland final yesterday while Tipperary bow out.

Barry Moran
Alex Ferguson lists selling Jaap Stam as one of his biggest mistakes as a manager. The story goes that the stats told him Stam was making less tackles than in previous years and Ferguson saw it as an early indication of his demise.
The problem is that defending can be a very difficult thing to measure. Was Stam making less tackles because he was unable to keep up with the play or get himself in a good position to tackle?
Or, as it later turned out, was it because Stam and his teammates were doing such a good job of being organised and efficient that he was required to make less tackles.
If you look through the lists of stats produced for almost any sport in the world, attacking stats will make up to 80% of the list. Clearly defending plays a bigger role than 20% of the game but it's harder to measure so we see less of it.
Despite playing Kevin McLoughlin as sweeper throughout the championship, having seen Tipperary against Galway and knowing the threat they faced inside, Rochford went with Barry Moran as almost an extra full back rather than a sweeper.
Moran's influence was clear under the high balls but it also severely affected Tipperary's tactics in other ways. If we take a look at the image below we can compare Tipperary's kick passing across the 2 games.
I have only looked at the kick passes that landed inside the opponents 45's here but it is quite clear to see the difference across the two games. There is about a third less passes v Mayo.
By playing Barry Moran inside it meant Tipperary felt they didn't have an edge playing the ball long inside. Instead they had to play more of a passing & running game which led them to slower transitions and ultimately getting turned over more.
Similar to Japp Stam, Moran's influence on yesterday's game can't be measured simply by possessions, breaking balls or tackles won. Even when the ball was nowhere near him he was effecting how Tipperary played.
Far from being an abandonment of the Kevin McLoughlin as sweeper strategy Rochford is picking his team to play against the opposition in front of it and I see nothing wrong with that.
There was an element of borrowing from Peter to pay Paul on Sunday as playing Moran so deep and asking McLaughlin to push up meant there were holes when Tipperary attacked.
Mayo played more of a zonal system against the Tipperary kickouts than simply going man-to-man with Moran joining midfield. We can see from the kickout below that Mayo are outnumbered but are covering key areas and blocking passing lines.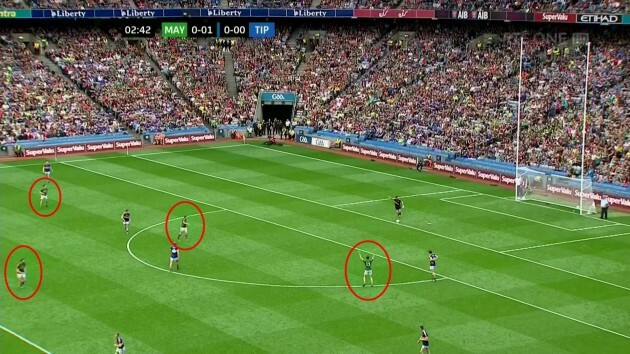 Tipperary field a magnificent high ball but Mayo look exposed. As the ball is won, it is Barry Moran who is contesting, while McLaughlin is in his advanced role. The two Tipperary players at the bottom of the screen are unmarked, despite Mayo having a spare man in midfield.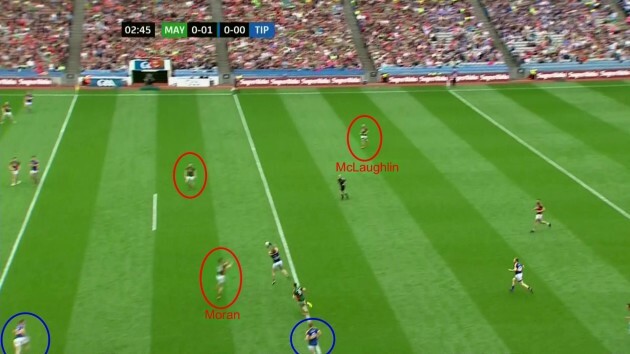 As Bill Maher breaks through, you can see that it's 3 v 3 inside with no extra defenders.
It was a wonderful goal opportunity. We see with Dublin they almost never fill that space in around the square unless they have to. It would have great to see Conor Sweeney get out of the square and take his man with him.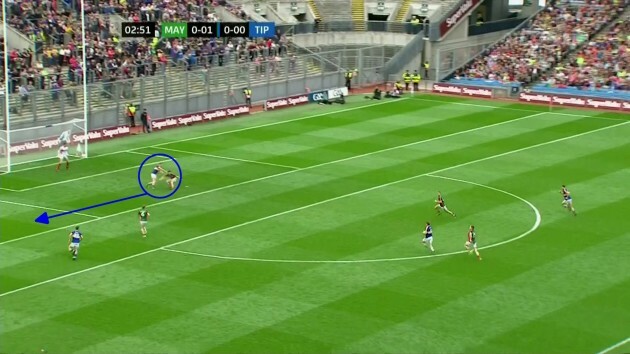 When the goal chance does present itself it's Sweeney's man that is front and centre to stop the goal opportunity and Tipperary take their point.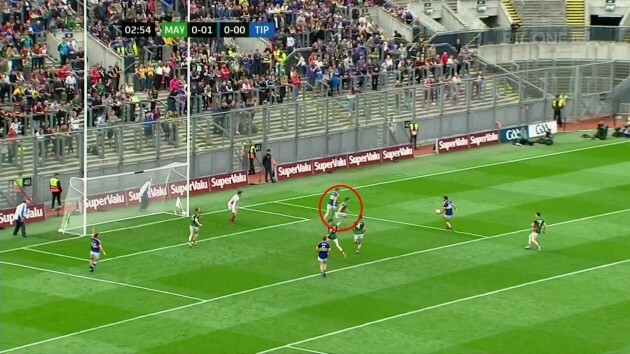 It took Mayo a little while to fix that issue but we can see later in the game off a similar sort of play they have more cover back.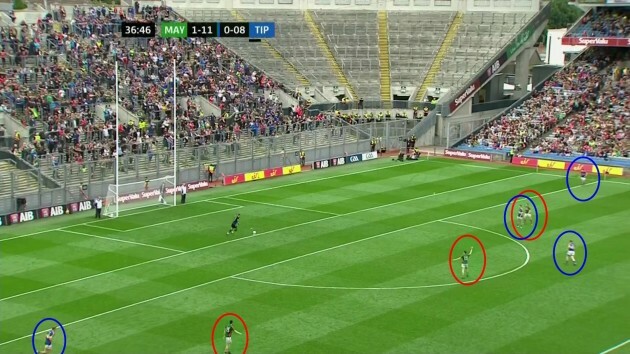 Again they went zonal on the kickout, rather than man-to- man. Comerford goes long and Tipperary win it.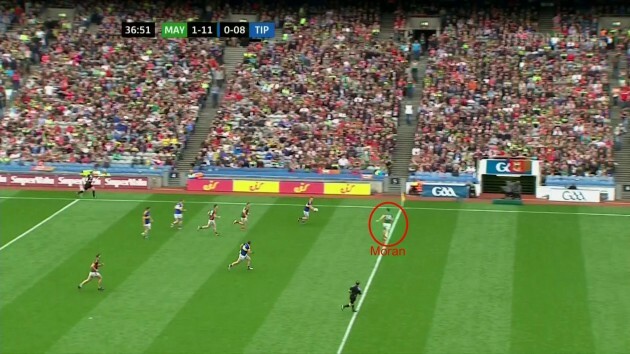 Moran was in midfield to contest it. As Tipperary attack, Mayo look much more organised in defence.
We can see Colm Boyle on the far right urging his midfield to get back. Donal Vaughan is in pursuit and Seamus O'Shea is doing his best swing around and fill that hole down the centre.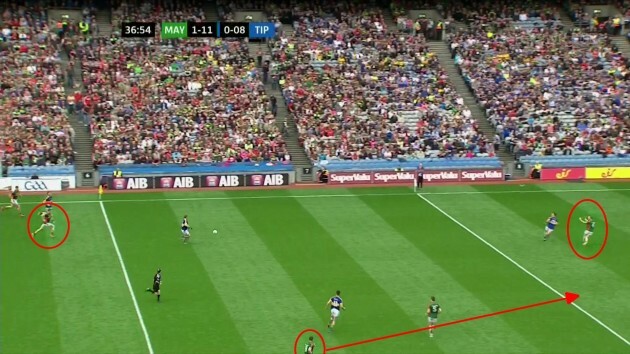 And Keith Higgins is sweeper. This looks a lot more organised from Mayo. They've contested the kickout but lost it and still have the cover at home. It's enough to slow Acheson down and turn him over.
They almost certainly won't get the same time to sort this out in an All-Ireland final but then I expect them to revert to McLoughlin as sweeper regardless of who they play.
Patchy Mayo
Far from being a game of two halves the first 35 minutes could easily to split in two. Mayo before and after the goal.
From their first 12 shots they managed just three scores. For the remainder of the half they shot 100% from 8 shots, scoring 1-7.
That 10 – 12 minute spell from Mayo just completely flipped the game. There was a lot talk afterwards that it all stemmed from Mayo pushing up on the Tipperary kickouts but they did that from the word go.
And even when we break the Tipperary Kickouts up into a similar time spell they went 7/9 pre goal and 5/8 until half time. It's less but hardly dramatically so.
One of the big differences was the turnovers. Before the goal Mayo had coughed up possession at least seven times, afterwards just once.
The table above shows some of the key stats during that time. Mayo stopped giving the ball away while still forcing Tipperary to cough up possession.
The second half started the way of the first for Mayo. They went two from 10 until their goal in the 63rd minute.
If you take the two barren spells together Mayo shot just 23% (5 from 22). But they shot 91% in their two spells starting with the goals.
Tackling From The Front
One of Mayo's big strength's throughout the years has been the work rate of their forwards when defending.
The following example is just after Diarmuid O'Connor points. Mayo have set up with their zone again and Andy Moran is actually pointing to where he wants Evan Comerford to kick the ball.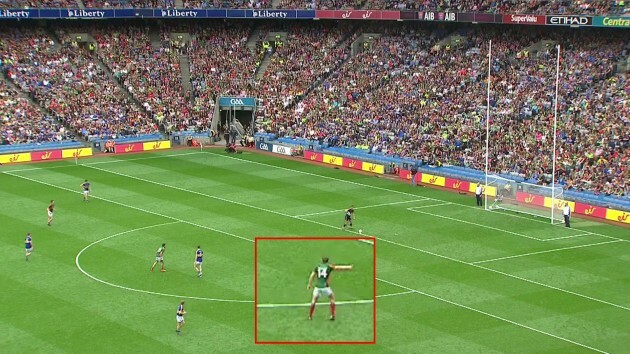 Once the ball goes wide O'Connor pushes up, while Moran fills in the space he left, leaving no option but to go back across the goal.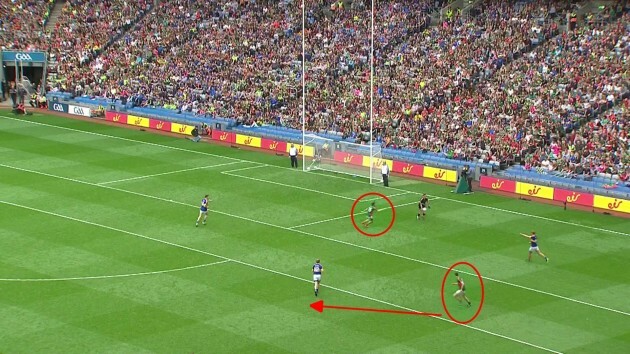 Kevin McLoughlin squeezes the keeper but because O'Connor has now dropped off the forward press isn't really on.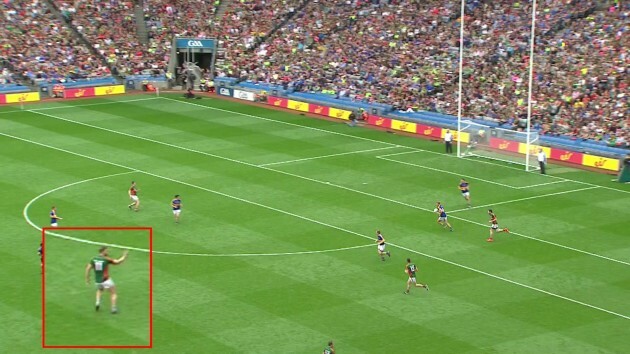 You now have the Tipperary full pack running into a space with the two O'Connors' and Aidan O'Shea looking to squeeze. You can see above O'Shea is urging McLoughlin to get back and help out.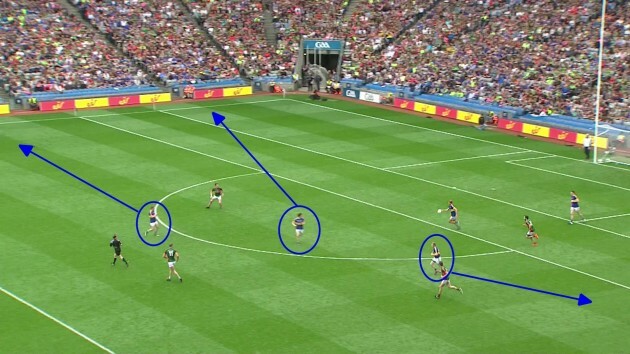 Mayo like how compact this is now. There are about to be 8 players inside the Tipperary D. It would make the Mayo press much harder if Tipperary kept their width. Instead they are crowding themselves and as a result give the ball carrier few options.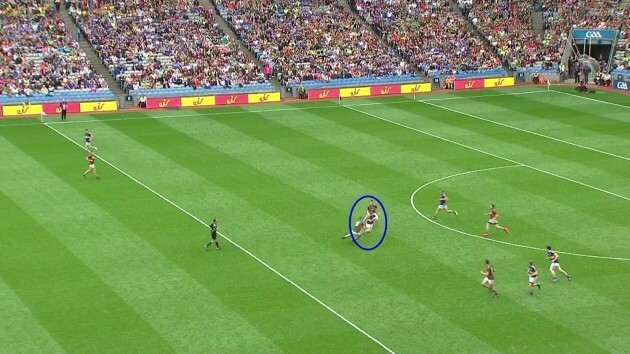 Bill Maher receives the ball facing his own goal with O'Shea and Cillian O'Connor breathing down his neck. Not a place anybody wants to be in. Mayo give away a free here but it showed just how difficult it was for Tipperary to launch an attack at times.
For long periods Mayo weren't impressive and then they seemed to spark into life. Against Kildare, Westmeath and now Tipperary we have seen a similar pattern. Only time will tell whether this is a lack of concentration, felling the job is done, or something more serious.
One thing is for certain though. Mayo can't keep giving away scoreable frees like they are. 11 each against Tyrone and Westmeath and another 10 on Sunday. In tighter games against expert free takers, that's going to come back to haunt them.
Tipperary did really well and not in a patronising way. With seven minutes of normal time remaining this was a three-point game.
They've played in a very brave manner and rather than looking to lose well, they have approached every game with an intent to win it.
Mayo roll on, if they can maintain their good spells for longer they will test either Kerry or Dublin.
The42 is on Snapchat! Tap the button below on your phone to add!