MAYO PRODUCED THEIR biggest performance of the year by upsetting Ulster champions Tyrone in the All-Ireland quarter-final in Croke Park on Saturday.

The42 columnist Rob Carroll takes a closer look at the action from Mayo's narrow win over Mickey Harte's side.
**************************
Mayo's attack
Space was always going to be at a premium inside the Tyrone 45. With two sweepers in Justin McMahon and Colm Cavanagh, Mayo were going to have to be clever in how they manufactured their chances.
Mayo's first shot was an attempt from outside the 45 and their first score was a wonderful point from Aidan O'Shea again kicked from outside the 45.
Despite some people's belief that you can win games by kicking over the blanket defence, it simply isn't possible to kick accurately enough from that distance for an entire game.
However, attempts from that distance force a defence to push out that bit further. Once Tyrone knew that Mayo were willing to try and had players who could score from that distance they would need to push up.
Another clever way of creating space is the screen. While technically a foul we see time and again forwards using this strategy. Aidan O'Shea created a lovely example of this for a Cillian O'Connor point in the first half.
Aidan is found with a diagonal ball and O'Connor is going to come on the loop.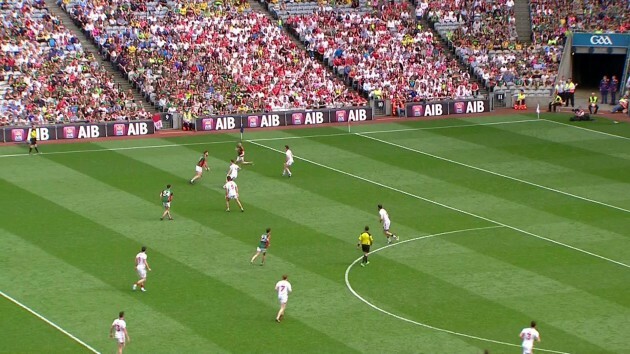 Tyrone are well set here. It's safe to assume Com Cavanagh is sweeping in behind McMahon and as O'Shea looks up he sees very little on and pops a pass to O'Connor.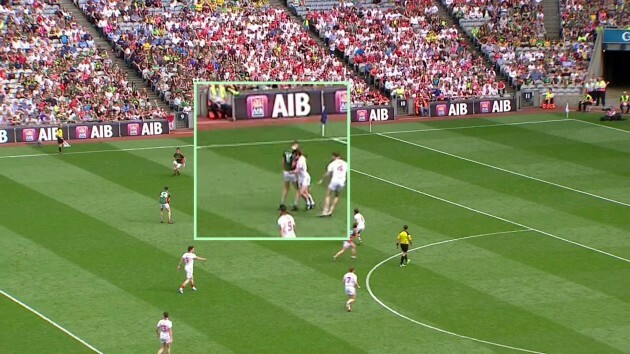 As McCarron follows O'Shea and McCrory tries to catch up with O'Connor, O'Shea just gives him a little bump which frees O'Connor for the shot and score. In a one-point game these fine margins can make a huge difference.
Mayo's width
In the first half Mayo looked to use the kick pass early and often. A lot of their early chances came from good diagonal balls. We can see the attacking shape.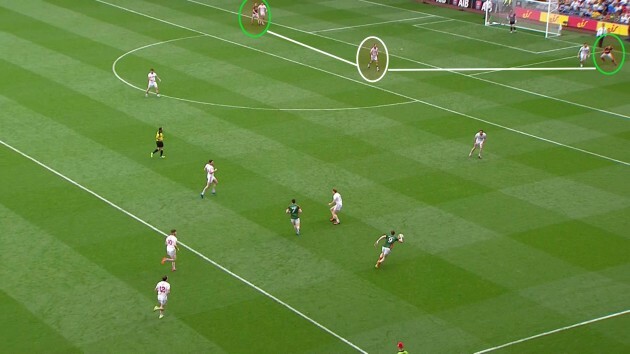 Keeping their width, it makes it harder for the sweeper to be as influential. Donal Vaughan kicks it over the sweeper and O'Connor makes an excellent catch.
Mayo force a turnover in their own 45 and launch a quick counter. Lee Keegan plays a nice ball that clears the Tyrone midfield.
Cillian O'Connor picks the ball up and is immediately aware of where O'Shea is and plays a lovely diagonal ball.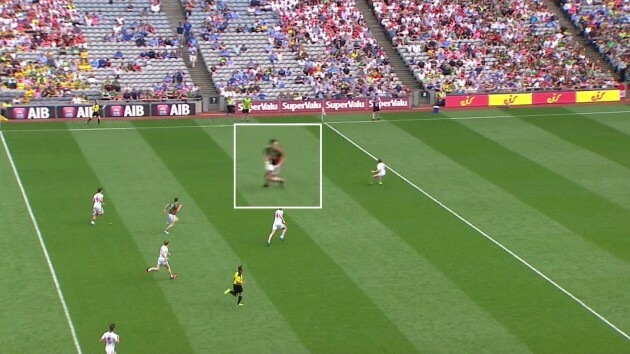 Again Mayo were looking to kick over the sweeper and kick it early.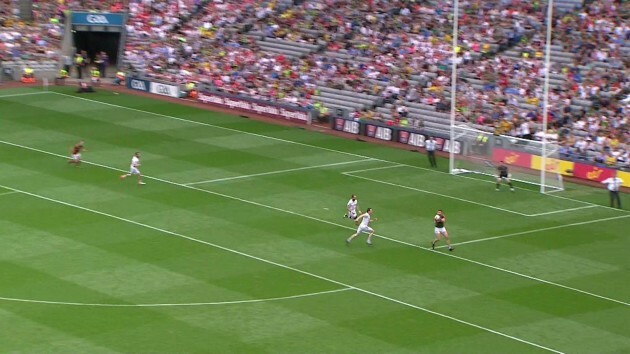 O'Shea wins the ball but does get turned over in this example. However, it showed Mayo's intent. There wasn't one hop or solo in the entire move.
There was a marked contrast with how they operated in the second half. The second half performance was much more about patience and keeping the ball. The turnover count for both teams did reduce in the second half and maybe this forced Mayo's hand.
They had just 24 shots the entire game, with just 19 from play. While on the face of it these numbers can look quite low I think it shows just how willing Mayo were to create the right opportunity. In the 2nd half they attempted just seven shots from play. Seven attempts in a half that lasted nearly 40 minutes!
Far from being a criticism I think it showed how patient they were willing to be. Early in the second half we can see an example where Tom Parsons tries to go through the middle. Surrounded by Tyrone players he checks his run and comes back.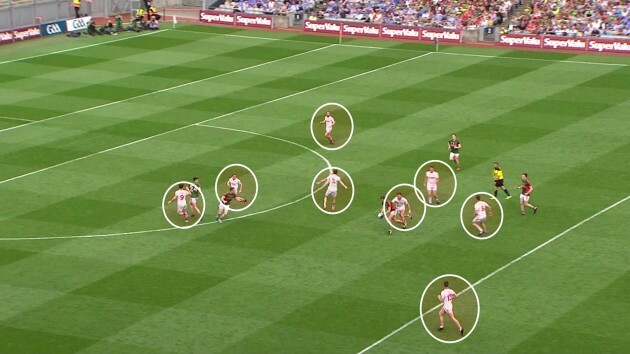 They work the ball left, dragging 5 Tyrone players with them.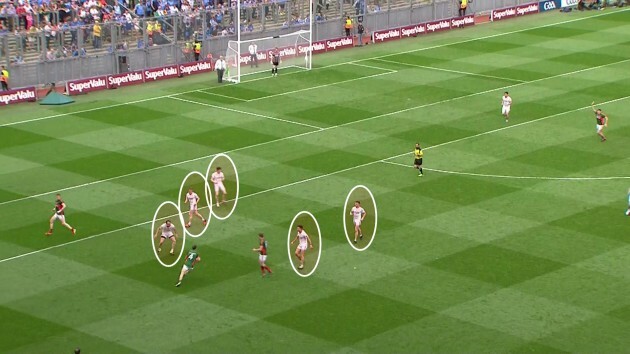 They don't force it and instead work the ball back to the centre.
You can see a couple of Mayo player's at the bottom of the picture aren't showing much interest to get in a clog up that centre. Diarmuid O'Connor's is also playing an important role here by keeping width he helps keep that space open for Kevin McLoughlin's run.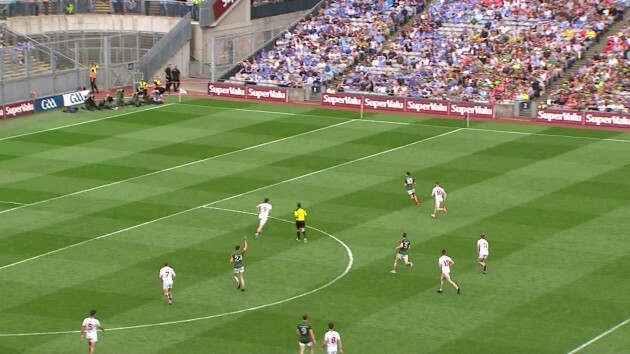 McLoughlin finds himself in plenty of space, just not on his favoured left side.
Andy Moran on the face of it had a quiet day but in the example of above and the next example we can see how important his deep role is to allow others the time and space to score.
He picks the ball up in the corner and immediately Mattie Donnelly rushes out to double up on him. They force Sean Cavanagh to play at the top of the D.
Exclusive Six
Nations Analysis
Get Murray Kinsella's exclusive analysis of Ireland's Six Nations campaign this spring
Become a Member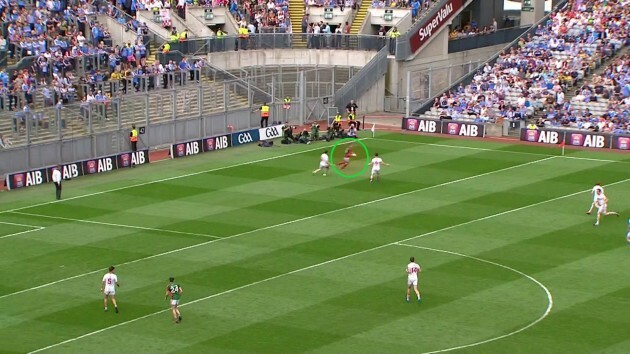 While Colm Cavanagh does get back, he plays as the deep sweeper, leaving is brother to occupy the next line.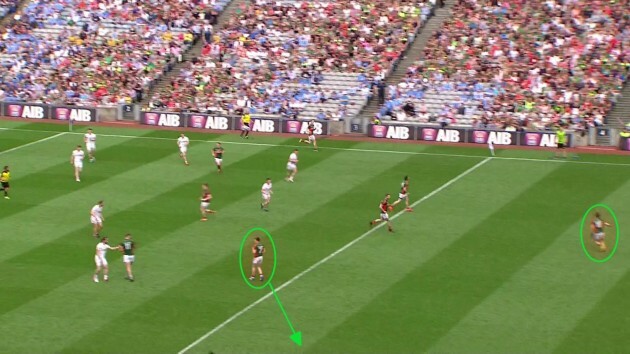 As the ball is worked back out to Parsons, Durcan starts to retreat, leaving space for a potential runner.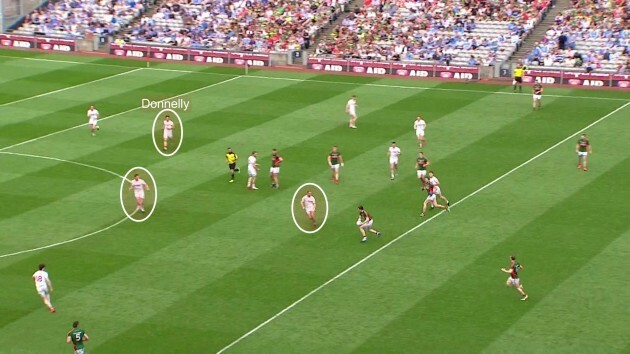 Durcan throws a lovely side-step and because of the body position of both Tyrone players they get caught. As Parsons appears on Durcan's shoulder the two Tyrone players have been wrong footed. Parsons is coming at pace he easily slips through.
Also look where Donnelly is. He is trying to get back in and does spot the danger but Moran's run from a few seconds earlier dragged him all the way to the corner and he just doesn't arrive on time.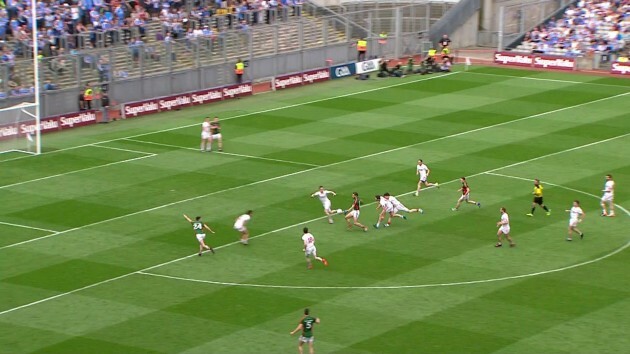 Colm Cavanagh is then forced to come out and on another day this could have been a goal chance for Jason Doherty, but in such a tight game a point was a good option.
Any stats will show that Andy Moran had one hand pass in this move, but his presence on the end-line dragged one of Tyrone's key defenders all the way across the pitch and ultimately helped create the space for Durcan and Parsons to play a one-two in.
Tyrone free taking & shooting
It's hard analysing this game to get away from the fact that the missed frees cost Tyrone. Before Saturday's game they were only shooting 48% from placed balls. The average at inter-county level is 69%.
On Saturday they kicked six from 10, again below average. While this raw number doesn't account for difficulty of frees it does highlight a problem area for Tyrone. As way of comparison Dublin this season are 88% (23/26) on placed balls.
Mayo conceded 11 scoreable frees on Saturday and 11 against Westmeath. They can be annoyed with referees all they like but a team is going to punish that level of fouling. Against Dublin that would be nine or 10 scores against.
One final stat is that Tyrone attempted 23 shots from play and scored six. It almost impossible to win a game when you shoot just 26% from play. Tipperary will no doubt see some flaws in that Mayo defence.
It's onwards for Mayo and you could see how much it meant to them at the end. You would expect them to beat Tipperary, but they are in for a tough battle. It's two traditional style teams going head-to-head. I expect and open end-to-end game in the semi-final.
The42 is on Snapchat! Tap the button below on your phone to add!