So would it be James Horan's Mayo or Mickey Harte's Tyrone that won out in Croke Park?
The teams met in today's All-Ireland senior football semi-final and we had all the action.
As always, we'd love to hear your comments. Send them to fintan@thescore.ie, tweet them @TheScoreGAA, find us on Facebook, or leave a comment below.
RESULT: Mayo 1-16 Tyrone 0-13
We're getting set for this year's first All-Ireland senior football semi-final with Mayo in opposition to Tyrone.
Massive Mayo crowd here in Croke Park.
Here are the teams named to start this afternoon.
Mayo: Robert Hennelly (Breaffy); Tom Cunniffe (Castlebar Mitchels), Ger Cafferkey (Ballina Stephenites), Chris Barrett (Belmullet); Lee Keegan (Westport), Donal Vaughan (Ballinrobe), Colm Boyle (Davitts); Aidan O'Shea (Breaffy), Seamus O'Shea (Breaffy); Kevin McLoughlin (Knockmore), Keith Higgins (Ballyhaunis), Alan Dillon (Ballintubber); Cillian O'Connor (Ballintubber), Alan Freeman (Aghamore), Andy Moran (Ballaghaderreen).
Tyrone: Pascal McConnell (Newtownstewart); Ryan McKenna (Eglish), Conor Clarke (Omagh), Cathal McCarron (Dromore); Ciaran McGinley (Errigal Ciarán), Peter Harte (Errigal Ciarán), Conor Gormley (Carrickmore); Colm Cavanagh (Moy), Sean Cavanagh (Moy); Mattie Donnelly (Trillick), Mark Donnelly (Carrickmore), Joe McMahon (Omagh); Darren McCurry (Edendork), Stephen O'Neill (Clann na nGael), Conor McAliskey (Clonoe).
There was some speculation that Mayo had injury worries in Aidan O'Shea and Andy Moran but both players look like they are going to play.
The referee for today's game is Maurice Deegan.
The pre match parade is about to begin in Croke Park. So last minute predictions, who do you think is going to win?
Check out Taoiseach Enda Kenny mixing with Mayo fans before today's game.
Which of these two men will be celebrating today?
James Horan?
Or Mickey Harte?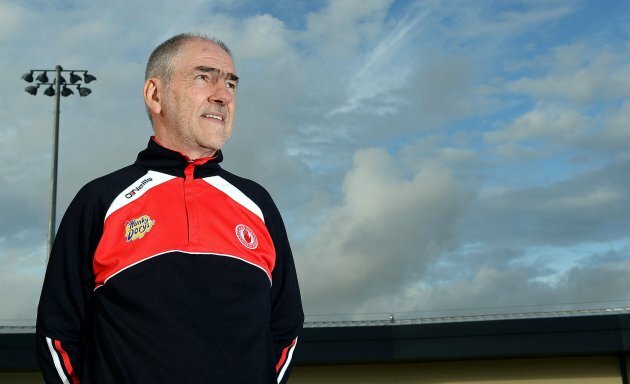 The teams have broken from the parade and we're moments way from throw-in. Massive crowd here in Croke Park. First the national anthem before we commence.
Aidan O'Shea wins the ball cleanly from the throw-in for Mayo, early boost for him.
But the first scoring chance for Mayo is struck poorly by Cillian O'Connor and the ball drops short to goalkeeper Pascal McConnell.
Keith Higgins then with a point effort for Mayo that rebounds off the upright and is cleared to safety by Tyrone.
Then Tyrone hit the post at the other end through Darren McCurry.
Tyrone 0-1 Mayo 0-0: 2 mins – Finally we have the first point of the game and it comes from Tyrone wing-back Ciaran McGinley when he blasts over from close range.
Free in to Mayo, foul by Joe McMahon on Alan Dillon.
Tyrone 0-1 Mayo 0-1: 4 mins – It's converted from 40 yards out by Cillian O'Connor with the ball just clearing the crossbar.
Tyrone 0-2 Mayo 0-1: 4 mins – Tyrone back in front after Stephen O'Neill hooks over a point off his right.
Peter Harte back on his feet for Tyrone after being down when he received a heavy shoulder. He's being treated to by the medical personnel but it looks his involvement in this game is over.
His right leg looks to be in serious discomfort and Harte is being withdrawn. No replacement on yet.
And it's the experienced Dermot Carlin, who started in the quarter-final win over Monaghan, that comes on for Harte.
Tyrone 0-2 Mayo 0-2: 9 mins – Kevin McLoughlin taps over a free for Mayo after Cillian O'Connor was fouled.
Tyrone 0-3 Mayo 0-2: 9 mins – Neat point by Conor McAliksey for Tyrone as he turns quickly to gather a punt in and fires over the bar.
Cillian O'Connor receiving treatment on the Cusack Stand sideline for Mayo. He looks to be in trouble.
Tyrone 0-4 Mayo 0-2: 10 mins – McAliskey again as he hits a real quality point for Tyrone.
Massive setback for Mayo as Cillian O'Connor, scorer of hat-tricks in their last two games, is forced off through injury. Enda Varley is on.
Big losses to both teams in the early stages with key men forced off.
But Tyrone are putting the pressure on Mayo in the early stages and depriving them of space.
Tyrone 0-5 Mayo 0-2: 13 mins – Mistake in the Mayo defence as Ger Cafferkey spills the ball and they then foul Tyrone with McCurry punishing them by converting the free.
Tyrone 0-5 Mayo 0-3: 15 mins – Important point from a free from Alan Freeman for Mayo as he has taken over the placed ball duties from Cillian O'Connor.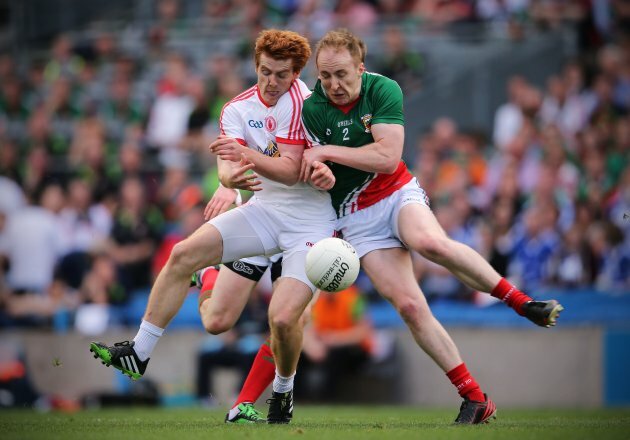 Mayo's Tom Cunniffe and Peter Harte of Tyrone
Pic: INPHO/Cathal Noonan
Freeman nearly grabs a point from play but the ball drifts wide.
Yellow card for Mayo's Lee Keegan for a high tackle on Sean Cavanagh.
Tyrone 0-6 Mayo 0-3: 21 mins – That's a beautiful point by Darren McCurry for Tyrone off his left after he showed great balance, skill and poise to score.
Mayo yet to score from play. A worrying statistic for them so far.
Rash shot by Enda Varley for Mayo as the ball goes across the goal and wide at the Davin End side of the Croke Park.
Then Andy Moran shoots wide with a similar effort for Mayo.
Mayo winning plenty ball in midfield but it's not translating into scores on the board.
Big moment in the game, Alan Freeman finds the net for Mayo but the referee has blown up for a free earlier in the move.
And incredibly Kevin McLoughlin has fired the free from the 13-yard line wide of goal. Big setback that for Mayo. Freeman had done wonderfully to strike the goal, he looks to be in form today. Mayo fans incensed by Maurice Deegan's decision.
We've lost another big name in this game. Stephen O'Neill is coming off for Tyrone with Ronan O'Neill coming on.
Mayo's shooting is really letting them down in this first-half with Enda Varley just after firing wide from the right wing from a free.
Heavy challenge by Aidan O'Shea on Colm Cavanagh and he is shown a yellow card.
Mayo's Keith Higgins and Tyrone's Mark Donnelly.
Pic: INPHO/James Crombie
Tyrone 0-7 Mayo 0-3: 32 mins – Tyrone stretch their lead courtesy of Ronan O'Neill after he is fed by Mark Donnelly. That score arrived after a wayward pass by Aidan O'Shea was intercepted by Dermot Carlin.
Tyrone 0-7 Mayo 0-4: 32 mins – Finally Mayo get off the mark from play and it's through corner-back Chris Barrett who surges forward to split the posts.
Tyrone 0-7 Mayo 0-5: 34 mins – Another Mayo point from play, this time through defender Lee Keegan. Mayo did well to turnover Ronan O'Neill in possession and counter-attacked swiftly.
Sean Cavanagh's first point attempt of the day, but he's under pressure and doesn't kick it cleanly which results in the ball rolling wide.
Tyrone 0-7 Mayo 0-6: 37 mins – Mayo's defenders are showing their forwards how it's done. Tom Cunniffe breaks upfield to feed his fellow corner-back Chris Barrett who ran in support and the Belmullet club man kicked confidently between the posts.
Half-Time: Tyrone 0-7 Mayo 0-6: And it's Tyrone who lead narrowly at the break after a half where Mayo finished strongly with three points in succession. Peter Harte, Cillian O'Connor and Stephen O'Neill all gone off injured in the first-half. We'll be back shortly with the second-half action.
We're getting set for the second-half here and the game is under way.
Early free to Tyrone but the decision looked questionable with Donal Vaughan appearing to tackle Sean Cavanagh fairly.
Darren McCurry shoots wide from the resultant kick.
Tyrone 0-7 Mayo 0-7: 36 mins – Mayo draw level and it's through the first point from play from a forward. Fine score too from Enda Varley as he steps in off the left wing and shoots over with his right foot.
Penalty for Mayo as Colm Boyle is fouled!
Alan Freeman is going to take it.
And Freeman finds the net!
Mayo 1-7 Tyrone 0-7: 39 mins – Mayo hit the front with Freeman firing the ball past Pascal McConnell. The ball struck the back stanchion and rebounded out but had clearly crossed the line. Big boost for Mayo.
Tyrone miss a very scoreable free from Sean Cavanagh after Conor McAliskey was fouled.
Mayo 1-8 Tyrone 0-7: 43 mins – Seamus O'Shea, who's been very impressive today, is fouled running through for Mayo and Alan Freeman converts the resultant free.
Tyrone are taking off Joe McMahon and bringing in Ronan McNabb.
Mattie Donnelly moves onto a pass in the Tyrone attack but his left-foot shot falls wide.
Mayo 1-9 Tyrone 0-7: 45 mins – Fine point by Alan Dillon, his first of the game, with the outside of his right foot. They've opened up a nice lead now.
Aidan Cassidy on for Matthew Donnelly for Tyrone.
Mayo 1-10 Tyrone 0-7: 48 mins – All Mayo now as goalkeeper Robert Hennelly comes forward to boom over a long-range free.
Mayo 1-10 Tyrone 0-8: 48 mins – Aidan Cassidy hooks over a point in response for Tyrone, their first score of the second-half.
Mayo 1-10 Tyrone 0-9: 49 mins – Another Tyrone point, this time from Darren McCurry. They wanted a penalty though after Ryan McKenna's goal bound shot looked like it might have been blocked by the foot of Lee Keegan.
Mayo 1-11 Tyrone 0-9: 50 mins – Great point for Mayo from Alan Freeman from play. He's really stepping up as a leader in their attack today.
Mayo's Alan Freeman celebrates scoring their first goal of the game from a penalty
Pic: INPHO/Ryan Byrne
Mayo 1-12 Tyrone 0-9: 52 mins – Then Freeman clips over a close-range free after being fouled himself.
Mayo 1-12 Tyrone 0-10: 53 mins – It's taken 52 minutes but Sean Cavanagh is finally on the scoresheet as he fires over a free after Mark Donnelly was fouled.
Yellow card for Tyrone's Colm Cavanagh for a foul on Aidan O'Shea.
Mayo are bringing in Michael Conroy for Andy Moran.
Ronan O'Neill is being brought off the Tyrone team with Kyle Coney coming on.
Cathal Carolan on for Mayo instead of Tom Cunniffe.
Couple of wides for Mayo from Michael Conroy and Donal Vaughan.
Mayo 1-13 Tyrone 0-10: 59 mins – Lee Keegan on target for Mayo with his second point of the game.
Mayo 1-14 Tyrone 0-10: 60 mins – Wayward kickout by Pascal McConnell is seized on by Aidan O'Shea who kickstarts a move that is finished off in style by Cathal Carolan.
Mayo 1-15 Tyrone 0-10: 61 mins – Then O'Shea gets forward himself to fist over a point and send Mayo clear by eight.
Mayo 1-15 Tyrone 0-11: 63 mins – Mark Donnelly grabs a point back for Tyrone.
Mayo 1-16 Tyrone 0-11: 63 mins – But Alan Dillon fights back with a lovely point for Mayo.
Mayo 1-16 Tyrone 0-12: 64 mins – Sean Cavanagh gets free close to goal but his shot under pressure goes over rather than under the crossbar. Tyrone need a goal to get back into this game.
Mayo 1-16 Tyrone 0-13: 66 mins – Darren McCurry taps over a free for Tyrone.
Bad miss for Mayo from Enda Varley from a free. Barry Moran comes in for Aidan O'Shea for Mayo.
Full-Time: Mayo 1-16 Tyrone 0-13
And that's it, Mayo run out victors by 6 points.
A deserved victory for Mayo as they overcame a shaky start. Alan Freeman's goal after half-time settled them and they dominated the second-half.
That's all from us this afternoon, thanks for joining us on a day when Mayo booked their place in the All-Ireland senior and minor football finals on September 22nd.