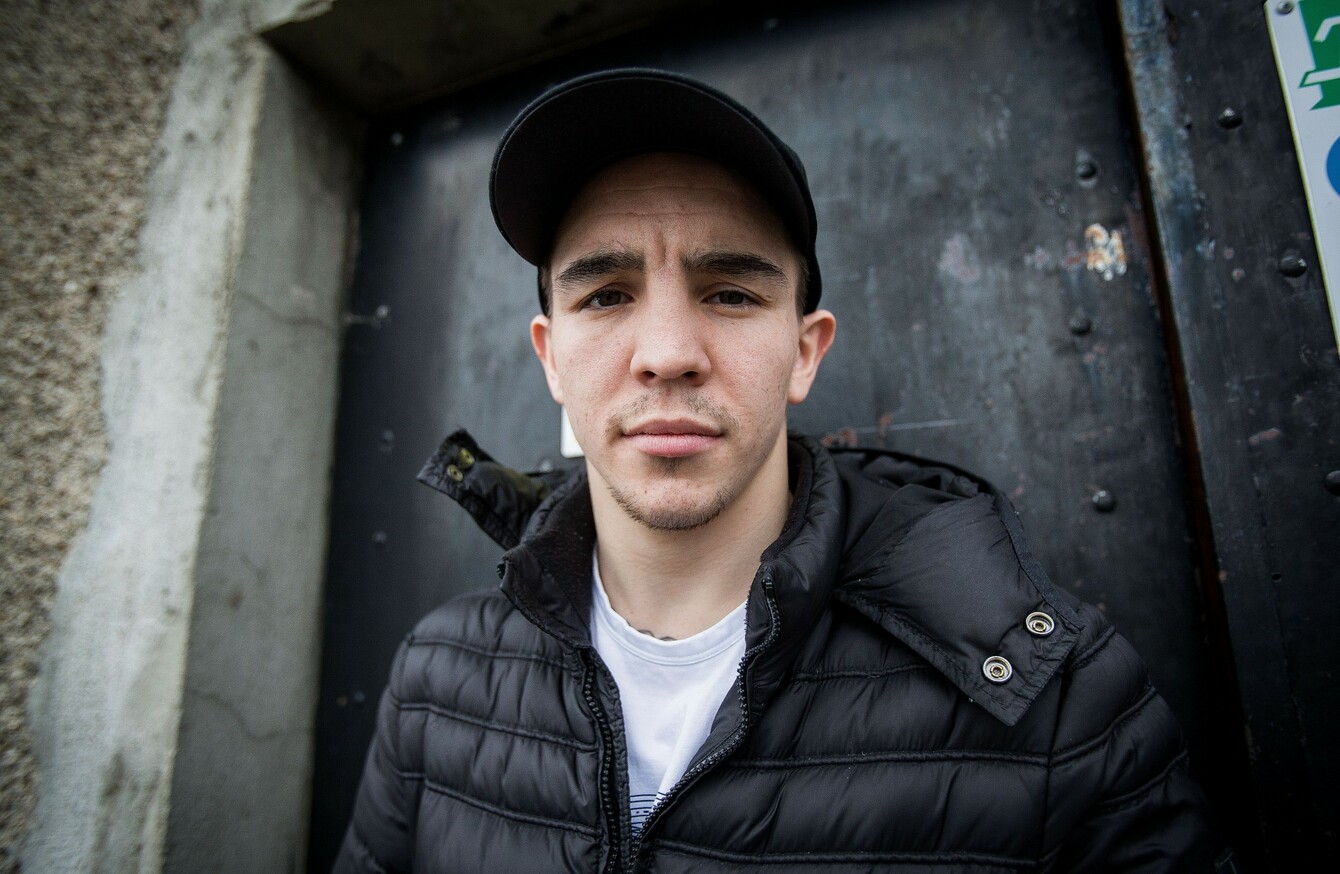 Image: Gary Carr/INPHO
Image: Gary Carr/INPHO
HAVING LEFT QUITE the impression on New York and Chicago in his first two professional fights, Michael Conlan is packing his bags for a business trip Down Under.
On 2 July, Ireland's former amateur boxing icon will emerge from the tunnel at Brisbane's Suncorp Stadium to a cacophony of noise from a near-capacity crowd, about half an hour before future Hall of Famer Manny Pacquiao defends his WBO World welterweight strap against hometown hero Jeff Horn within the same squared circle.
Further still, thanks to a new deal secured by Pacquiao and Conlan's promoters Top Rank, both fights will be broadcast on ESPN – the world's largest sports network which is beamed to over 90 million households in the States. Despite having headlined The Theater at Madison Square Garden on his debut, and Chicago's UCI Pavilion for his second pro contest, the wee man from Belfast's Falls Road is under no illusions as to the magnitude of his upcoming opportunity.
Mind you, he was until Monday.
"It's the biggest fight so far, 100%," Conlan tells The42. "Especially now with the platform we're on, with ESPN."
I didn't realise how big it was until I was talking with Steve Kim [US boxing journalist] on Monday. He came to the gym and he was talking to me, and he had to tell me how big this actually is. This is bloody huge. I came out to the States, and I obviously knew ESPN was big, but the way he was explaining it to me, this is a serious move by Top Rank. And I'm the kind of…co-feature…for Pacquiao!"
He can barely string the sentence together such is his laughter at the absurdity of it all. Conlan will fight as chief support to the eight-time world champion on a card which will likely draw millions of viewers, and not merely of a boxing persuasion. His position on the bill also dictates that he'll fight in front of a near full house.
It's somewhat of a contrast to the rather derided narrative back in April that Katie Taylor would throw down under the gaze of 90,000 fans at Wembley; while there was still a sizable crowd present by regular boxing standards, Taylor destroyed Nina Meinke so early on the Joshua-Klitschko bill that there remained swathes of red seats around the stadium.
"It looks like it's going to be a 60,000 sellout," Conlan says. "They had scheduled for 55,000, and now they've released another 5,000-odd tickets. And it's only my third fight. It's massive."
I wouldn't even say it was 60,000 fans when Katie was fighting. Not to be disrespectful to Katie – I'm her biggest fan, the woman is a legend – but a lot of people were still at the bar and still getting to the arena when she was fighting. But I'm obviously very fortunate in that I'm on right before Pacquiao. It's going to be interesting.
It also presents the 25-year-old with a unique opportunity to appease the enormous Irish diaspora in Australia, with hundreds on Twitter feverish in their excitement that they'll get to watch two-time Olympian Conlan in the flesh next month. That in itself means a lot to a man whose first two fights have pulled in over 9,000 fans in the States, most of them Irish.
"There's literally thousands of Irish going, and I'm not just saying that. It's unbelievable, like. I'll definitely have more Irish fans watching me in Brisbane than I did in Chicago.
"I've spoken to people in Sydney and they've said that everybody they know is going to the fight. And people in Melbourne have said the exact same thing. So it seems like everybody is travelling all over Australia for this. Plus, I have family there. My Godmother and my Godfather and my three cousins all live over there, so it's perfect. I leave today and I just can't wait to get over there."
The word pressure typically draws a scoff from the reigning World amateur champion, but given the enormity of July's occasion, he's keen to put on a show when he trades leather with Australian Jarett Owen [5-4-3].
After dispatching Denver's Tim Ibarra on his debut, a disappointed Conlan graded his performance with an 'F'. He gave himself an 'E' following his two-knockdown win over Mexican Alfredo Chanez within the same distance in Chicago, before having a change of heart and failing himself once more.
Teachers in Belfast are evidently tough task masters, but with the benefit of hindsight and indeed Youtube, Conlan can accept that some of his perceived shortcomings thus far have been scarcely avoidable. He also admitted that both he and his manager Matthew Macklin had requested that he be paired with more capable opponents after a facile but messy victory in Chicago.
"When I look back on it now, I wouldn't even say it was that I was disappointed with my performances so much. I feel that, given the opponents, I could have performed better. But the opponents who have been given to me so far have been just so negative that it's hard to look good.
"I'm improving in the gym, and the sparring I'm getting is unbelievable, and I feel like I'm getting better every day, so I wouldn't even say it's me, but more the calibre of opponents. Even the last guy [Alfredo Chanez] – we had watched footage of him and we were actually expecting him to come and give it a go, but after the first few punches he just didn't want to know. He tried to survive and tried to play crybaby, and yap his way out of it. He actually tried to get me disqualified.
After the last fight I told Top Rank I need better opponents, and Matthew [Macklin] told them also. But the thing is, I just have to trust them at the same time, because let's be honest, I'm not in any rush. I'm still young. Who am I to question what they're doing?
"It's going to get harder no matter what, so it's better to enjoy what I'm doing now and keep improving."
Across the Atlantic, Conlan's old chum Paddy Barnes won his first professional title last Saturday night, picking up the WBO European flyweight title – and perhaps more pertinently, a top-15 ranking with the WBO – with a majority decision victory over Silvio Olteanu at Belfast's Waterfront Hall.
Barnes, like Conlan, is his own harshest critic, and was extremely candid in his own post-fight assessment. The three-time Olympian came in for harsh flak online, not that he was too bothered. Conlan was more constructive in his appraisal of his close friend's performance and spoke with Barnes after his win, but accepts criticism of both men is understandable given their pugilistic pedigree.
I watched Paddy's fight on tv over here. I have a wee box so I can watch it. I thought he won, I had it close, but he's going to get criticism no matter what – me as well – because we are such accomplished amateurs, and we've been talking for long enough about moving to the pros. Paddy's been calling out world champions!
"If I was to be honest, I thought he won fairly comfortably – yes – but I also thought maybe it was just a fight too soon, and maybe he should have had an eight-rounder first.
"Not that I felt he performed badly, but he still should be looking good and working on things while fighting a guy who can test him. But I'm not sure if he was working on anything there [versus Olteanu]. I felt he was kind of just getting through it, and he had to go back to his old self to get the job done rather than performing what he's been working on."
Ringside for elder schoolmate Barnes' triumph was new IBF World bantamweight champion Ryan Burnett, fresh off plastic surgery following a deep cut suffered during his own win over Lee Haskins seven days prior.
Given their respective weights and talents, Irish boxing sage Kevin Byrne mooted an all-Belfast scrap between Burnett and Conlan as far back as 2015 when Burnett was 11-0 and Conlan still an amateur. Four years beforehand, Conlan had edged the Youth Olympic gold medalist 4-3 at the quarter-final stage of the Irish Seniors – a victory which would forever alter the course of both fighters' careers. It was Burnett's last defeat in the ring.
Conlan is aware he's not long enough in the door of the pros to be calling for heads, but readily admits that a fight between he and Burnett might well manifest itself a couple of years down the line.
"It all depends on Ryan," he says. "It's whether he moves through the divisions and comes up in weight. I'm going to be at super-bantamweight until I win a world title – there's no doubt about that. The only way I go up before that is if I become naturally too big. But I'd say I'll be at super-bantam for a maximum of four years and then featherweight. It's whether Ryan moves up as well is the question.
I would love that fight in the future. I'm sure he'd love it too as I'm the last person to beat him, so it'd be one he'll probably always want to get back.
"But going back to his world title fight: I thought he boxed brilliantly. He put in a great shift against Lee Haskins who I thought was going to be a problem, to be honest, because Lee's just so awkward. But Ryan's just…he put in a great performance. Credit to him and credit his coach for coming up with a great gameplan."
For now, Conlan remains focused on Brisbane. After that, it's on to Vegas for another mega-event, and the fly in boxing's ointment that is Floyd Mayweather versus Conor McGregor.
McGregor famously walked Conlan to the ring for his debut back in March, which led to some speculation that Conlan might sneak onto the undercard of the UFC lightweight champion's clash with an all-time boxing great. Promotional politics, however, will likely put paid to the idea before it can be even motioned; Mayweather and Conlan's promoters Top Rank – and in particular the latter's CEO Bob Arum – have a poisonous relationship, and tend only to do business when there's close to $600m on the line.
Not that it's stopped Conlan from chancing his arm.
"I sent Conor a message saying, 'get me on that card', but he hasn't replied to me yet!
"But nah, I think it's impossible. At the end of the day it's Floyd's fight, and Floyd and Top Rank have history. It's unlikely, but you know, anything is possible in boxing. And that's the truth – anything is possible in this sport."
Conlan will instead return the favour from March, or as he sees it, receive another favour from 'The Notorious', and join the Crumlin man's team ahead of his Hail Mary shot at 'Money'.
He does however reckon he'll be less forthcoming with advice than a particularly vocal McGregor was on St. Patrick's night in New York.
I'll be there at the fight anyway. Conor's asked me to be a part of his camp. But people keep saying that I'm going to come down and give him all this boxing advice. I won't be doing that. He's got people there who are paid to do that, and anyway, I don't know how to beat Floyd Mayweather! It's a bit crazy.
"He's only asked me to be part of the camp to experience the big fight atmosphere and what it's going to be like."
Many remain incredulous that the fight is taking place at all. Conlan is too, but not in a begrudging way. He's seen some outlandish things in boxing himself over the past 12 months, and he's made his peace with this latest installment.
"I am happy for Conor and Floyd." he says. "Well, I'm not really a fan of Floyd… But they've both seen an opportunity and cashed in. And I'm happy for Conor as an Irishman and a sportsperson. He's come into this sport with his story, being on the brew [dole] and stuff, and those first couple of paychecks.
"Now he'll be making 100% the biggest purse for a pro debut in boxing. It's fucking crazy! It's mental stuff. He's going to cash out with a lot of money in his pocket, and fair play to him."
On of the more curious aspects to the contest is the sheer volume of Irish boxers who have backed McGregor to do what 49 professional boxers couldn't do and overcome the undefeated five-weight world champion, proclamations which in essence devalue their own craft. In spite of his relationship with the MMA icon, Conlan's own outlook is far more pragmatic.
He puts his fellow Irish boxers' predictions down not to delusion, but nationalistic bravado. And he's partial to a bit of it himself.
You know yourself, some people are realists. But Irish people, no matter what, you'll back your own. Fuck's sake, we think Ireland are going to win the World Cup every time we're in it. Like, there's always that chance that gets people dreaming. To be honest, it would probably be bad for boxing if Conor won, but fuck it, I'm an Irishman. I hope he does it.
"Look, it's a fight which is almost impossible for Conor, but as I've said, in the sport of boxing anything is possible."
If anyone should know, it's Michael Conlan.
The42 is on Instagram! Tap the button below on your phone to follow us!
Examining which Irish boxers, if any, will appear on the Mayweather-McGregor undercard