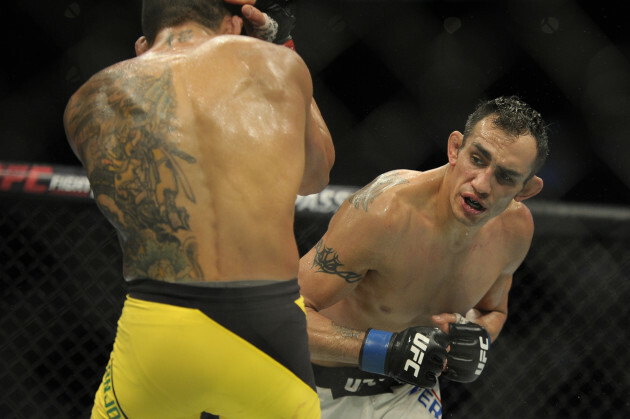 SIPA USA / PA Images Tony Ferguson en route to victory against former UFC lightweight champion Rafael Dos Anjos. SIPA USA / PA Images / PA Images
CONOR McGREGOR'S NEXT bout looks set to be a long-awaited UFC title defence.
In an interview today with Mike Sheridan of Entertainment.ie, McGregor confirmed that talks are in progress over a potential clash with Tony Ferguson.
The 29-year-old Dubliner was crowned UFC lightweight champion in November of last year when he dethroned Eddie Alvarez at Madison Square Garden. However, his only outing in the meantime was a defeat to Floyd Mayweather in a boxing bout in August.
When asked about his next move, McGregor (21-3 in MMA) said: "I've got everyone clawing at me, trying to get at me, and that's from multiple sports, multiple organisations, multiple everything. It's been like that for a long, long time, so it's just another day for me.
"I know there are many contenders in the UFC. There are many boxing contenders as well. What interests me is certainly a UFC bout, certainly a defence of my lightweight title. There's a fighter with the interim lightweight belt. I feel that'll be next. We'll see how negotiations go."
Entertainmentie / YouTube
Ferguson (23-3) is currently the form fighter in the UFC's 155-pound division. After overcoming ex-champion Rafael Dos Anjos in November 2016, he was crowned interim lightweight champion earlier this month when his 10th consecutive win came at the expense of Kevin Lee.
A 33-year-old native of California with an accomplished wrestling and jiu-jitsu pedigree, Ferguson debuted in the UFC in 2011 after winning the 13th season of The Ultimate Fighter. His sole defeat in 14 outings for the world's leading organisation came via unanimous decision against Michael Johnson in May 2012.
McGregor said: "I feel to legitimise the belt… there's an interim champion, I'm the unified champion, I feel that'll be next. We're currently in contract negotiations and we'll see where it goes."
Having defeated Jose Aldo in December 2015 to win the featherweight belt, McGregor is the only fighter who has simultaneously held two UFC titles.
He was later stripped of the 145-pound strap due to inactivity, so if a unification bout against Ferguson should take place, it will represent his first title defence in the octagon.