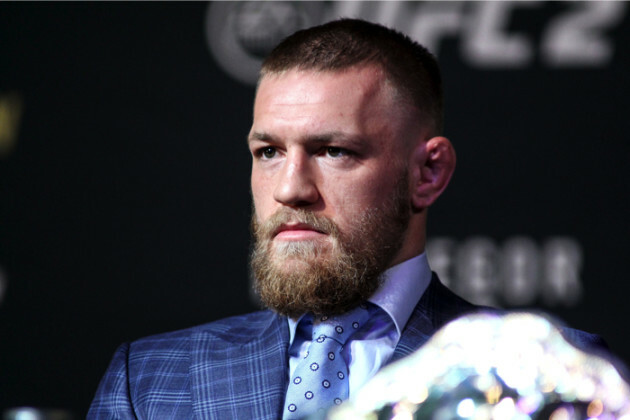 INPHO / Raymond Spencer Conor McGregor INPHO / Raymond Spencer / Raymond Spencer
AFTER HE DEFEATED Chad Mendes in July of last year to win the interim UFC featherweight title, Conor McGregor revealed that he had fought despite sustaining a significant knee injury in the build-up to the bout at UFC 189 in Las Vegas.
McGregor claimed that, during a training session 14 weeks out from the fight, he tore 80% of the anterior cruciate ligament in the same knee that he had damaged in his August 2013 win against Max Holloway — an injury which kept him sidelined for 10 months.
At the time, unsubstantiated rumours circulated around the MMA community that the injury happened while McGregor was training with Rory MacDonald in Toronto as the pair were involved in the media tour for UFC 189, where McGregor was scheduled to face featherweight champion Jose Aldo in the main event, with MacDonald taking on welterweight title-holder Robbie Lawler in the co-headliner.
In his new autobiography, 'Win or Learn', which officially went on sale today, McGregor's coach John Kavanagh confirms that a training accident involving the popular welterweight contender was indeed responsible for McGregor's injury. Kavanagh was at home in Dublin in March 2015 when he received a call from Artem Lobov, McGregor's training partner.
"Artem explained that Conor and Rory MacDonald – a Canadian welterweight who was scheduled to take on the champion, Robbie Lawler, in UFC 189 – had been training together that afternoon," Kavanagh writes. "Nothing strenuous, just a bit of grappling. But during their session, Rory landed awkwardly on Conor's left knee – the same knee he had injured against Max Holloway."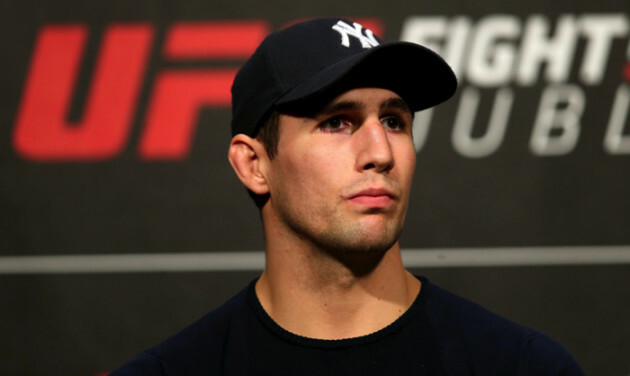 INPHO / Ryan Byrne Rory MacDonald INPHO / Ryan Byrne / Ryan Byrne
McGregor returned to Ireland a few days later for the final leg of the UFC 189 media tour, which involved an infamous press conference with Jose Aldo in front of 3,000 Irish fans at the Convention Centre in Dublin.
"I couldn't help but think that there were people looking at this from all over the world, none of them aware that the fight these guys were promoting might not even go ahead because of the state of Conor's knee," Kavanagh says. "At the same time, I was slightly reassured by how he was able to jump around the stage like a maniac."
Kavanagh believed McGregor's knee probably needed medical attention but the fighter disagreed, lest any examination reveal an injury that would require further surgery and therefore result in the postponement of an eagerly-anticipated and lucrative bout.
Kavanagh: "I was keen for him to have a scan in order to discover exactly what the problem was, but he was reluctant. 'Let me figure this out,' he said. 'I don't think this will need surgery. I can get by without it.'
Given that he was about to begin a training camp for the biggest fight of his life, Conor wanted to avoid being operated on. Having to do so would immediately have forced the postponement of the fight and he was convinced that such a move wasn't necessary."
Instead, McGregor tried stem-cell therapy, as suggested by UFC president Dana White: "By now, Conor had mentioned the injury to Dana White, who recommended that Conor visit a clinic in Germany which specialised in stem-­cell therapy. As a sufferer of Ménière's disease, Dana had undergone stem-­cell treatment at the same clinic and found it to be very effective. Conor took his advice.
"He flew straight out to Germany and was given stem-­cell injections into his knee. Within a few days, he was back in the gym. 'It feels good,' he insisted. 'It's not perfect but it'll get better over the next few weeks of training. Let's do this. I'm ready.' And that was that. We were going full steam ahead for the biggest fight in UFC history in spite of a knee injury the seriousness of which was unclear.
"I still wanted Conor to have a scan. If we needed to push the fight back a few months, so be it. But he was adamant. There was no telling him otherwise. All I could do was take his word for it and devote myself to the task of preparing him accordingly."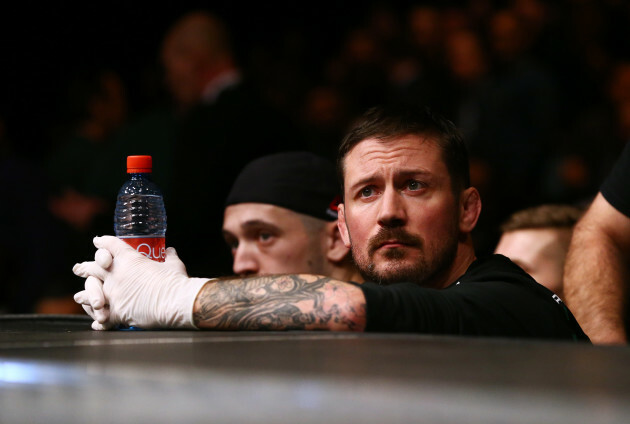 Cathal Noonan / INPHO John Kavanagh Cathal Noonan / INPHO / INPHO
Kavanagh adds that while McGregor was mostly able to train as normal, the nature of the injury meant that he was unable to do any wrestling drills — which only became an issue a fortnight before UFC 189 when Jose Aldo pulled out due to an injury and Chad Mendes, an elite wrestler, stepped in to replace him.
Kavanagh: "The situation reminded me of something former world boxing champion Steve Collins once said to some of my guys when he visited the gym: 'I'd rather be 75% physically ready and 100% mentally ready than 100% physically ready and 75% mentally ready.'
'That certainly applied to Conor, because there was no doubting that his psychological preparation was spot on. There wasn't a single question in his mind about wanting to proceed with this, so the best thing I could do as his coach was get fully behind him. But I'd be lying if I said there wasn't any concern."
Despite being taken down several times by Mendes during the contest, McGregor ultimately prevailed, winning via TKO towards the end of the second round. Kavanagh explains that rest eventually allowed the injury to clear up so no surgery was required before McGregor went on to beat Jose Aldo in December to become the undisputed UFC featherweight champion.