Snowden MMA / YouTube
MIXED MARTIAL ARTS star Conor McGregor has said it is up to boxer Floyd Mayweather to make the next move if the two are going to meet in the ring.
News of the Dubliner obtaining a boxing licence this week by the state of California, has fuelled rumours that McGregor will switch disciplines to take on the American.
And the 28-year-old has claimed it was the boxer's team that initiated contact between the pair.
"Originally what happened was Floyd called me up," McGregor said at an event in Belfast."That's originally what happened. I don't care about Floyd.
"I don't give a f**k about Floyd. I do not give a f**k about Floyd. I don't fear no man under no rule set.
"I'm sitting there minding my own business, dominating true fighting and Floyd calls me out and leaks a rumor that we're supposed to fight or something like that. So what I did was I opened up my eyes a little bit," McGregor continued.
"I went, 'Hold on. Maybe I can pursue this. Maybe I can pursue the boxing side. Maybe there is something there.' So we went to it. We were in the background of negotiations and we'll see what happens.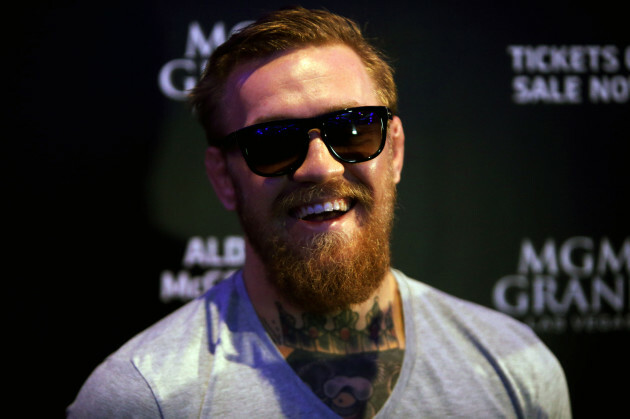 Brian Lawless A fight between the two stars has been mooted over the last couple of months [file pic]. Brian Lawless
"Now I have my boxing license. Now it's their move. Since I've got that boxing license, Floyd's fat manager came out and was like 'Oh Floyd's in the Bahamas, he doesn't care about Conor.' Well I don't give a f**k  about Floyd either.
"If you don't want this fight then it's no problem."
"Other than the Floyd-Manny Pacquiao pay-per-view numbers, gate numbers. I hold all the numbers. Other than that one fight. So I don't need Floyd. I do not need him."
McGregor also hit out at claims from Mayweather CEO Leonard Ellerbe, that the UFC star is only interested in generating more headlines and that "he would get his ass beat from pillar to post" by the 39-year-old, who has been in retirement since defeating Andre Berto in September of last year.
"Tell him to come say it to my face. "I've got the boxing license. Now Floyd's in the Bahamas. Now I get the boxing license and he's gone.
"Look Floyd's a phenomenal boxer. It's a different craft for me to go and do this. But with correction preparation.
"If I took out my jiu-jitsu training, my wrestling training, my kickboxing training, if I took out my all those different disciplines and focused with the work ethic that I have solely on the sport of boxing then there's no telling what I can do. I would not go in there just to show up.
"I'd go in there to knock him out and that's it. [Floyd] can be hit. He's been hit before. Age waits for no man also. I know they know that.  I know the size is on my side. I know the reach is on my side. I know the youth is on my side."
AP / Press Association Images Five-division world champion Floyd Mayweather retired from boxing last year. AP / Press Association Images / Press Association Images
The Crumlin fighter also says he remains a two-weight champion after the UFC announced during their Melbourne event that he has been stripped of his featherweight belt due to his inactivity in the division.
They claimed McGregor gave up the belt voluntarily, but that doesn't seem to be the case, according to the lightweight champion.
"I'm also in something with the UFC where they're trying to strip me and I'm like 'Well I ain't stripped," McGregor said.
"Yeah I still got that belt. That belt is sitting at my home right now. I'm still the two weight world champion. Someone's got to come take that off me. I see articles, I see stuff online, but I don't see the belt not in my presence.
"The belt is right there. There's two world titles in my home."
The42 is on Instagram! Tap the button below on your phone to follow us!