– Paul Dollery reports from Las Vegas
"THERE IS NO opponent. You're against yourself. I believe in myself so much that nothing is going to stop me."
In a documentary that was produced by MTV shortly after he was signed by the UFC early in 2013, Conor McGregor provided an insight into his mindset by explaining that, to him, opponents are irrelevant.
Thought-provoking and inspiring, his words could be applied to any walk of life. Work hard enough and nobody can stop you from achieving your goals — that was the message.
Over the course of his two-year ascent from the bottom of the UFC's featherweight division to the top, the opponents got tougher but the results remained the same.
It brought him to a 13-second knockout of a fighter who was ranked as the pound-for-pound best in the world, so McGregor needed no further evidence to tell him that his philosophy of 'There is no opponent' was proving to be effective.
But that changed last March. Moving up to welterweight following the withdrawal of his original UFC 196 opponent, Rafael dos Anjos, McGregor faced a significantly larger opponent in Nate Diaz.
Shorn of the size advantage he normally enjoys as a featherweight, McGregor nevertheless pursued his usual strategy of aiming to herd his opponent around the octagon while picking him off with strikes. But this time his modus operandi didn't suffice.
Diaz — a southpaw, like McGregor — put his height and reach advantage to good use, utilising his range and head movement to avoid the vast majority of the Dubliner's attempted strikes, before winning via a second-round submission which was engineered by the damage he had managed to inflict with his hands.
The defeat left McGregor with much to ponder. An immediate opportunity to exact revenge was his priority, but he knew that the same approach wouldn't be enough to achieve it.
A valuable lesson learned for the Straight Blast Gym fighter and his team. A lesson that even forced the postponement of the rematch from its initial date of 9 July after McGregor refused to travel to Las Vegas for a press conference due to the disruption he claimed it would cause to his preparations.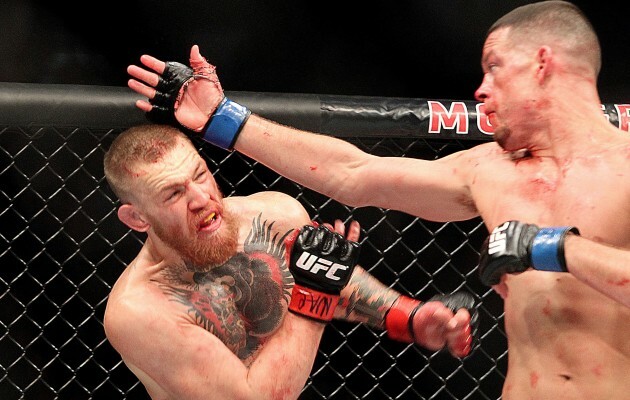 Raymond Spencer / INPHO Stockton Slap: Conor McGregor under pressure from Nate Diaz at UFC 196. Raymond Spencer / INPHO / INPHO
"Anyone who knows about the history of SBG Ireland will be aware that we were always regarded as the last-minute gym — the guys who would be ready to step in at short notice," wrote SBG Ireland head coach John Kavanagh in his most recent The42 column.
"Our mentality reflected that so all you can do in those circumstances is try to get your skillset to such a high level that the opponent doesn't matter. I believe that worked well for us and the results were proof of that, but I also feel that when you've done that for so long, you can end up getting caught out against certain styles of opponent.
"This has provided us with an opportunity to experience the other method of extreme gameplanning and being very opponent-orientated. It's been a new approach for me, and for us all. I'd describe it as doing an exam after seeing the questions on the teacher's test sheet.
I feel like we're almost cheating going into this fight because we know what questions we're going to face in the test."
For his rematch with Diaz in Las Vegas this Saturday night, McGregor handpicked sparring partners that resembled Diaz's style and frame. The likes of Artem Lobov and Peter Queally have stepped aside for SBG team-mates John Michael Sheil and Cian Cowley, as well as Irish amateur boxer Conor Wallace, while elite Brazilian jiu-jitsu practitioner and New Jersey native Dillon Danis has also been pivotal.
"I've watched a lot of videos of Nate," Wallace told The42 prior to departing for Vegas with McGregor's team last month. "He's a tall southpaw and he's very dangerous with the right hand. I've been watching what he does and I'll be trying to do exactly that to help Conor to prepare for the fight.
"Conor is doing all the right things now that he didn't do the last time — sparring southpaws and working on a lot of different stuff that he didn't work on the last time. He knows Nate's strengths and weaknesses now so I think you're going to see a different result." 
Ryan Byrne / INPHO Conor Wallace (left) taking on Michael O'Reilly in last December's Irish Elite middleweight final. Ryan Byrne / INPHO / INPHO
Peter Queally, who has continued to work with McGregor in the grappling and wrestling department for this fight, is adamant that the tailored approach will help to make the difference as his team-mate seeks to avenge his only defeat in the UFC so far.
"This is the first time that Conor has used sparring partners that match his opponent. I haven't done any sparring with him this time. All his sparring has been done with six-foot-two southpaws. That's going to be a factor as well because before he just sparred with whoever was available," Queally said.
"A lot of his opponents end up pulling out so he just thought that was the best way to do it. But it was pretty obvious that Nate wasn't going to pull out of this one, so Conor has done his training accordingly.
He'll have a feel for Nate right away instead of trying to get used to him in the ring, and I think that's going to play a big part on the night."
Opting not to obsess over the questions his opponents could pose of him served McGregor well en route to realising his initial goal in the UFC — winning the featherweight title.
But if the 28-year-old wishes to taste unprecedented success in multiple weight classes, the attributes of those standing in his way are too dangerous to be overlooked — as evidenced by the estimated $300,000 McGregor claims to have invested in this training camp.
Parts of his training camp for this bout had already taken place in both Reykjavik and Dublin before McGregor and his team departed for Las Vegas on 5 July, where he transformed an empty warehouse into a custom-built gym, as well as housing his training partners and coaches in apartments on the grounds of his luxury rented mansion nearby.
"I've brought in middleweights to prepare me. There's a reason why I'm sparring middleweights every God damn day and he's sparing with flyweights," said McGregor during the recent UFC 202 media conference call.
"We are preparing for differing styles of opponent; he [Diaz] has prepared for the lighter fight and I'm prepared for the heavier, slower man that can take a smack, and that's it.
"We'll find out on the night, but I've put in the work. I've put in the work so hard for this one. I've got rounds on rounds on the mat, in the cage, in the ring and I've been in the trenches since 5 March."
McGregor: "I didn't give enough credit to Nate's durability and his experience. He's a very experienced fighter. He's had more UFC fights than I've had fights. Also his height and his range and his reactions, I gave no respect to that. I marched forward. In fairness, for the first two rounds, for the first round, round and a half, he was a heavy bag with eyeballs. So I was correct in that.
"But his durability held out. His experience held out for him. So this time I've been preparing for that. I've been preparing to face a durable, experienced fighter who has the reach, the height and the length. And that's it. I feel very confident that we will go in and get this win back and I can go in and put this man away."
Exclusive Six
Nations Analysis
Get Murray Kinsella's exclusive analysis of Ireland's Six Nations campaign this spring
Become a Member
In addition to the opponent-specific outlook, McGregor has sought to address his cardio, as well as complacency. Dr Julian Dalby, a former Irish national cycling champion, has been looking after the strength and conditioning area of his preparation. John Kavanagh says 'routine' has been the key word in recent months. For McGregor, it's 'structure'.
"We were forced to kind of look at how we were preparing for these contests," said McGregor. "It got complacent. It got, 'We'll show up any time, we'll train whenever we feel like, we'll hit them and they'll fall'. On top of that, everyone has their own commitments. The amount of stuff I have, my coach John has a book out now, everyone that has been involved in my camp had a crazy change in their entire life.
This one, it forced us to look at how we were preparing, it forced us to come back together and do what we've been doing from the beginning. Focus, solid work. This time we incorporated structure into the game. I feel structure is the true key to success.
"You can get a reasonable amount of success by just winging it and just going as you feel, but I feel to reach the true heights, to reach the billions, the amount of stuff that comes along with this life, you've got to have a structured life. You've got to live a life of structure and you can't stray from that. That's what we've done. We've set training times, we've set schedules, we've stuck to it and I've responded well."
In 'Win or Learn', his autobiography, Kavanagh explained how problematic it can be when a fighter lacks routine in their training camp. While McGregor was in Las Vegas preparing for his interim featherweight title bout against Chad Mendes in July of last year, Kavanagh had to make a brief trip to Mexico for Cathal Pendred's bout against Augusto Montano.
"[Conor] is the type of person who can get up at any time of the day or night and decide that he wants to train," Kavanagh wrote. "From my experience, most fighters favour routine. They like to know the what, where and when of their training schedule. Conor is an exception.
There's no pattern whatsoever to his desire to train, but the problem is that not everybody can function according to his body clock. On some evenings while I was away, it would get to a stage where it was so late and Conor still hadn't emerged from his bedroom that the guys would assume that he wasn't going to train that night.
"As they settled in for the evening to watch a movie, prepare for bed or whatever else, a message would then come down from upstairs: 'We're leaving in ten minutes.' That wasn't ideal, and I think everyone was relieved when, with just under four weeks to go until Conor's fight against Aldo, I returned to Vegas and re‑established the status quo."
UFC - Ultimate Fighting Championship / YouTube
"Another thing that we used to never do, rest was never really… we'd just train until it was fight time," McGregor explained during a press conference in Vegas last Friday. "This time we had our set days and we had our rest days, so I knew what days my rest were. The days prior to that I would work hard in anticipation for this rest day. When that rest day came, I would take my rest and I would not have this anxiety feeling where I must train again.
"That's what happens to a lot of people; they train out of anxiety. I'd be sitting there at 11 o'clock at night and I've just done a hundred rounds this week, and it's Sunday and I'm supposed to take a day off, and I'm twitching, saying 'Fuck it, I'm going to do another session', and then I'd go and work.
"Everything was structured: I take my rest, I work when I work. The session starts and it ends. That's another thing that we drifted off. The session never really started or ended. Sometimes I'd be in the gym for eight-to-ten hours a day, just rolling through, not really anything specific. In the fight game, that's not the correct approach.
"It's a five-minute round with a one-minute rest; you need to be prepared for that, that's what the contest is. You need to be able to go from zero to 100, rest and go again, rather than a continuous training cycle where you're in the gym, half-training for many hours a day. That's not beneficial to what we are doing in the fight.
"These are just changes we have implemented and, again, I've responded amazingly. Usually at the end of a camp, I'm like, 'I can't wait for this camp to end', or 'I'm sick of training', or 'I'm banged up'. I am absolutely perfect. This time last camp, I remember, I was in a bad way. Everything was just… the opponent changed, the whole circus was kicking off again when it had only just happened.
I was over-trained. Now, here I am — fresh, full of energy, full of vitality, under weight."
He added: "It couldn't have went smoother for me. I'm very happy with it. I brought out a full team of people to help me, from home and from abroad. Everyone has been on the same path. It's been a phenomenal camp and I look forward to showcasing what I have been doing in the gym."
There's been no expense spared or stone left unturned. And as John Kavanagh has said, "there can be no excuses" if Conor McGregor comes up short once again.