DURING A RECENT office discussion about Ireland's 20 greatest sportspeople of all time, Conor McGregor's name was part of the conversation.
In a small country from which bona fide world champions don't often originate, the UFC featherweight title-holder deserved a place on the initial shortlist.
But as the nominees were gradually whittled down to a score, and Olympic medallists, multiple All-Ireland winners and major golf champions exited, it became increasingly difficult to argue the case for the inclusion of a man whose sporting career still feels like it has yet to gather any momentum.
It's testament to McGregor's promotional expertise that he has been a superstar in mixed martial arts since long before he achieved anything that could be deemed worthy of that status. With his 2015 victories against Chad Mendes and Jose Aldo, however, the Dubliner demonstrated that he was equally impressive in the octagon as he was on the microphone.
At a press conference last January to promote his lightweight title bout against Rafael dos Anjos, McGregor pointed out that while 2015 had been his year, "2016 is also my fucking year". That prediction might still be on track now had dos Anjos not withdrawn from the bout due to injury, but as the year approaches half-time with McGregor's record reading 0-1, 2016 is currently on course to be annus horribilis for the 27-year-old.
Partly it's been down to misfortune — dos Anjos was the sixth of his last 12 opponents to pull out at short notice — but McGregor has also contributed significantly to his own undoing. Tempted by the outrageous, but apparently realistic, prospect of a summer welterweight title bout against Robbie Lawler, he put his status as the number one lightweight contender at risk by facing Nate Diaz at 170lbs on 11 days' notice, and did so after uncharacteristically taking his foot off the pedal in preparation.
McGregor paid the price for underestimating the challenge that Diaz could provide, but the announcement of an immediate rematch — although initially received with much criticism from fans — held plenty of intrigue as it offered him the chance to avenge his only UFC loss with the aid of a valuable lesson.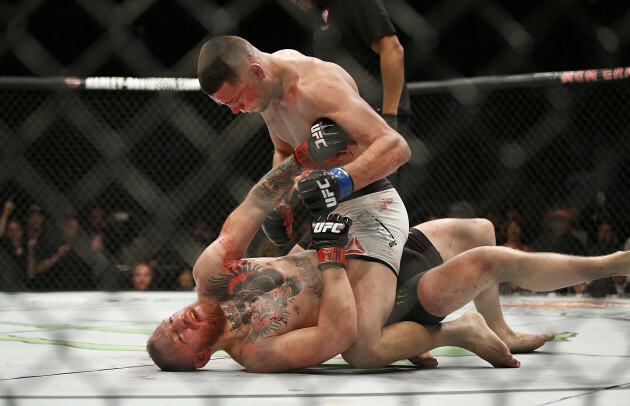 AP / Press Association Images AP / Press Association Images / Press Association Images
However, a dispute with the UFC over the weight of his promotional obligations — of all things — put paid to the plans for a rematch at UFC 200 on 9 July. Three months since he last competed, an announcement regarding the Straight Blast Gym fighter's next outing has yet to come.
McGregor became obsessed with doing things that had never been done before. With questions still being posed in divisions that were familiar to him, much of Paper 1 was left unanswered when McGregor moved on to Paper 2. As a result, he failed the exam.
He has been diverted from his course in recent months but McGregor can still achieve the unprecedented by following a more practical path. Placing the lightweight belt beside the featherweight strap on his mantlepiece — becoming the first fighter to hold two UFC belts at the same time, which was his goal entering 2016 — is still realistic and attainable.
His knockout of Jose Aldo was spectacular, an iconic moment in the history of MMA and Irish sport, but if McGregor's second meeting with Diaz is eventually rescheduled for 20 August, as planned, at least eight months will have passed since 'The Notorious' supplied any proof of being an all-time great MMA fighter, and Irish sportsperson, despite being at the peak of his physical powers.
Those who believe — and this writer is among them — that McGregor has the capability to set the pace in the UFC at 145lbs and 155lbs have always thought that he'll have ample opportunity to eventually prove that by seeing off each contender, but the lifespan of a professional athlete is short and time moves particularly quickly in MMA, where fighters are restricted to — in McGregor's case, for example — two or three outings per year.
Diaz's demands appear to be stalling the situation, but if that impasse between the Stockton fighter and the UFC cannot be resolved, McGregor must move on swiftly and repair his wounded pride instead by defending his featherweight belt against men who represent a legitimate threat to his position as champion.
Raymond Spencer / INPHO Raymond Spencer / INPHO / INPHO
Frankie Edgar might be replaced at the head of that queue next month by Jose Aldo, a box which may also need to be ticked again in order to quieten the former champion's 'lucky punch' claims. Nevertheless, Edgar would remain an essential opponent for McGregor in his attempts to remove any doubts over his position as the leader at 145lbs.
From featherweight to lightweight, perhaps only Khabib Nurmagomedov could serve up a more perilous match-up for McGregor. He'll never answer every single question, of course, but some need to be addressed more urgently than others. A plethora of rivals remain who can help to guarantee that Conor McGregor is remembered as a great athlete and a ludicrously wealthy businessman when he retires, and none of them are named Mayweather.
When McGregor does finally return to fight, we can only hope that — for a change — it's a straightforward build-up devoid of sideshows arising from contact negotiations, opponent changes or rumours of fantasy cross-sport fights. The drama is occasionally absorbing — in an eavesdropping-on-the-neighbours-arguing sort of way — but sometimes, even in the pantomime pantheon of the UFC, it's refreshing when sport is solely about sport.
To McGregor's credit, he has acknowledged that it's time to get down to brass tacks. As he put it in the statement released in the midst of his dispute with the UFC in April: "There comes a time when you need to stop handing out flyers and get back to the damn shop."
Taking into account the number of short-notice opponent changes he has had to contend with and the fact that he has often expressed his frustration at not being able to fight more regularly, there can be no doubting McGregor's willingness to stay active.
Staying out of the public spotlight would buy him some time, but keeping a low profile isn't McGregor's style. During his lengthy injury lay-off of 2013/14, McGregor became adept at using the media to stay relevant while condemned to the sidelines, to the extent that — despite not having a single fight in the meantime — he was an even bigger star when he returned.
He's been doing the very same lately by fuelling the Floyd Mayweather speculation, but is his media persona on the verge of saturation? Even some of his most fervent fans are beginning to lose patience, it seems.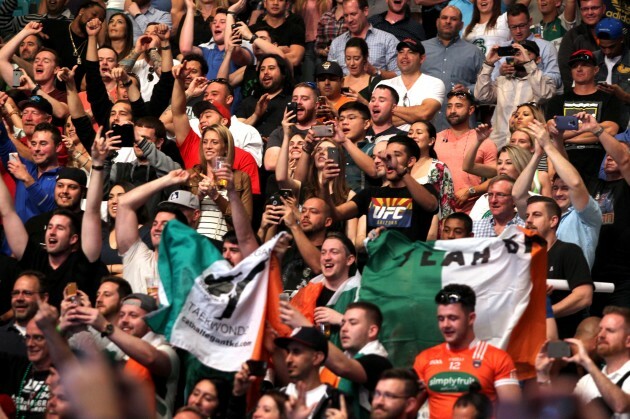 Raymond Spencer / INPHO Raymond Spencer / INPHO / INPHO
'I love McGregor but he needs to get off the internet and into the octagon' has been a common type of refrain lately from social media users and commenters on websites like this one. The interviews and social media output are often entertaining, but the level of public tolerance for the financial boasts of a sportsman seemingly tends to diminish when there's no sign of sport on the horizon.
McGregor is currently Ireland's most talked-about sportsperson, and while the appetite for his shtick may be wearing thin, the desire to witness his skills as a fighter will always be substantial. His next bout can't come quickly enough. As for his next tweet? We're happy to sacrifice it in favour of seeing what he can muster up when the gloves are back on.
It can sometimes be difficult to decipher whether winning or earning occupies top spot on McGregor's list of priorities. However, several years from now when his exceptional physical attributes eventually abandon him, all the Rolex watches, snake-skin shoes and Rolls Royces in the world will offer little comfort if he's left to wonder what he left behind in the octagon.
Conor McGregor has the sporting ability to ensure that, by the time he becomes a former fighter, no debate is required to secure his place on the pedestal of Irish sporting greats. The shop safe might still be full for now, but the shelves are in need of replenishing.
The42 is on Snapchat! Tap the button below on your phone to add!