Cage Warriors Cage Warriors
MUCH HAS CHANGED for Conor McGregor in the last three years, yet there are still some similarities between the man who'll end 2015 as the biggest star in the sport of mixed martial arts and the unknown 24-year-old from Dublin who headlined Cage Warriors 51 at The Helix on New Year's Eve in 2012.
He's now one of Ireland's most recognisable faces, with a bank balance that's the envy of his peers in the Ultimate Fighting Championship, but McGregor doesn't have to wind the clock back very far to recall a time when his fighting skills weren't profitable and the streets of his hometown weren't a gauntlet of autograph-hunters and selfie-seekers.
At the time, McGregor was a featherweight champion, aiming to make history by also clinching his current promotion's lightweight title — which is exactly the position he's in now with the UFC, having recently dethroned 145lbs champion Jose Aldo before turning his attentions to 155lbs kingpin Rafael dos Anjos.
Cage Warriors 51 was originally due to be headlined by McGregor's inaugural CWFC featherweight title defence. But when his opponent, Jim Alers, was forced to withdraw due to an injury, Cage Warriors officials were faced with a conundrum.
With their top Irish fighter requiring an opponent for an event in Dublin, and number one contender Ivan Buchinger in need of a rival for the vacant lightweight belt, McGregor was given the opportunity to move up a weight class to face the Slovakian. A win would see McGregor become the first fighter to simultaneously hold two Cage Warriors titles in unified weight classes.
Cage Warriors TV / YouTube
Given his enormous subsequent success, many claim to have been there on the night when McGregor faced Buchinger and made himself known to the UFC. However, similar to Munster beating the All Blacks at Thomond Park or Nirvana playing at Sir Henry's in Cork, there weren't actually half-a-million people in The Helix that night.
The actual attendance for the sold-out event on the Dublin City University campus was just shy of a thousand, with the bill also featuring the likes of Paul Redmond, Aisling Daly, Chris Fields and TUF veteran Jesse Taylor. The crowd didn't quite reach four figures, but McGregor's salary for the fight did… but only just.
"I know he has 21 wins and three losses; he's experienced," said McGregor in his pre-fight interview. "While I think he'll give me a few exchanges, I think I'll have him hurt by the end of the first [round] and I think I'll have him out of there [in the] second round."
It was an unusually understated prediction from McGregor. As it happened, Buchinger wouldn't make it to the end of the opening frame. With a more extensive collection of wins against high-calibre opponents under his belt, Buchinger was expected to represent a serious threat to the Straight Blast Gym fighter, but it was all one-way traffic.
McGregor's powerful left hand is now widely regarded as one of the most feared weapons in MMA. Ivan Buchinger learned all about it on 31 December, 2012, as the Irishman picked him off with a vast array of punches and kicks, before delivering the final blow after three minutes and 40 seconds of the first round.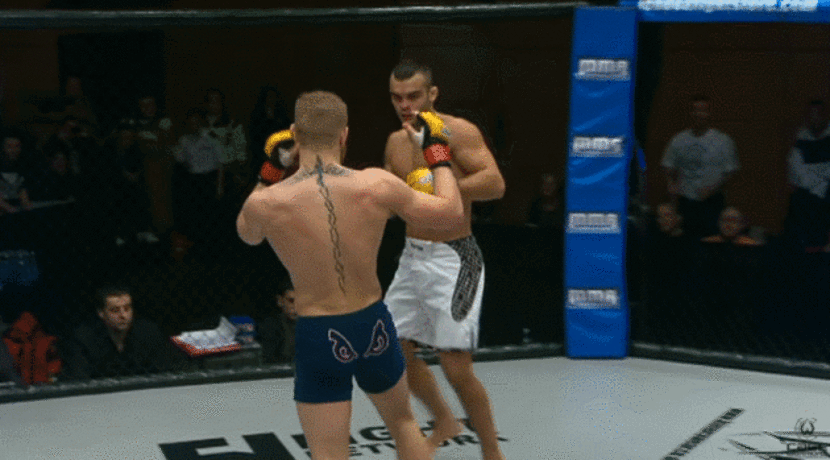 Cage Warriors Cage Warriors
Slipping his opponent's right hand and countering with a left hook, the knockout punch wasn't unlike McGregor's finish of Jose Aldo at UFC 194 in Las Vegas earlier this month.
Exclusive Six
Nations Analysis
Get Murray Kinsella's exclusive analysis of Ireland's Six Nations campaign this spring
Become a Member
In the early hours of 2013, the MMA world finally began to sit up and take notice of Conor McGregor. His defeat of Buchinger went viral, racking up a quarter-of-a-million YouTube hits within 24 hours. The biggest organisation in the sport began to pay attention too. Five weeks later, McGregor put pen to paper on his first UFC contract.
It would be naive to dismiss McGregor's demolition of Ivan Buchinger as merely a routine win against some mediocre opponent on the European circuit. Twelve months later, Buchinger would get a second bite at the cherry, defeating current UFC fighter Stevie Ray to get his hands on the Cage Warriors title that McGregor had vacated earlier that year. Today, Buchinger has won nine on the trot since his loss to McGregor and he's currently the featherweight champion for prominent Russian organisation M-1.
For McGregor, he ended 2012 with a Cage Warriors belt on each shoulder. If he has his way, they'll be replaced by a pair of UFC straps at some stage in 2016.
The more things change, the more they stay the same.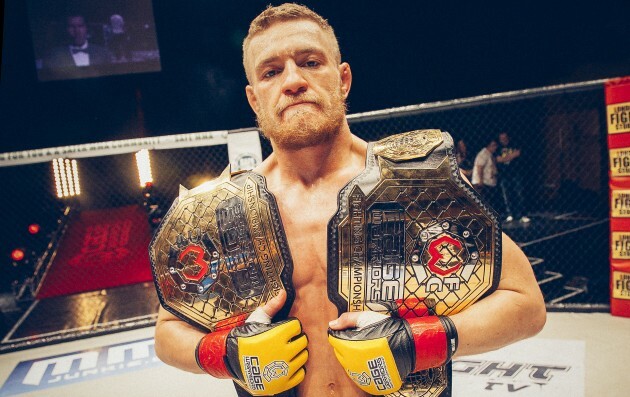 Dolly Clew / Cage Warriors Dolly Clew / Cage Warriors / Cage Warriors
Click here to watch the full fight between Conor McGregor and Ivan Buchinger.