CONOR McGREGOR HAS admitted that he could have handled his recent dispute with the UFC differently, after it resulted in his rematch against Nate Diaz being removed from the main-event slot at this weekend's UFC 200.
However, McGregor also believes that the UFC has to take its share of the blame for how the situation played out last April, when McGregor refused to travel to Las Vegas for a press conference to promote his chance to avenge his only UFC defeat so far.
Diaz submitted McGregor at UFC 196 back in March. A second meeting of the pair, which was originally scheduled for this Saturday night at the T-Mobile Arena, will instead headline UFC 202 at the same venue on 20 August.
McGregor's reluctance to engage in media obligations for the initial date caused a stand-off between the promotion and its featherweight champion which lasted several days and played out largely over social media, beginning with McGregor tweeting that he had retired while training with his team in Iceland
Speaking at a press conference in Las Vegas tonight, McGregor said "there was a lot of stuff going on" at the time, which was in the aftermath of the death of Portuguese fighter Joao Carvalho, who passed away on 11 April — 48 hours after losing a fight in Dublin against Charlie Ward, one of McGregor's Straight Blast Gym team-mates.
"I witnessed a tragedy inside the cage," said McGregor. "My team-mate was involved in a horrific incident and a very sad incident. It affected my whole team and everybody involved in the sport in my country in a different way.
There was a lot of stuff going on. We just wanted to get out, get away, focus and go back to doing what we love: training and studying martial arts. So we picked up and we went to Iceland.
"What I would have done differently would be communicate a little bit better. I messed up the way I communicated. I think if I had reached out and said it the way I should have said it, man-to-man and not in public, it would have played out a little bit better."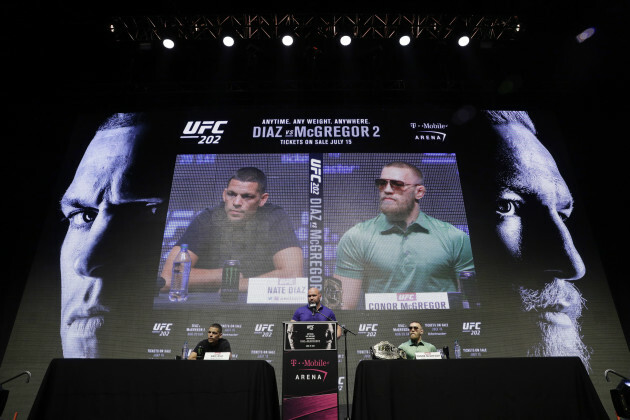 John Locher Nate Diaz, Dana White and Conor McGregor at the UFC 202 press conference. John Locher
But McGregor feels that the UFC didn't handle the impasse perfectly either. MMA's leading organisation has been reported to be on the verge of a $4.2 billion sale to a Chinese conglomerate. Adamant that he's largely responsible for such a substantial valuation, the Dubliner subsequently believed that he deserved some latitude.
He added: "I feel I played it a bit wrong but they also played it a bit wrong. I've done an awful lot for the company. I feel I carried 2015 on my back. I feel like the reason there's a $4.2 billion price tag on the company is because of me. I believe that's what the Chinese estimate my net worth — at $4.2 billion.
"So I feel I deserved a little bit of leeway. But I have to understand that I didn't communicate my point well and that was it. It is what it is, it's in the past, here we are.
On 20 August, UFC 202, I'm happy to put it behind me and get back to competing and training for a contest."
After the rematch of Diaz and McGregor was removed from UFC 200, a light-heavyweight title bout between Daniel Cormier and Jon Jones was catapulted into the headline slot. However, that fight also fell through last night after Jones was flagged for a potential anti-doping violation.
Exclusive Six
Nations Analysis
Get Murray Kinsella's exclusive analysis of Ireland's Six Nations campaign this spring
Become a Member
The news threw the UFC's plans up in the air, but McGregor did his best to resist the urge to revel in the promotion's difficulties: "I could sit up here and say, 'Well, well, well', but I am a successful human being, and successful human beings do not celebrate in the adversity or misfortune of others."
McGregor added: "My date is 20 August, UFC 202, the real [UFC] 200, and I will have my redemption."
Asked if he'd be willing to replace Cormier and Jones at the top of the UFC 200 bill by taking on Diaz this Saturday night, McGregor said: "I'm here and I'm in shape. All they've got to do is ask."
UFC - Ultimate Fighting Championship / YouTube