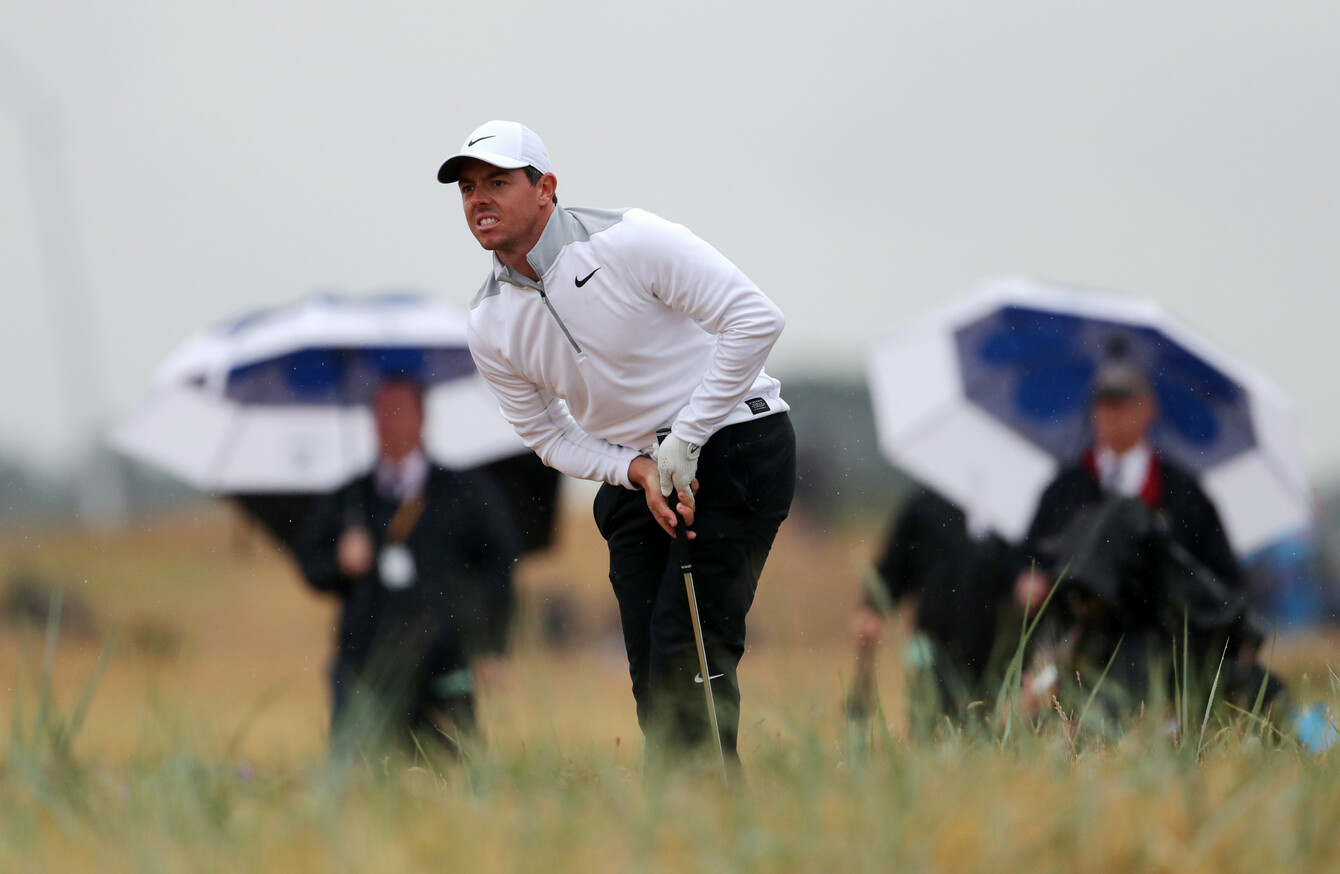 Image: Richard Sellers
Image: Richard Sellers
RORY MCILROY SAYS says he would rather go down fighting than playing conservatively as he tries to engineer a good finishing position at The Open.
The 29-year-old Down man put himself in a great position to contend for a second Claret Jug and a fifth major title by carding a second successive two-under-par 69 today to lie two shots off clubhouse leader, and 2015 champion, Zach Johnson. Overnight leader Kevin Kisner is on course to lead into the weekend as he is -8 through 15.
McIlroy — who is without a major since 2014 when he won both The Open and the US PGA Championship — says the days when he was too cautious and opted to play safe to ensure finishing high up the leaderboard are gone.
"I don't know, worrying too much about the result, not focusing as much on the process," said McIlroy responding as to why he had played cautiously at The Masters and the US Open this year.
A bundle of energy on the course as he engaged in regular conversation with playing partner Marc Leishman, McIlroy appears especially marked by how he played within himself on the final day at Augusta this year. With a career slam up for grabs, it was instead Patrick Reed — his partner in the final pairing — who played the championship golf to win his first major.
"Sunday at Augusta was a big learning curve again for me because, even if I hadn't won that tournament, but I went down swinging and aggressive and committing to every shot, I would have walked away a lot happier," said McIlroy.
So I'm committed to making sure, even if I don't play my best golf and don't shoot the scores I want, I'm going to go down swinging, and I'm going to go down giving it my best.
"I think that was it. Focusing on the results too much — the result is just the by-product of all the little things you do to lead up to that.
"You know, I've sometimes forgotten that, and just need to get back in that mindset."
That said, McIlroy was prepared to play patiently in the pouring rain at Carnoustie today, a great contrast to Thursday's beaming sunshine.
"Yeah, a lot of patience," said McIlroy, who describes the final three holes here as being a slog, "I was going really well through 11 holes. I hadn't made a bogey. I would have loved to have had a bogey-free round.
"I made a bogey on 12 and 15, but I made enough birdies to cancel them out on the back nine.
"Yeah, you need patience. I got a few good up-and-downs when I needed to today. On a day like that, you just need to scramble and keep yourself in it."
"I wouldn't say I like it (the rain). I'd much rather be sitting here not in damp clothes and a T-shirt, but it is what it is," said McIlroy, whose good early season form tapered off with a flat performance at the Irish Open a fortnight ago.
"It was nice today. It was rainy, but it wasn't too bad, and there wasn't a lot of wind to contend with.
"So it was fine. It can get a little bit uncomfortable at times, but you just deal with it and do the best you can. I've definitely learnt to handle it a little better."
The42 is on Instagram! Tap the button below on your phone to follow us!