LEINSTER'S KEVIN MCLAUGHLIN and Dave Kearney were soaking up the sun down at the 40-foot in Dun Laoghaire today when they ran into an Irish acting legend.
The rugby stars crossed paths with Frank Kelly, who played the irascible Fr. Jack Hackett in the hit television comedy Father Ted.
McLaughlin and Kearney were kitted out in their fresh summer clothes but cared not a jot if Kelly, fresh out of a jolting dip in the Irish Sea and wearing Speedos, embraced them for a friendly photo: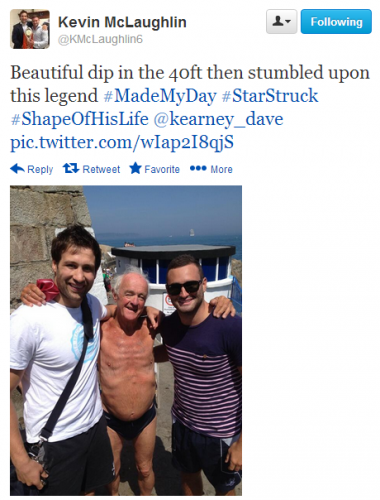 (Credit: @KMcLaughlin)
Kelly, who also starred in Glenroe and the Pierce Brosnan movie Evelyn, is looking sprightly for a man 74 years young. Dave's older brother, Rob, may have been part of a winning Lions squad down in Australia but we know who will have the coolest story around the Kearney dinner table this weekend.