Liveblog
WE'RE LIVE FROM Croke Park. Get in touch in the usual ways.
Tweet us @The42GAA, find us on Facebook, send your emails to fintan@the42.ie or leave a comment below.
************
Afternoon all, it's Leinster senior football semi-final day in Croke Park.
Here's what's in store:
Meath v Westmeath, 2pm

Dublin v Kildare, 4pm
So can anyone stop the Dubs this year? We'll see later if Kildare can come up with a plan to stifle them but before that it's the turn of Meath or Westmeath to book a place in the decider on 12 July. Throw-in is at 2pm with Cork's Conor Lane the referee for this one.
Let's get to the team news then shall we?
Five changes to the Meath team. Royal County supremo Mick O'Dowd is rolling out the big guns for the showdown against the Lake County with Conor McGill, Mickey Burke, Bryan Menton, Kevin Reilly and Mickey Newman coming in for starts.
Davy Dalton, Nicky Judge and Brian Power make way in defence, with Adam Flanagan and Joey Wallace also dropping out.
Meath
1. Patrick O Rourke (Skryne)
2. James Mc Entee (Curraha)
3. Conor Mc Gill (Ratoath)
4. Donncha Tobin (Blackhall Gaels)
5. Mickey Burke (Longwood)
6. Donal Keogan (Rathkenny, Capt.)
7. Bryan Menton (Donaghmore Ashbourne)
8. Harry Rooney (Skryne)
9. Kevin Reilly (Navan O Mahony's)
10. Graham Reilly (St. Colmcille's)
11. Padraic Harnan (Moynalvey)
12. Andrew Tormey (Donaghmore Ashbourne)
13. Michael Newman (Kilmainham)
14. Stephen Bray (Navan O'Mahony's)
15. Brian Mc Mahon (Ratoath)
There's just the one change in the Westmeath team named by manager Tom Cribbin.
Lorcan Smyth has been called up ahead of Ronan Foley.
Westmeath
1. Darren Quinn (Tyrrellspass)
2. Killian Daly (Mullingar Shamrocks)
3. Kevin Maguire (Caulry)
4. John Gilligan (Ballymore)
5. Paddy Holloway (Castledaly)
6. Kieran Martin (Maryland)
7. James Dolan (Garrycastle)
8. Paul Sharry (St Loman's)
9. Daragh Daly (Mullingar Shamrocks)
10. Ray Connellan (Athlone)
11. Ger Egan (Tyrrellspass, capt.)
12. Denis Corroon (Mullingar Shamrocks)
13. Lorcan Smyth (Mullingar Shamrocks)
14. John Heslin (St Loman's)
15. Shane Dempsey (St Loman's)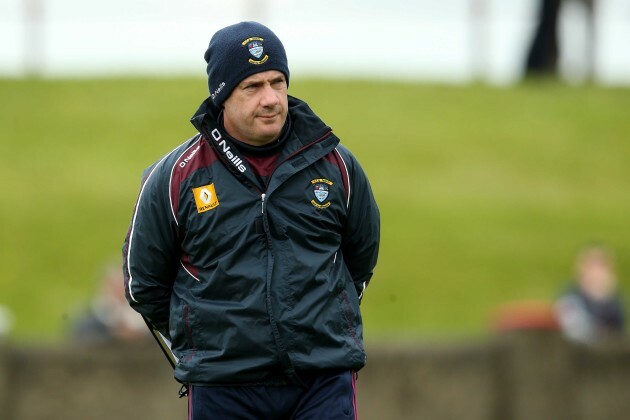 Westmeath manager Tom Cribbin. Source: Ryan Byrne/INPHO
Here's the Meath subs:
Conor McHugh, Adam Flanagan, Eamon Wallace, David Dalton, Joey Wallace, Brian Power, Sean Tobin, Donal Lenihan, Damien Carroll, Nicky Judge, Jamie Queeney.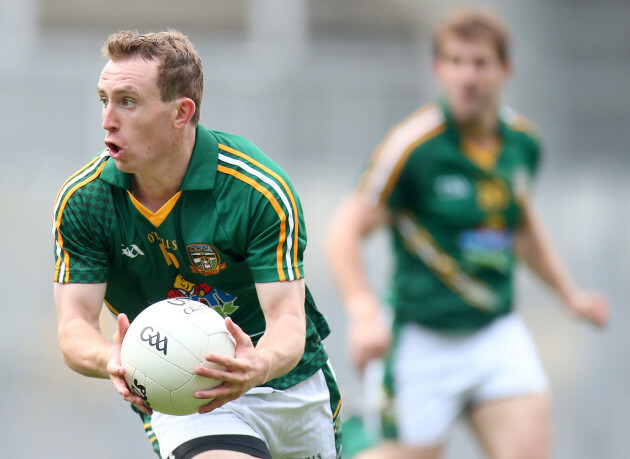 Meath's Eamonn Wallace is on the bench today. Source: Ryan Byrne/INPHO
And here's the Westmeath subs:
Gary Connaughton, Francis Boyle, John Connellan, John Egan, Ronan Foley, Kieran Gavin, Dennis Glennon, Jamie Gonoud, Paul Greville, David Lynch, John Stapleton.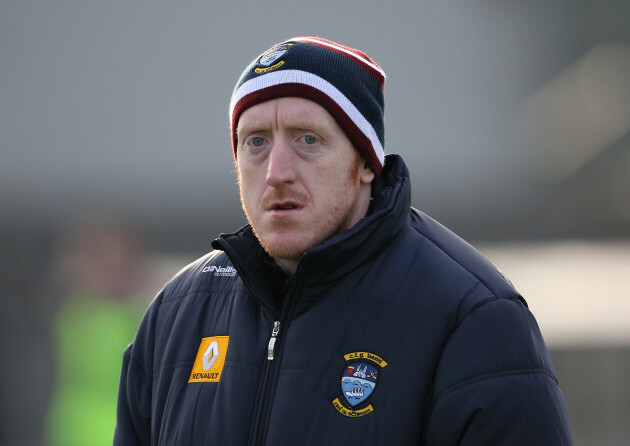 Gary Connaughton is on the bench for Westmeath today. Source: Cathal Noonan/INPHO
Throw-in fast approaching here, who's your tip to win this?
Game under way here in Croke Park.
Meath 0-1 Westmeath 0-0
Lightning start by Meath as Stephen Bray knocks over an early point.
Meath 0-2 Westmeath 0-0
Graham Reilly doubles Meath's lead with Eamonn Wallace, a late inclusion in attack instead of Mickey Newman, setting up the point again.
Meath 0-2 Westmeath 0-1
Westmeath pull a point back, an excellent outside of the right effort from John Heslin.
Meath 0-3 Westmeath 0-1
Brian McMahon on target to stretch Meath's advantage.
Meath 0-4 Westmeath 0-1
Meath looking really sharp in attack in the early stages as Eamonn Wallace turns scorer on this occasion off his left.
Meath 0-5 Westmeath 0-1
Meath so close to hitting the net early on but Bryan McMahon's palmed effort is denied by the upright. Then Graham Reilly charges through to clip over a point that sends Meath four clear.
Source: Donall Farmer/INPHO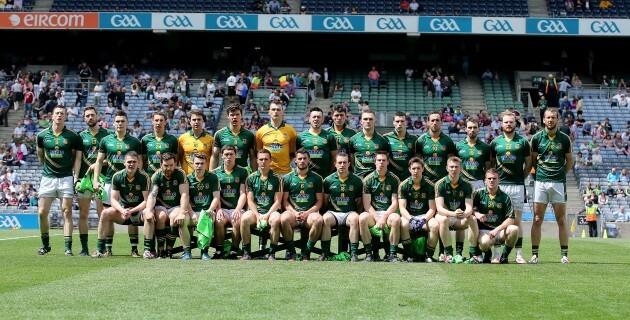 Meath 0-6 Westmeath 0-1
Stephen Bray pops up with his second point of the day, firing over off his left for Meath.
Second big goal chance of the day for Meath but they're foiled as Mickey Newman, a temporary substitute, shoots against the legs of Darren Quinn.
Meath well on top so far, they've a five point lead and could have struck for two goals as well. It's noticeable as well how well Kevin Reilly is playing back in defence for Meath in the sweeper role with Westmeath devoid of attacking inspiration so far.
Meath 0-8 Westmeath 0-1
Meath stamping their authority on the scoreboard now with Bryan Menton and Wallace tacking on further points.
Meath 0-9 Westmeath 1-3
And suddenly there's some life in this game! Westmeath's supporters in full voice as they have a few scores to shout about. John Heslin swings over a free and Shane Dempsey registers one from play, while Eamonn Wallace bangs over his third point of the day for Meath.
But the centrepiece of this scoring burst was Kieran Martin galloping forward for Westmeath from his number six berth and firing home a goal just like he did against Wexford.
Meath 2-10 Westmeath 1-3
And the complexion of this game has completely changed now. We thought there was a bit of a contest emerging but Meath look to have killed off the match at an early juncture. It's two emphatic finishes to the net from Bryan McMahon for Meath but the Westmeath defence was carved open by long deliveries. Andrew Tormey adds a point from a free and Meath are gone ten clear.
Subs
Westmeath ring the changes but it could be too late for them to force their way back into this. John Connellan comes on for midfielder Daragh Daly and corner-back Killian Daly is replaced by Jamie Gonoud.
Meath 2-10 Westmeath 1-5
A  pair of points in quick succession for Westmeath courtesy of Heslin and Dempsey.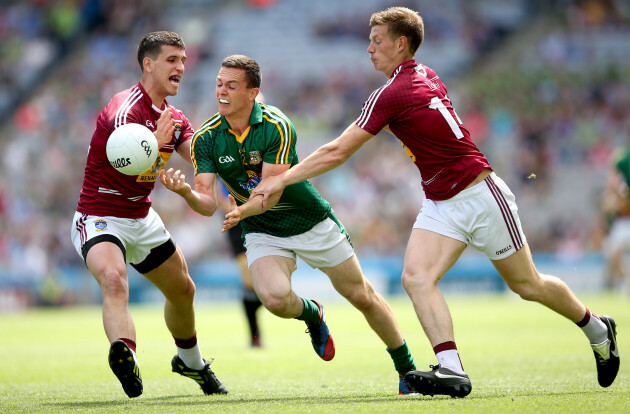 Westmeath's Denis Corroon and John Heslin with Meath's James McEntee. Source: James Crombie/INPHO
Meath 2-12 Westmeath 1-6
The one-way traffic continues. Wallace and Reilly point for Meath, that's a combined 0-7 from play so far for that duo. Martin replies by smacking over a fine point for Westmeath.
Half-Time: Meath 2-12 Westmeath 1-7
Eight-point lead for Meath at the break, they're well on top. Westmeath need a huge turnaround to get back in to contention here.
Scorers for Meath: Brian McMahon 2-1, Eamon Wallace 0-4, Graham Reilly 0-3, Stephen Bray 0-2, Bryan Menton, Andrew Tormey (0-1f) 0-1 each.
Scorers for Westmeath: John Heslin 0-4 (0-3f), Kieran Martin 1-1, Shane Dempsey 0-2.
Sub: Westmeath make one change at the break as David Lynch comes in for Lorcan Smyth.
Meath 2-12 Westmeath 1-9
John Connellan on the mark with a pair of points to get Westmeath off to a fine start in the second-half.
Meath 2-13 Westmeath 1-9
Graham Reilly knocks over a neat point after a fine Meath team move splits open the Westmeath rearguard.
Sub: Another Westmeath change as Denis Glennon becomes the latest player to be introduced, at the expense of Shane Dempsey on this occasion.
Meath 2-13 Westmeath 1-10
Heslin slots over a free after being fouled himself and Westmeath are facing a six-point deficit once more.
Westmeath's Ger Egan and Meath's Donal Keogan. Source: Donall Farmer/INPHO
Meath 2-14 Westmeath 1-11
Points swapped as Tormey converts a free for Meath and Heslin hits a '45 for Westmeath.
Subs: Meath bring in David Dalton and Adam Flanagan for Michael Burke and Harry Rooney.
Graham Reilly is gone off for Meath are being shown a black card with Michael Newman coming on to replace him.
Meath 2-16 Westmeath 1-11
Great impact by Newman as he floats over a point moments after coming on. McMahon adds another soon after and Meath are coasting clear once more.
Meath 2-17 Westmeath 1-11
And the gap continues to grow as Bray knocks over another for Meath.
Meath 2-17 Westmeath 2-11
Goal for Westmeath! Kieran Martin with his second of the game.
Meath 2-17 Westmeath 2-12
Fine point off his left by John Heslin. Westmeath coming back in to this?
Meath 2-17 Westmeath 2-13
Heslin on target again, this time from a '45 and the gap is down to four.
Meath 2-17 Westmeath 2-14
And incredibly it's back now to three points! Ray Connellan with the latest Westmeath point and their supporters are springing to life around Croke Park.
Sub: Paul Greville on for John Gilligan on the Westmeath team.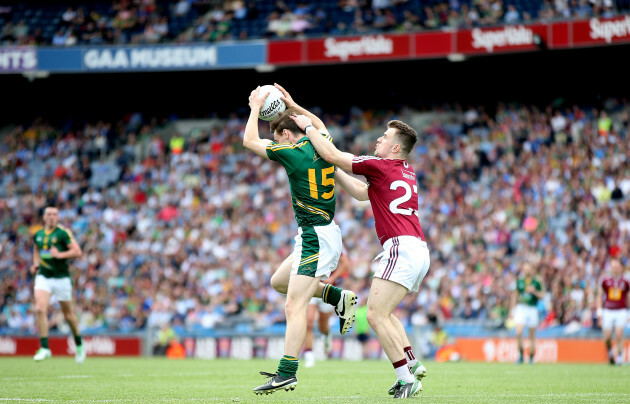 Brian McMahon and Jamie Gonoud. Source: James Crombie/INPHO
Meath 2-17 Westmeath 2-15
Another fine point from Heslin and Westmeath are only two adrift now!
Meath 2-18 Westmeath 2-15
That's a really important point for Meath to settle their nerves as Newman converts a free into Hill 16.
Black card for Meath's Donncha Tobin are he dragged back Westmeath sub John Connellan.
Meath 2-18 Westmeath 2-16
Heslin confidently steps up to slot over another free for Westmeath and and then he hits the post from play with a chance to cut the gap to the minimum! Huge excitement here.
Meath 2-18 Westmeath 2-17
And now the gap is back to one. A clumsy foul by Meath sub Brian Power and Heslin does the rest form the free.
0-9 now so far for John Heslin.
Meath 2-18 Westmeath 2-18
It's level! Kieran Martin tears in the endline for Westmeath and fists over a point. After being eight down at half-time and nine early in the second-half, Westmeath are level!
Westmeath 2-19 Meath 2-18
And Westmeath have gone ahead! Martin points again!
Can Meath mount a comeback?
Goal for Westmeath from John Heslin!
Westmeath 3-19 Meath 2-18
This is absolutely amazing, what a revival from Westmeath.
And now Meath's Paddy O'Rourke has been shown a red card for a foul on Kieran Martin.
Full-Time: Westmeath 3-20 Meath 2-18
What a finish! Westmeath run out five-point winners after a truly stunning comeback.
At one stage Westmeath were trailing by ten points but they have won by five.
Contribute to this story: