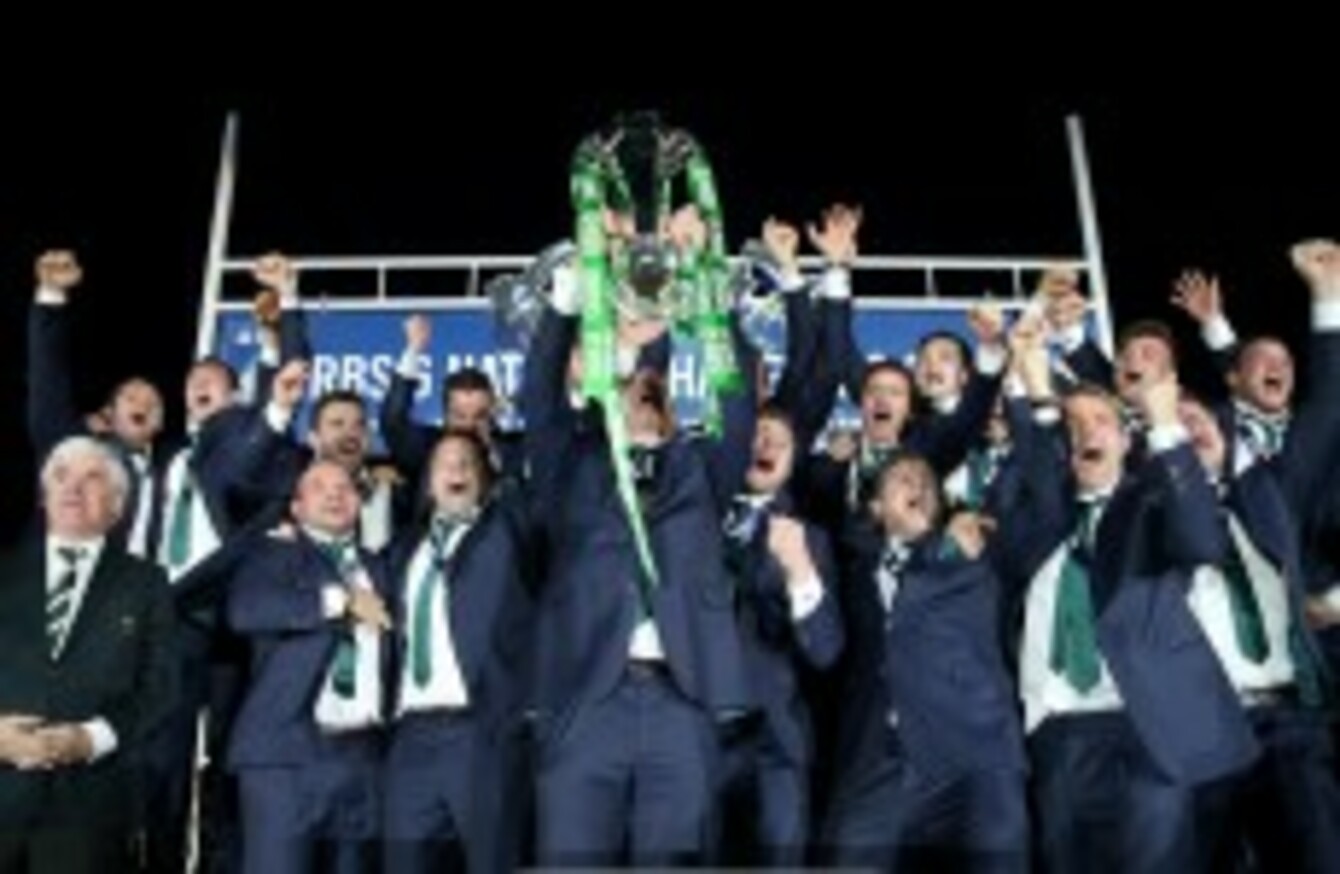 Ireland lifts the Six Nations trophy.
Image: Dan Sheridan/INPHO
Ireland lifts the Six Nations trophy.
Image: Dan Sheridan/INPHO
New Zealand
Stuff.co.nz - 'Ireland Win Six Nations Title'
"England won an extraordinary battle but agonisingly lost the war as they beat France by a record 55-35 in an extraordinary Six Nations finale on Saturday (Sunday NZ time) but came up short of the 26-point victory they needed to deny Ireland a second successive title.
"After Ireland's victory over Scotland England needed to win by a margin they had managed only once in a century of matches against France and it looked an impossible task after France led 15-7 midway through the first half."
New Zealand Herald - 'Ireland's Six Nations Win Delights Their Kiwi Coach'
"Two tries by man of the match Sean O'Brien inspired defending champions Ireland to a 40-10 win over a hapless Scotland in their final Six Nations rugby match this morning (NZT) in Edinburgh, which ultimately proved just enough to secure their first back to back title wins since 1948-49.
"England did their best to spoil the party with a stunning display of attacking rugby and fell just short of the 26 points win difference they required with a 55-35 humbling of France at Twickenham to round off a crazy day of attacking rugby that contained 221 points scored and 27 tries.
"The agonising near miss leaves England without the trophy since 2011 while France finished fourth and have never managed better under coach Philippe Saint-Andre in four campaigns."
Australia
Sydney Morning Herald – 'Irish shed inhibitions to prove World Cup credentials'
"When it mattered most, Ireland remembered how to entertain again. They had threatened to go through this Six Nations as austere automatons, respected rather than loved for their defensive frugality, but for one afternoon only they unleashed their buccaneering side. With a performance emphatically affirming their credentials to win this autumn's World Cup, they brushed off accusations of a one-dimensional approach by proving that they could win any way they chose.
"Here at the final reckoning, Joe Schmidt's players resembled a pack of wolfhounds let off the leash. From the scampish Conor Murray to the unfading Paul O'Connell, from the indefatigable Sean O'Brien to the one-time Gaelic football star-in-waiting that is Robbie Henshaw, they set about Scotland with a style that was enterprising yet disciplined, audacious yet almost unfailingly accurate. Emboldened by Wales's extraordinary piece of second-half plunder in Rome, they had an unfettered licence to attack. And for once, they put it to wonderfully effective use."
Wales
Walesonline – 'Wales should rue missed Grand Slam opportunity but they can challenge for World Cup'
"A resounding way to round off their Six Nations campaign by Wales, but an opportunity lost, nonetheless. Warren Gatland's men should be celebrating another Grand Slam under their masterful coach, rendering talk of points difference involving Ireland and England on super Saturday irrelevant.
"That they aren't is because of that still unfathomable second-half showing against England on the opening night seven weeks ago. Gatland's men have done marvellously well to bounce back with four wins on the trot, culminating in this eight-try slaughter of Italy in Rome at the start of the final day."
England
MailOnline – 'An avalanche of points and sense of adventure mean England can build on Six Nations experience'
"It is amazing what you can achieve in sport 'in extremis' and although England didn't land the Championship which they craved, they will have learned a great deal about what can be achieved when you really want it — and need it.
"England were fantastic on Saturday and if they can draw from the experience, this can be a fantastic year for English rugby — and indeed British and Irish rugby, because Wales and champions Ireland were quite exceptional as well on the final day of the tournament.
"England cut loose in thrilling fashion and they will never be quite the same players again. They know now for certain that there is another level they can perform to and the Twickenham crowd know that as well."
See Sport
Differently
Get closer to the stories that matter with exclusive analysis, insight and debate in The42 Membership
Become a Member
The Telegraph – 'England v France was a knock-down, drag-out saloon bar contest with all-too-familiar ending'
"Stuart Lancaster must have woken thinking his first proper trophy was touchable. Not a Triple Crown – his biggest prize thus far – the Cook Cup, the Hillary Shield or "the blue thing" you get for beating Argentina, but a Six Nations title, six months out from a World Cup on home soil. England's coach reached nightfall more staggered than the kick-off times.
"This was a Sevens tournament dressed up as Le Crunch, on a madcap day of 81 points in the Italy-Wales game and 50 in Scotland versus Ireland. The Six Nations saved most of its fun for the end, casting off attrition in favour of art and endless running. But after a barnburner of 12 tries and 90 points, England are still not masters of the northern hemisphere, not kings of Europe, not better than Ireland according to the Six Nations table."
France
L'Equipe – 'Ireland keeps its trophy'
"In principle, the decisive matches should be played play all at the same time. Except in the Six Nations where he is not about to review a scenario that makes for compelling television.
"On the last day, Wales, Ireland and England could still claim to win the competition. By crushing the Italians in Rome (61-20), the Welsh had set the bar high: eight points in the final standings and a difference of + 53.
"By mid-afternoon, the Irish had done even better by s imposing Scotland. A marked success (40-10) and a points difference of + 63, which forced the English (+ 37 before meeting France) to beat the Blues with a gap of 26 points. That was not the case.
"So Ireland were crowned champions again."