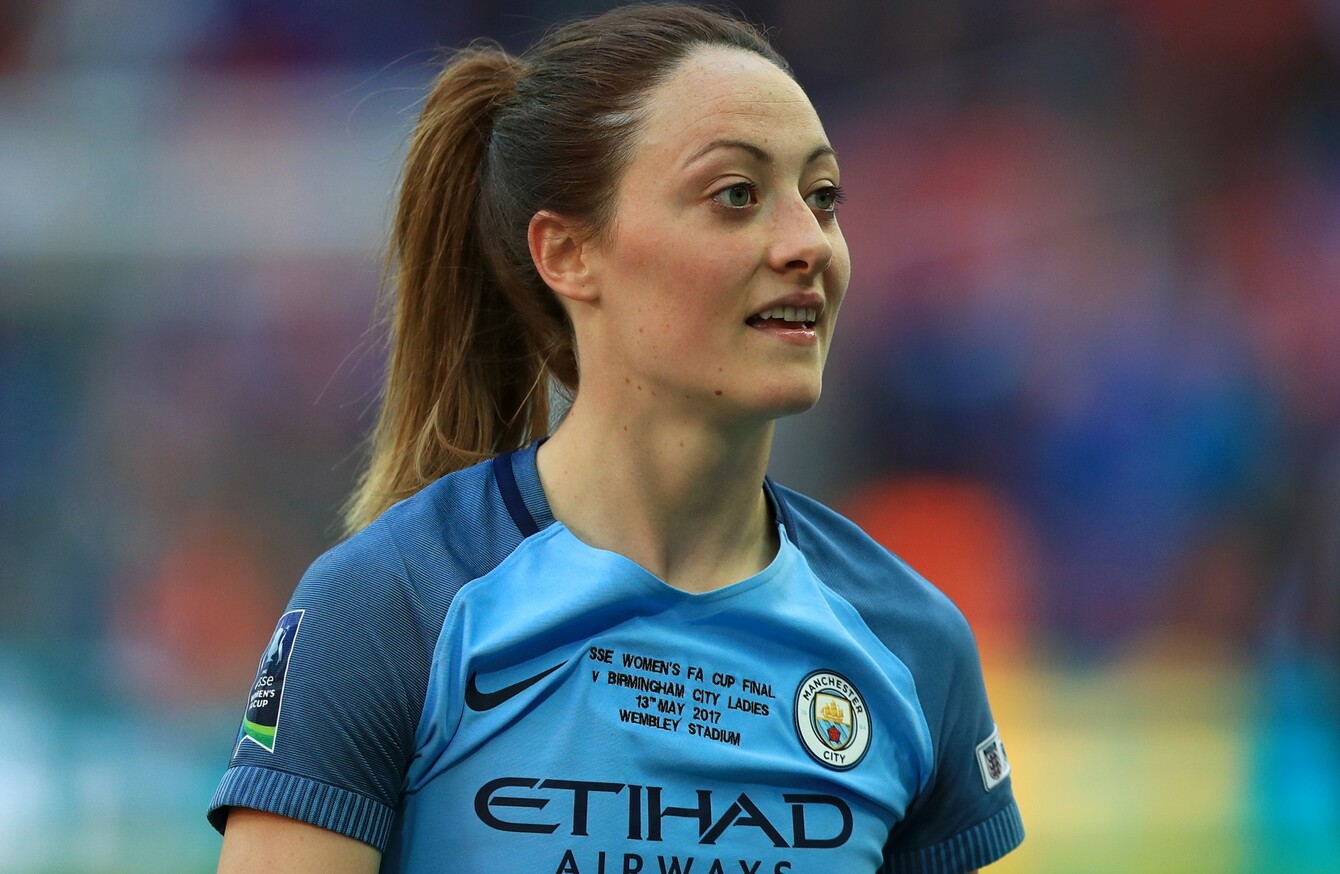 Image: EMPICS Sport
Image: EMPICS Sport
MANCHESTER CITY DEFENDER Megan Campbell is excited to be back playing first-team football following an injury-hit season which saw the 23-year-old on the sidelines as the Blues rampaged to a league and cup double.
Campbell, though, made a premature and dramatic comeback to secure two assists in a 4-1 victory in this season's FA Cup final against Birmingham City, which saw a record crowd of over 35,000 supporters at Wembley Stadium.
Pre-game nerves took their tole on the player, as she had not expected to make the cut for the final squad in a battle to be fit.
"For me it was tough to get back into the squad. I knew that girls in my position and the whole squad was doing so well", she said speaking this week.
"Winning the double is something we wanted, and the FA Cup is something we know we should be winning because aside from the league it's the biggest competition in England – the one that everyone wants to win, and be a part of such a big day in Wembley", she said.
"For us getting to that position was unbelievable and then for me personally to be playing in Wembley in front of a record crowd and having my dad and my uncle and my cousins there and everyone watching at home who couldn't make it was really nice.
"I've played in front of big crowds with the national team when we played the US over there. They always get a big crowd being in the top two or three in the world, so that game prepared me for that situation.
"But at club level I've never experienced anything like it and on top of the crowd you're playing at Wembley which is the biggest, most well-known stadium in England and one that everyone wants to play in.
"I was very nervous and was struggling to eat my breakfast before the game – I was trying to get as much down me as I could so I could get through the game. But it was just an unbelievable opportunity and one that I'll never forget."
Back to a level of fitness where she can now see out an entire game, Campbell says she is glad to be joining back up with the international squad as Colin Bell's side put preparations in motion for this year's World Cup qualifying campaign which begins in September.
"In the last two months I've been trying to get my fitness up to play a full 90 minutes, which is tough when you are at a top level club like Man City in that a lot is expected of you.
"But something that I've thrived on, because I wanted to get back into the squad and do well. Thankfully with the squad the staff and the facilities I have around me it has been quite easy.
"We had a meeting with Colin this week to reiterate the fact that we know who we have in our group now and our focus has now switched to them.
"We are playing teams who have played, or are going to play, in major tournaments and are physical and strong and on that next level. At the minute they are better than us, so we are looking to get to that level."
Ireland have been drawn into Group Three in the hopes of qualifying for a first ever major tournament as senior level. They will face Northern Ireland, the Netherlands, Norway and Slovakia attempting to qualifying for 2019's competition in France.
They will face two tough friendlies before September's first qualifier against Northern Ireland in Belfast. Ireland face Iceland in Tallaght Stadium tonight in Bell's sixth game in charge since taking over from Sue Ronan in February, while they will travel to Scotland for their final friendly on 7 July.
Campbell is expecting a tough game against Iceland later this evening. The nation are ranked 14 places above Ireland, 18th in the FIFA World Rankings and have qualified for next month's European Championships.
She admits, however, that as a similarly sized national Ireland must close the gap in quality and reach that next level if they are to stand a chance at qualification for France in two years.
"We know they are a physical side. Getting to a European finals, they will have been doing a lot during the campaign to get there.
"We aren't going to underestimate them, but we know that they are a small country and we are too. If they can do it, why can't we. We have to take a lot of positives in that respect. We are looking forward to the challenge and performing on the day."
The42 is on Instagram! Tap the button below on your phone to follow us!