SETANTA SPORTS IS airing a four-part documentary series this week that follows four of Ireland's top referees in the heat of the action.
Men in Black will be screened at 9pm on Setanta over four nights, starting on Tuesday 24 June. It features Alan Kelly (football), David Coldrick (GAA), Barry Kelly (hurling) and Alain Rolland (rugby).
Directed by Cillian O'Conchuir, who previously produced An Exiles Home in The Bronx (on the New York GAA team), Men in Black seeks to offer an insight into a referee's profession, personal life and the decisions that get the nation talking on a weekly basis. All four men are mic'd up, and viewers will get to hear the exchanges between referees and players in all four sports.
Some of the games covered in the documentary series are the All-Ireland hurling quarter final, Celtic's pre-season friendly with Liverpool, the Ulster football final and tempestuous rugby clashes between Munster and Ulster, and Wales and France.
One of the most intriguing episodes follows Barry Kelly, who has refereed three All-Ireland hurling finals yet who found himself making headlines, last July, for sending off Henry Shefflin in Kilkenny's quarter final defeat to Cork.
Kelly sent 'Kilkenny's favourite son' off in the first half of the Cats' five point defeat in Thurles. Shefflin was sent off for picking up two yellow cards and Kelly took offence at remarks that both of his fouls were "soft". "It's one of the things that really gets me," Kelly admits. "Spectators may say it was soft because there wasn't much of a foul, but not much of a foul is almost like not much being pregnant."
Media spotlight
One of the highlights of the recorded footage on Kelly is a remark he delivers to a Kilkenny midfielder He scolds, "Michael Fennelly, giving a slap of the hurl across the arse. Yes you did. Relax. Free in." He also admits that intense media spotlight is something that does not completely wash over him.
I could be a liar and say the media doesn't bother me but there would be plenty of people to say they saw me flicking through all the newspaper on a Monday morning which wouldn't be untrue really."
One referee who seems to be unfazed, or at least who gives off that appearance, by media opinions and supporter's comments is Rolland. Part four of the documentary follows the former Leinster and Ireland player over the course of his final season in the middle.
"Rolland is the ultimate pro when it comes to rugby refereeing," says O'Conchuir, "and he showed he was not afraid to shirk a decision when he sent off [Wales captain] Sam Warburton early in the World Cup semi-final against France. His take was that it doesn't matter if an offence is committed in the first or last minute, if a player has to go, he has to go."
The director noticed a distinct difference between three games that Rolland was mic'd up for. He said, "He reffed a Leinster Senior Cup final between UCD and Terenure and any player he spoke to answered him back either 'Yes' or 'No sir'. That wasn't the case in the Munster and Ulster game, where he had to tell Paul O'Connell, who was not the Munster captain, to keep a lid on it.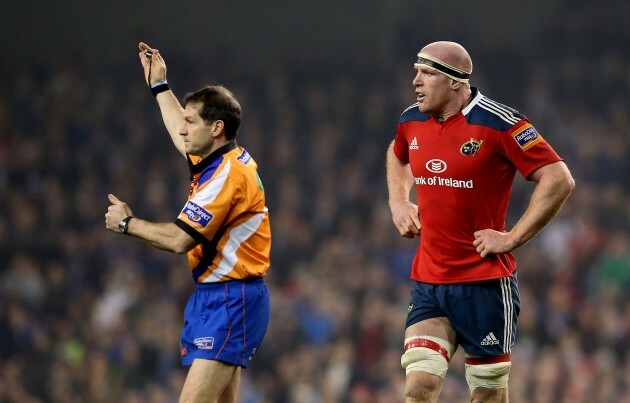 James Crombie / INPHO Rolland took no sass from Paul O'Connell in Ravenhill back in January. James Crombie / INPHO / INPHO
"The Wales v France game was greater stakes, again, and the back-chat was much more frequent and colourful. [France captain] Pascal Papé was in his ear all evening as he felt his team were not getting a fair deal."
O'Conchuir says he was most impressed with Rolland's resolve but feels Coldrick ran the tightest ship. "Coldrick had 100% control at all times; no-one ever spoke back to him or gave him a hard time." Still, for all his composure, the Gaelic ref admits that poor decisions do sit with him for a while.
Kelly, who became the youngest referee in Europe to earn a FIFA badge, at 26, is now in America and hoping to step up to a full-time role in the MLS. O'Conchuir tips Kelly to return to establish himself as one of the best match officials in the United States.
Kelly is the first man featured, in Tuesday's part one, and is worth the watch alone for the Cork native's in-game commentary as Celtic and Liverpool face off at the Aviva Stadium. At one stage of the game, Celtic captain cuts back a free-kick straight to a red jersey to set his team on their heels. Kelly, jogging away from the Liverpool box, remarks, "Ah, that's shite."
Everyone it seems, even the referee, is a critic.
Aeterno Productions / YouTube
Men in Black was funded through the Broadcast Authority of Ireland's Sound & Vision fund.