Mikey Stafford reports from Fortaleza
THE BALD, MUSCULAR, Oakley-wearing policeman straight from central casting was getting impatient. He yawned, stretched, looked at his watch and began to shift his weight from one foot to the other.
He was not alone. Along with FIFA officials, staff of the Hotel Luzeiros, TV reporters and the helicopter hovering over Fortaleza's Avenue Beira Mar, he had been waiting over an hour for the Mexican team to board their bus and head to training.
Everyone seemed to be losing patience, everyone except the fans. They have been waiting a long time for "El Tri" to emerge from a cocoon of potential and fulfil the wishes of a football-daft nation. For them, standing outside a hotel for a couple of hours is but the blink of an eye when compared to the longer struggle they have endured.
They handle it well though, it must be said. Dressed in sombreros, draped in the Mexican flag or donning the moustaches of mariachi musicians, the Mexican supporters are a noisy bunch and there are lots of them.
Adelle Hughes Mexican fans congregate outside the team hotel. Adelle Hughes
Only the group matches of hosts Brazil sold out quicker than Mexico's and tomorrow, in Estadio Castelao, the well-supported pair meet in what promises to be one of the loudest and most colourful spectacles of World Cup 2014. At least away from the pitch.
"Brazil will taste our spicy chilli," chanted the Mexicans in response to a few locals who had set up a pocket of resistance outside Mexico's hotel, but you wonder do they really believe that themselves.
They overcame some terrible refereeing in their Group A opener to beat Cameroon 1-0 and, regardless of the result against tournament favourites Brazil, Miguel Herrera's side will go into their final game against Croatia with a chance of reaching the second round. As usual.
You have to go back to 1978 for the last time Mexico failed to emerge from their group at the World Cup but reaching a quarter-final, outside their own country, is becoming a national obsession.
Their only adventures in the last eight have come at World Cups they have hosted and while they must also take credit for staging, in 1970 and 1986, two of the greatest tournaments, Mexico are hungry for some level of success on foreign soil. Some hint of progress.
"We must make it to a fifth game. We must," was how one fan described his aspirations. But, having bent over backwards to avoid embarrassment in the qualifiers (quite literally, Raul Jimenez scoring an 85th-minute bicycle kick to send Brazil into a play-off against New Zealand ahead of Panama), Mexican fans cannot be too bullish about their prospects.
Despite Jimenez's acrobatics Victor Manuel Vucetich was sacked ahead of the intercontinental play-off and replaced by former Club America coach Herrera, who has ruffled some feathers with his team selections.
The starting team against Cameroon featured six players from Mexico's own Liga MX. Manchester United's Javier Hernandez had to make do with a spot on the bench —replacing goal-scorer Oribe Peralta in the second half — but at least Chicarito is in Brazil.
"Little Pea" gave his adoring fans a smile and a thumbs up as he boarded the bus yesterday, which is more than fellow European-based striker Carlos Vela could manage. The former Arsenal man has boycotted playing for Mexico since 2011. Another Mexican in Europe, Villarreal's Javier Aquino, only made the plane after Javier Montes suffered a terrible leg break in a warm-up game against Ecuador.
As Hernandez and his team-mates headed for training a Uruguay flag flapped from a balcony on an upper floor of Mexico's hotel, a teasing little reminder of what a much smaller country has achieved with far less resources.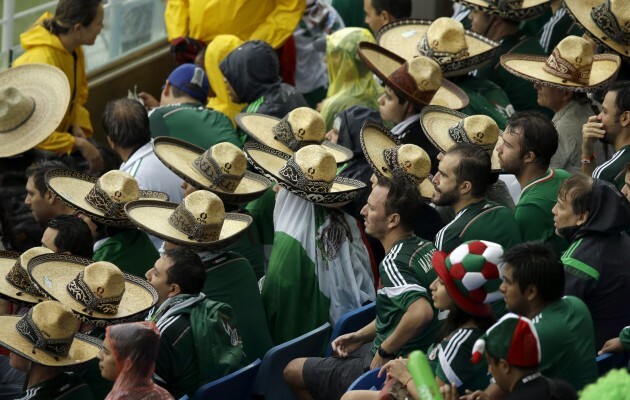 AP / Press Association Images AP / Press Association Images / Press Association Images
Mexico's domestic league is one of the best attended and best funded outside Europe and South America and the level of wages mean Mexican internationals are not compelled to go abroad and widen their football horizons. The theory goes that "El Tri" are tactically stunted by drawing all but seven of their squad from one, supposedly inferior, league.
In contrast Uruguay's squad, the reigning Copa America champions who reached the semi-finals in South Africa, is based all over the world, almost everywhere but their own Primera Division.
There are signs of progress in Mexico, where a youth development system had already begun to transform Mexico's undoubted potential into success. The 2012 Olympic gold medal triumph over tomorrow' opponents was the highlight, but the country won the 2011 U17 World Cup and finished third in the U20 World Cup in the same year.
Thirty-year-old Peralta, the highest paid player in Liga MX, was the hero in London two years ago, as he was against Cameroon, but of the U23 players who made up the bulk of the Olympic-winning team only Porto's Hector Herrera started in Natal.
Mexico's fans might need to wait a little bit longer for youth to get its chance on the biggest stage of all. Waiting they can do, just don't expect them to sit quietly.