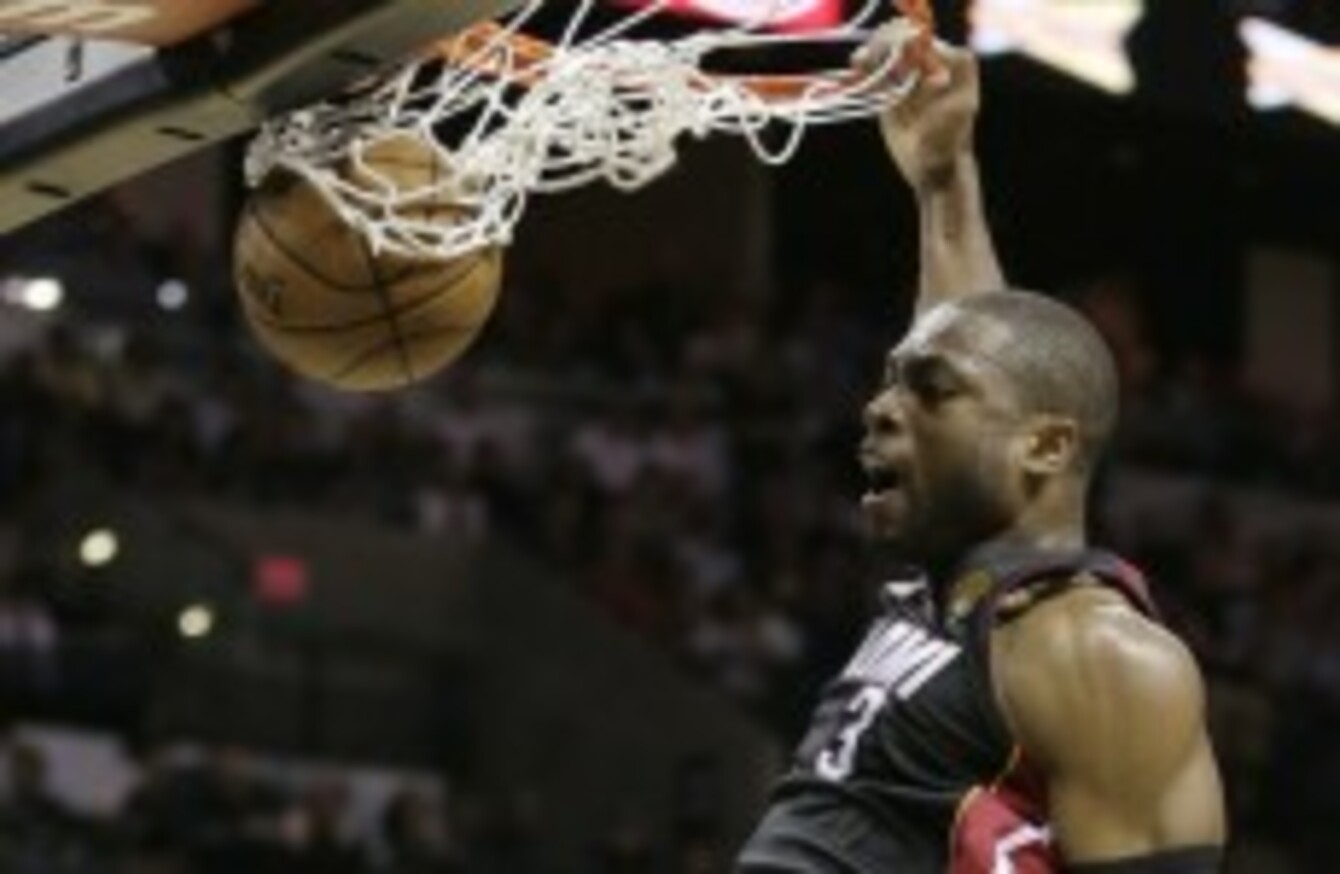 Dwyane Wade dunks last night.
Image: Eric Gay/AP/Press Association Images
Dwyane Wade dunks last night.
Image: Eric Gay/AP/Press Association Images
LEBRON JAMES MADE good on his promise and Dwyane Wade got his swagger back as the Miami Heat rebounded from a crushing loss in game three to level the NBA finals at 2-2 last night.
Wade had a throwback game by finishing with 32 points and six steals while James had a game-high 33 points as the Heat defeated San Antonio 109-93 at the ATT Center arena.
"He went back into his bag tonight. He was '06 flash," James said of Wade, who reminded Heat fans of the 2006 NBA finals when Wade torched the Dallas Mavericks for 43 points in game five en route to an NBA title. Wade was also chosen MVP of that NBA final.
Wade, who has been playing on two balky knees, shot 14-of-25 from the field in 39:55 minutes of playing time against the Spurs. He was a perfect four-for-four from the free throw line, and had six rebounds and four assists.
The 31-year-old Wade has struggled mightily in these playoffs, and said earlier in the series that there is "no joy" in competing for the NBA title.
He was singing a different tune on Thursday as the Heat clawed their way back into the series by forcing the Spurs to make 18 turnovers.
"It felt good to have a performance like this," Wade said. "If we go down 3-1 then it is tough to climb back."
The Heat also needed a better performance from James, who said he took "full responsibility" for Tuesday's loss and vowed make amends.
James shot 15-of-25 and had 11 rebounds, four assists and two blocked shots in game four.
Watch Wade's steal, break and dunk below:

YouTube credit: sky2847