HAVING SPENT SEVEN seasons in charge of Connacht, Michael Bradley was ideally prepared to play a part in helping the Georgian national team to develop.
The Cork man would have grown accustomed to limited budgets and underdog status during his lengthy spell in Galway, but there were good days too.
Now an assistant coach to Milton Haig with Georgia, a role he has held since last year, Bradley is striving to drive the Eastern Europeans up the IRB World Rankings. A strong performance on Sunday against Joe Schmidt's Ireland would be beneficial in that regard.
Bradley, who was in charge of Edinburgh between 2011 and 2013, first worked with the Georgians in 2010, when the IRB organised for the former scrum-half to lend his expertise to 'the Lelos' set-up on a part-time basis.
His commitments with Edinburgh ended that association, but when the 51-year-old left the Scottish club, the Georgian Rugby Union came calling with a full-time contract offer.
The 40-cap ex-Ireland international has been in charge of Georgia's backs and attack since last summer, overseeing areas of the game where there has been definite need for development.
I think it's always evolving," says Bradley of Georgia's style of play. "I think the natural game is forward-based really and I think it's just the reality of the situation in Georgia as a country.
"It's the way that the club rugby is structured, but over the last couple of years that certainly has changed."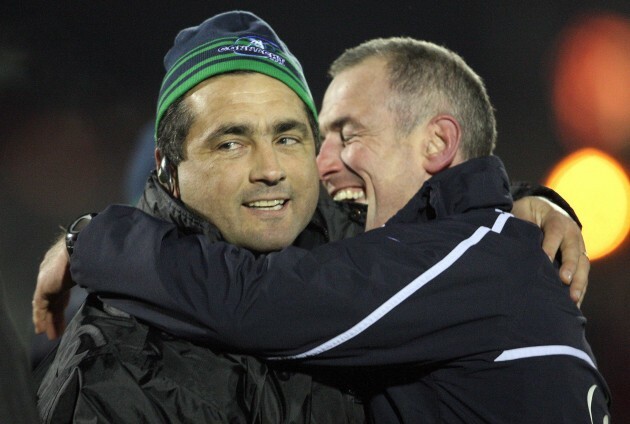 Lorraine O'Sullivan / INPHO Bradley celebrates a Connacht win with Eric Elwood in 2008. Lorraine O'Sullivan / INPHO / INPHO
Haig and the Georgian players have heaped praise on Bradley's influence in broadening their attacking capabilities, so much so that the Kiwi head coach believes Georgia do not simply rely on their forward power any longer.
While Haig is based on the ground in Georgia, Bradley is based out of his native Cork. That presents a unique challenge in terms of travel, particularly with so many of the Georgian players based in France.
"The players with the national squad, if you took it as a whole, around 60 or 70% are in France, and 30% are in Tbilisi. You just have to balance your time betwixt and between. We have Didier Bès, who coached Montpellier before – he's in France and can take care of that side of things for us.
It's not easy, it's not perfect. The Irish system is obviously more advantageous with 99% of the players here. The IRFU have done a good job, but Georgia to develop their players would encourage the players to go abroad. France is a natural fit."
Bradley's skills are not solely employed in the improvement of Georgia's top international players. He has been involved in developing the country's U18 and A teams too, installing standards, mindset and technical elements in those prospects.
"I'm a resource really that Georgia rugby can call upon," says Bradley in outlining the breadth of his current role. Haig and the rest of the national coaching team are similarly deployed to grow rugby at all levels of the game.
Having secured the European Nations Cup [Six Nations B] this year, Georgia will look to retain that title in 2015, thereby heading to the World Cup with confidence. A group featuring New Zealand, Argentina, Tonga and Namibia will be no easy ride.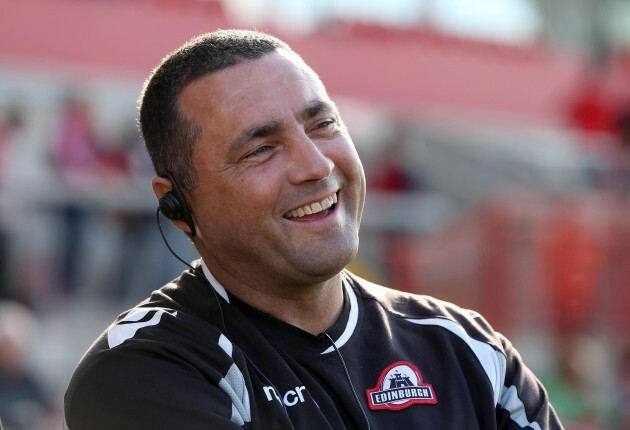 Dan Sheridan / INPHO Bradley drove Edinburgh to some strong European performances during his spell in Scotland. Dan Sheridan / INPHO / INPHO
Fixtures like Sunday's against Ireland are of major importance to Georgia too, given that they so rarely have the chance to play top-tier nations outside of the World Cup. Taking on the current Six Nations champions, Bradley's players are enthused to face players they have watched many times.
"All the Georgia players know the Irish players, even if there are a number of changes for the match on Sunday. The squad or the team that Ireland can put out, and the style of play, won't be much different to what we saw on Saturday [against South Africa], especially in the second half.
It's not a big step, really, in terms of information flow. They would get Pro12 matches and obviously the Champions Cup in France, so there's a lot of information available to the players."
While Bradley continues to push Georgian rugby forward, he continues to learn as a coach. On a personal level, he is enjoying the experience of coaching at international level, but there is always one ear to the ground for opportunities in the club game.
"I really do enjoy international coaching, and it gives me a bit of time at home as well., because I spent a lot of time away from home [when club coaching]. So I get blocks of time with this job at home, blocks of time in Georgia and blocks of time wherever else I have to go.
"But you would always keep an eye open to see what's available as well. It's a good challenge going into the World Cup; the whole of the country is behind the team and it's a good environment to work in."