MICHAEL CALVIN IS a renowned sports journalist and author. He has worked in more than 80 countries, covering seven Olympics and six World Cup finals, and is currently chief sports writer with the Independent on Sunday.
Calvin has been honoured at the British Press awards on a number of occasions, including for Sportswriter of the Year and Sports Reporter of the Year (twice). He also spent time away from journalism in order to help set up and run the English Institute of Sport, which gives strategic support to 35 Olympic sports.
He has written a number of books, including Family: Life, Death and Football – a study of his time following Millwall for a season — and The Nowhere Men, an intimate look at life as a football scout.
Calvin's most recent book, Living on the Volcano: The Secrets of Surviving as a Football Manager, has just been longlisted for the 2015 William Hill Sports Book of the Year award. 
We caught up with the author recently to discuss the book that has been hailed as an innovative and empathetic study of managers operating across the four top-tier leagues in England.
What inspired you to write this book? Was it a natural progression from The Nowhere Men?
The scout book, The Nowhere Men, was the study of a culture in which disrespect was almost institutionalised. The scouts earn football clubs a lot of money, yet they exist on 40p a mile. With the manager, what I essentially wanted to do was humanise a dehumanising job.
We live in an age where press conferences are coconut-shy affairs and managers themselves admit that because it's so adversarial, they're more concerned with defending themselves than actually explaining themselves to a degree. There's a lot of theatre going on there, and there's a lot of subterfuge. They think: 'We can't really be seen as we are,' because it would be perceived as weakness. And weakness is seen as a great poison in football and all professional sport probably.
I was lucky that the managers had read my previous football book and they understand that when you work with over 100,000 words, you contextualise an issue. You provide a degree of authenticity and that's hopefully what they've responded to here. Basically, what they were saying is: 'Look, we know the world in which we work. In football, the judgements are immediate and they're abusive, but they don't know us and they don't really understand half of what we do and the breadth of the job we do.' From that point of view, they wanted to speak.
And it was a great privilege for me in terms of the professional trust and respect that they showed. They let me in to watch them work not just in an interview format; it was watching them work with their players, just getting a feel for the breadth of their day. What I found really gratifying was the fact that the managers themselves really responded to the book. They really have said how accurate a portrayal it is. So that to me is the ultimate satisfaction.
PA Archive / Press Association Images Newcastle United's manager Alan Pardew confronts Hull City's David Meyler (left). PA Archive / Press Association Images / Press Association Images
What, if anything, surprised you about the managers you spoke to?
One of the biggest surprises in the book probably concerns Alan Pardew. I'd always had a hunch that he couldn't be as superficial as he came across — that sort of alpha-male, smirk-y, and extremely self-possessed character. That was a really interesting case study. He let me into Newcastle when it was basically a situation where the media were banned from the training ground, the fans were kicking off at him, and they were carrying mock coffins to matches. It was a 'Pardew Out' phase.
He let me in with no strings attached. I watched him work and saw the intimacy of coaching really. He's very tactile on the training pitch. There was a moment where he was tutoring a player on how to take the ball on the half-turn and watching him put his hands on the shoulders and almost make the body movement required. Just watching him was a privilege. We don't actually see that cold-faced stuff.
When we talked in his office, we talked for about three hours. What sparked my interview with him was I had a hunch that because he'd came to the game so late, it must have had a fundamental impact on his philosophy and his outlook. And he agreed with that, but then he went a lot further than I thought, because he started to dwell on the fact that here is someone that, at 16, was told that he had no future in the game. He 'wasn't big enough,' went into non-league football and started to work on a building site.
He was a glazer, like his father, and in many ways, a building site is a bit like a football dressing room. The humour is acidic and you have to think on your feet. He went into that and it did shape him, because as a glazer, this was in an age where he only got paid if he put windows in. That could be influenced by a bricklayer, who might have a hangover and therefore, he wouldn't lay enough bricks so he could put a window in. Or maybe the carpenter didn't do his job or whatever.
And that's where the confrontational side of him comes from. It's almost fight or flight. And that's something he's been dealing with — the Meyler incident and one or two others, which made him look at himself almost in the third person as an outsider in his own life, and he realised that he had to do something about that. That was because of that confrontational side. He said I used to get in fights at the building site and I lost most of them.
He also said that 'when I was on building site, I am the fan who bought The Sun and went into work on the scaffolding pipe at seven o'clock in the morning when days were frosty. He said: 'I spent my own money at night to go and watch Fulham and Chelsea, and I still can't understand professional footballers not trying a leg. I couldn't get my head around it. I'd paid my money because I'd been up at seven o'clock in the morning.'
So it obviously influences his personality and the dynamics of his management. So I think that a lot of people would look at the chat with Alan Pardew and see him in a different light, and I know they do, because they've told me. Perspective comes with knowledge and football, as it is current constituted, actively militates against the accumulation of knowledge.
Tony Marshall Martin Ling speaks openly about his depression in the book. Tony Marshall
One of the most striking chapters is the first one where former Cambridge, Torquay and Leyton Orient manager Martin Ling speaks very openly about his depression. I know it's a cliché, but people do tend to forget that even managers are susceptible to those kind of issues, don't they?
Absolutely. I think Martin showed great moral courage to talk with such clarity and candour about the problems that he underwent simply because, as he said, the depression from which he suffered is still, what he calls, a coffee stain on his CV. The book begins with those electrodes being placed into his head. I didn't think they existed anymore. That to me set the tone for the book because this guy showed that managers have problems. They're human beings too.
Martin's plight was interesting. He had a series of depressive episodes, he was periodically suicidal and he was really at his lowest point when he was in the Priory. He was enlisted by his friend and former assistant, Dean Smith, who was his assistant and has been Walsall manager for the last few years. He obviously understands the game and is a very long-serving manager himself. He'd seen the warning signs in his friend, but was completely unprepared for the type of descent that he suffered.
Dean went to the Priory to visit Martin. He walked through a residential room where people were making tea, and he walked straight past Martin without even recognising him. When he went out for a walk, he said it was like taking a 90-year-old man out for a walk. He was eventually directed towards Martin and he went into his room, which was really dark — obviously, the curtains were drawn. He instinctively pulled the curtains open and saw Martin cower like a wounded animal.
You realised that here was a guy who needed help and understanding, and he got it. The one thing about football management is that it's a battered brotherhood, but it's a brotherhood. Dean had almost a big brother approach to it.
Towards the end of Martin's stay at the Priory, the phone calls started coming in. Sir Alex Ferguson phoned, and Sam Allardyce phoned and Chris Hughton phoned. It was almost as if the word had gotten out: 'One of our members is in trouble here.' So it's a strange world, management, because they are, in many ways, the legion of the damned. They all know it's going to end eventually. And as Arsene Wenger says in the foreword to the book: 'We all suffer.'
When you're doing a book, the word gets around pretty quick. I'd see someone and he'd say: 'Oh, you saw so and so last week'. And they'd say: 'What does he do then?' They are insanely competitive, but there is empathy and an intuitive understanding of what everyone else is going through.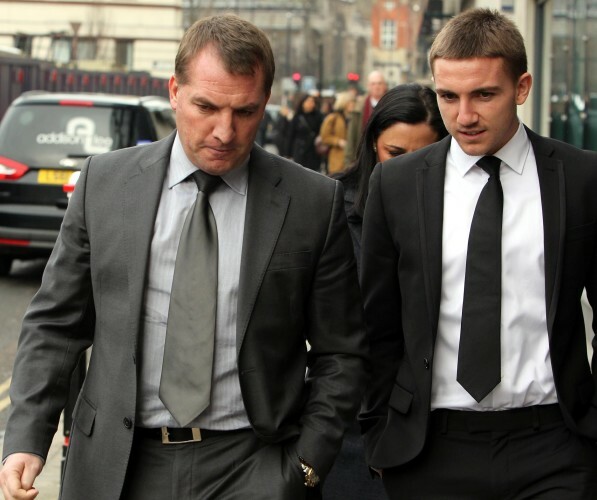 PA Archive / Press Association Images Defendant Anton Rodgers (right) with his father Brendan Rodgers, outside the Old Bailey, London, who along with three other footballers was accused of sexual assault and voyeurism. PA Archive / Press Association Images / Press Association Images
Another memorable chapter that also involves a lot of openness revolves around Liverpool manager Brendan Rodgers…
He is an interesting character. Certainly he's going through a huge amount of pressure at the moment. It's building to a bit of a crescendo after the result against Carlisle. In those circumstances, the ability to compartmentalise your life between the personal and the professional is pretty essential.
Managers under pressure obviously are judged under results first and foremost, but also I think, in Brendan's case, the interesting thing about him is that the boy has been overwhelmed by the brand. He is very fond of the sub-Shankly-esque soundbites, very philosophical.
But there is someone with real depth there, and it's easy to overlook that. It's very interesting in terms of the tenants of leadership, the emotional intensity that you need to play at that level and manage at that level. But there are times in interviews where you go: 'Oh right, I've got you'.
With Brendan, there has been a lot of comment on his admission that he had professionally the best four years of his life at Liverpool and Swansea coinciding with the worst four years of his life in a personal sense, as during that time, he lost both his parents, his marriage crumbled and he sat in an Old Bailey courtroom for six weeks while his son was tried for sexual assault. So there is that differentiation between putting your personal life to one side and your professional life to the other.
What struck me with Brendan is when he spoke about his father, Malachy, who was brilliant with his hands — he could turn to anything. He was basically employed as an odd-job man by a local businessman.
He used to get paid every Friday. And for this particular Friday, the businessman had gone on holiday and for whatever reason, hadn't paid Brendan's father. Brendan said: 'I looked in my Dad's eyes and I could see that he was worrying about money. How can I put bread on the table next week? How can I put petrol in the car so I can take Brendan training?' And he said at that moment: 'I resolved never to be beholden to anyone else in my life.'
I think that is a really poignant but quite powerful summary of what is the essence of football management — they have to be self-reliant, these guys, they have to trust in themselves and they also have to be strong for everyone else and that's what hopefully comes across in the book.
There's the realisation that these guys are, in many ways, the most authentic and powerful male role models of the majority of their players.
Going back to Alan Pardew again, when he was at Newcastle, they analysed the family backgrounds of the kids at their academy. They were amazed to realise that 87% of the kids in the academy came from broken homes, and that's a societal issue which washes up in football. He said that the coaches within the academy and, by implication, his role as first-team manager, is almost a pastoral thing, you have to be a role model for the kids.
You certainly have to establish parameters of behaviour. That is an interesting thing that I think comes out of the book — these guys are not just about 4-4-2 or winning 2-0 on a Saturday — there's a deeper commitment and responsibility for the human beings they have working for them. In that sense, it's very significant that the new breed of managers are very emotionally intelligent.
EMPICS Sport Gareth Ainsworth, Wycombe Wanderers manager. EMPICS Sport
To give an example, Gareth Ainsworth, who has done unbelievably well in League Two with Wycombe and has been earmarked as a coming man. By his own admission, it took him six months to a year to understand his responsibilities as an authority figure, and bear in mind, the average tenure is under 15 months.
Gareth said: 'I'm only just getting around the fact that I am the most important person in the lives of every player I have. I have their career in my hands. If I don't fancy them, I get rid of them. If that happens, they've got a problem, especially if they have kids or mortgages.
Brendan Rodgers made the same point that you almost have to be a welfare officer and a bit of a priest — someone to offer advice. Not just the coaches, someone to offer Xs and Os on a tactics board.
[Gareth and I] were walking through the gym of the training ground and he said: 'See that kid over there.' It was a young player, probably about 20 years old, who had, to all intents and purposes, all the self confidence in the world. The shoulders were back, he was laughing and joking, they were taking the mickey out of one another.
Gareth said that those appearances are really deceptive. That [aforementioned player] had lost a lot of people close to him in the last couple of years. He said: 'I've seen the look in his eyes and it tells me 'I need someone and I want someone to put their arm around me, look me in the eye and say I'm proud of what you're trying to achieve.' That is where the reality of football kicks in. You can make or break someone easily.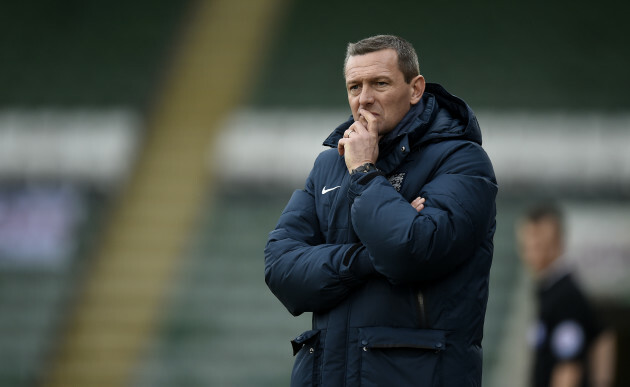 Andrew Matthews England U20 head coach Aidy Boothroyd on the touchline. Andrew Matthews
Would it be fair to say a Brian Clough-style ultra-disciplinarian/hardman doesn't really work as a coach anymore?
I think the era of teacups and micro-management is on the way out. A more emotionally florid manager — someone like an Ian Holloway — probably has been consumed by the game. Anger now is used increasingly as a theatrical tool.
I was in a dressing room with Aidy Boothroyd. It's half-time in a League Cup tie. He punched a wall and absolutely went off on one. He was screaming in people's faces. He started off with a young player and then went to the oldest member of the squad.
I've seen that before — I did a book called Family when I was at Millwall for a season. I saw that go on, so I was quite accustomed to it. There's a real intensity to it.
But the bizarre thing was, we picked up a couple of polystyrene cups of tea and we were walking down to the bench for the second half. I turned to Aidy and said: 'Do you do that often?' He said: 'Once or twice a year.' He was completely calm and said: 'You've got to set a tone sometimes.'
If you went into that dressing room and saw him behave like that, you'd have thought: 'This is ridiculous, he's lost his head'. But actually, he was being a theatrical actor. Quite a few managers do it. They talk to their assistant and say: 'Okay, I'm going to go in at half-time and kick the flipchart over. Make sure you get out of the way.' So it's all premeditated.
Shaun Derry, one of the managers I interviewed, told me a story about Neil Warnock. Warnock told him [during his playing days]: 'Come in tomorrow, it's a Friday, I need to get them going, I am going to give you the biggest bollocking of your life.' He said [to Derry]: 'You're the real leader of the dressing room. If they see that I give you it, they'll know they need to address their own games.'
So Shaun walked in and got absolutely slaughtered. He knew it was a sham, the manager knew it was a sham, but his teammates didn't. And it had the desired effect. So in that sense, the spittle-flecked half-time rant is still there.
PA Wire / PA Images Garry Monk currently manages Premier League side Swansea. PA Wire / PA Images / PA Images
Garry Monk put it best: 'The key word in my head as I'm going towards the dressing room at half-time is balance. If I'm angry, I've got to let them know I'm angry.
'But if I go into one, and I spend five or six of the 10 minutes available to me, screaming at someone — 1. He doesn't know what he's done wrong because you've just been screaming at him. 2. He probably doesn't know how to correct it because you haven't told him. 3. He's probably going to go back onto the pitch thinking: 'Well, I'm an idiot''. Okay, he'll probably start trying harder, but he'll probably end up making the same mistakes, because he probably doesn't know what the mistake was in the first place.
Garry was probably the most interesting manager of the lot. He's a mixture of the old and new school. He had a career that was threatened by serious injury and was out for a year. He remembers crying uncontrollably before he went for the operation because he was early 20s and he thought: 'That's my life done'.
As a player, he went through the divisions. Kenny Jackett made him captain of Swansea, and he always proved people wrong, as they got from League One into the Championship, they said 'you're not a Championship player'. He proved them wrong. They went up into the Premier League. He proved them wrong again.
He's got that background so he knows when players are cheating. Players are conditioned to do as little as possible, almost as an act of bravado. There is always the pro who, when asked to do 10 press-ups, will try to do eight.
Garry said: 'I know people like that — I know the people who try to nick a yard when we're doing sprints. The thing is — they know that I know. I take the excuses away.
So there's old school stuff going on there, aligned to new school stuff, which is that each player gets his own iPad on the first day. On that iPad is the blueprint Garry has set for that football club. It's basically a template for what is expected of that individual when he's working for Swansea FC.
Garry and a lot of managers have a look at neuro-linguistic programming, which basically deals with the effects of tone and language.
What he also has, which is unique in my experience, is a sports psychologist, Ian Marshall, standing with him during training. The sports psychologist is looking at body language, he's an observer.
Garry also mikes himself up, he has a radio microphone. At the end of the day, he'll go and review his sessions, which a lot of managers do. He also can use a soundtrack to determine whether he was hitting the right tone of voice, whether his communication was clear and concise. So he was judging himself by the standards he expects of others, which is basically — give everything you can.
So going back to the dressing room, he says at half-time: 'I know what's going on and we'll look at it after in the debrief, but the psychology of it [decrees that you] give people three points — the brain can handle three bullet points, if you will.' I think Garry does three bullet points defensively and three offensively, and quite a few other managers do as well.
So it's an interesting development and it will continue to develop. The old sergeant major pretty much is dead, or has certainly been pensioned off.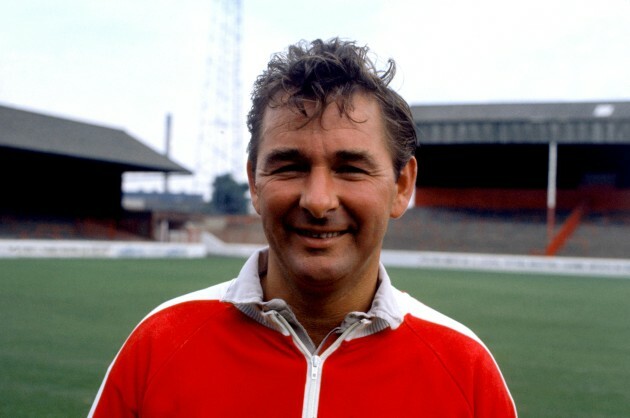 EMPICS Sport Brian Clough is widely regarded as one of greatest British managers ever. EMPICS Sport
Finally, is there any managers you would have loved to have spoken to in the book but couldn't for one reason or another?
There's an obvious temptation when you're doing a book where you go: 'I want him, him and him,' and you end up with something like War and Peace.
But I thought I'd got a good cross section of people from the top of the Premier League to the bottom of League Two, and some really interesting characters.
There were a couple of others I wouldn't have minded getting to: Nigel Pearson — there's a fascinating psychological case study to be done. I would have liked to have interviewed Keith Hill at Rochdale, who at a small club, is really innovative and thoughtful. I think he could surprise me quite a lot.
I'd also have loved to have done [Brian] Clough. As a very young boy, I did one of his European trips — the second season of the European Cup. I had to introduce myself as a 19-year-old cub reporter. I was terrified of him, like most younger people were, and had to go and introduce myself. He gave me an immortal piece of advice, which was: 'Calvin, never be a shithouse.' So I've tried to live up to that.
But there's a story in the book that sums Clough up brilliantly from Sean Dyche. Dyche is a terrific manager and made his name as a 'hardman' central defender, though he began as a midfielder with Nottingham Forest as an apprentice.
They thought [Dyche] had some talent and what Clough used to do was introduce a couple of the kids into the dressing room and he would make them sit next to the first-team player in his position. There was a price to that, because the apprentices who got into his dressing room would have to do his gardening at his house for nothing.
One day, Brian Clough was supposed to be giving a team talk. Dyche said that Brian Clough got down on his hands and knees, crawled across the dressing room, and people were thinking: 'What's going on now?'
Clough laid a towel down in the middle of the dressing room. He put a football down. This was at 10 minutes to three. The dressing room at that time is an electric place, it's fantastic. Cloughy then turns and goes back to his original place, and there's complete silence. It's not like nowadays where you have the beatboxes going at a million decibels. All that Clough did was point at the ball for something like 30 or 40 seconds.
Eventually, the buzzer went, which was to summon them for the game. As the buzzer went, people were thinking: 'Do we get up?' Clough was still pointing and he said: 'Captain, look after her,' while pointing at the ball. 'Good luck gentlemen.' And that was his team talk.
EMPICS Sport Sean Dyche currently manages Championship side Burnley. EMPICS Sport
Sean said: 'I went back to my dad at night and told him about the team talk,' and his dad didn't believe him. His dad knew this great theatrical figure — soundbites anonymous.
But he said his message was so simple — cherish the football. Keep possession of the ball and you'll win the game. What Sean drew from that was — there are a million ways to skin a cat. I think that was a really effective piece of management.
I've picked up stories over the years, but I would have loved to have done with that Forest team what I did with Millwall, which was living the season with them. That was a masterclass in management, and it would also give you an unbelievable insight into the human condition.
But hopefully, people who read the book will have a greater understanding of how football works and the flawed people that are in it. We do live in an age of instant judgement, and I would hope that, if their team loses on a Saturday, and the fans go home after a couple of pints and get on their phone, when they start pouring out bile on Twitter and get to 140 characters and they're just about to assassinate their manager, they stop and don't press 'send'. Maybe they'll realise that this guy's just doing a job.
The reality of football was put across very well by Kenny Jackett in the book. He said: 'Pressure in football is when you're manager of a league club and you're paid 30 grand a year and you've got two kids and the chairman says: 'That's it, I'm going to find someone else, and I'll pay you until the end of the month.' That's pressure.
Living on the Volcano: The Secrets of Surviving as a Football Manager by Michael Calvin is published by Century. More info here.