THERE'S BEEN A new twist in the sledging row that marred the Ulster minor football championship clash between Donegal and Tyrone in May.
At the time, it was alleged that Donegal captain Michael Carroll, who lost his father to cancer last year, was taunted about the death by an opposition player.
Tyrone strongly denied the accusations and now teamtalkmag.com, viewed as the unofficial voice of GAA in the county, is claiming that they have been told by Ulster GAA that the episode "did not take place."
But Donegal officials were quick to respond with an official statement, in which they "vehemently refute" the teamtalkmag.com story.
Teamtalkmag.com state that "untrue allegations had remained in the public domain as fact."
Their story added: "Donegal minor football boss Declan Bonner had been particularly vocal following the game and one Donegal newspaper carried the headline "Donegal minor manager hits out after 'toxic' taunting of player."
They also claim that statements from Ulster GAA and the Donegal and Tyrone boards are expected shortly, "to finally bring closure to this unfortunate episode."
Donegal have already responded and it now remains to be seen if Tyrone and the Ulster body follow suit.
"Perhaps then the players that represented the Red Hand county that afternoon will finally begin to rid themselves of the unnecessary commentary which was attributed to them from the Donegal minor management, a former Donegal senior player and an RTE pundit," the teamtalkmag.com story adds.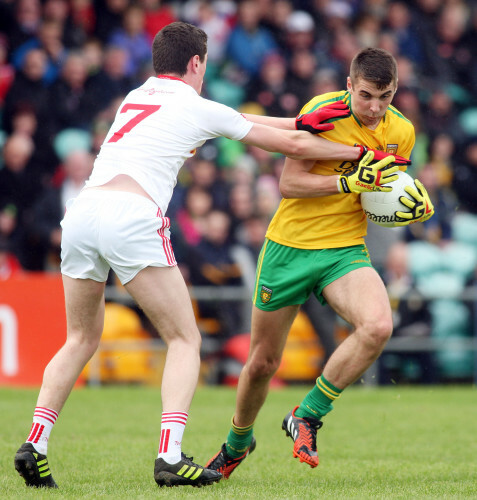 Presseye / Lorcan Doherty/INPHO Donegal minor skipper Michael Carroll up against Tyrone's Johnny Harkin. Presseye / Lorcan Doherty/INPHO / Lorcan Doherty/INPHO
In response, Donegal GAA issued this statement:
"CLG Dhun na nGall wish to vehemently refute the story on teamtalkmag.com this evening. CLG Dhun na nGall has in its possession the Ulster Council CCC Investigation Report and the conclusions reached were agreed by both CLG Thir Eoghain and CLG Dhun na nGall at a meeting on Wednesday September 23rd. We understand that the Ulster Council will make a statement in the morning accordingly."
This one could run for some time yet, it seems.