IT'S BEEN A whirlwind month at the top of Australian rugby's coaching tree.
The man who was tasked with leading them out of the post-Lions Tour gloom was hounded out of the job after having to deny an affair with a member of staff.
That was only a month ago.
Ewen McKenzie had never quite managed to get the Wallabies to reach the heights of his wonderful Queensland Reds side, an outfit guided by McKenzie's on-field lieutenants, Will Genia and Quade Cooper.
"When you see someone step down, you got to feel for them," Cooper said in Australia's Dublin hotel today.
"But you've also got to respect their decision and everything that has happened around that."
With the clock ticking fast towards the World Cup, Australia are leaving no time for navel gazing and contemplating the difficult situation they find themselves in. The party line is very much in the here and now, and right now many of the squad will say they are busy getting to know Michael Cheika – the man and the plan.
"The way he talks about the game," says Cooper when asked how Cheika differs from his predecessors.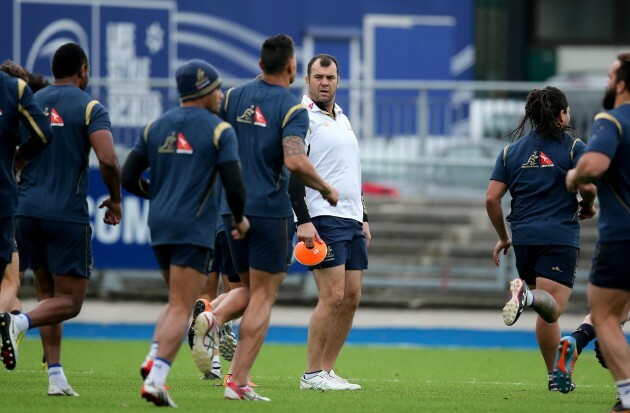 Dan Sheridan / INPHO Dan Sheridan / INPHO / INPHO
"He is very passionate about being physical and that has shown in our training –  it's very intense, it's very physical. There is no time to take a breath and that is what this team has to build on the back of, making sure we are a very hard team.
"The way we are going, the identity of the team, we're all heading in the same direction. If we continue to do that, continue to follow his guidance, this team will be a lot better for it and each individual in the team will become better players under that guidance."
The ex-Leinster and Stade Francais coach will be able to relay some tales of his time with Leinster to his first international squad. He may even feel he has the inside track or a helpful nugget on Gordon D'Arcy, Jonathan Sexton, Jamie Heaslip or Rob Kearney that would otherwise be missed by the Wallabies' full-time analysts.
"[Cheika's history in Leinster] does give us a little bit of inside knowledge. He does know the players very well, the style that the Irish play," the 26-year-old agrees before adding that Cheika's insistence on a 'tough mental edge' is actually the more important input the coach is having.
"Continuing to make sure throughout the week we do everything we can to prepare well and then come game day we're in a great mindset and physical condition to put in a good performance."
"Mental edge is something he talks about a lot: your mental preparation, each individual making sure we cover off everything throughout the week. We're not leaving anything to chance.
"If we, as a team continue to do that, when we get in those tight situations as a team – when we are coming up against the All Blacks with a minute to go in the game – we won't give them the opportunity to win the game.
"We will say this is how we are going to take it to you and continue to do it."