MICHAEL CHEIKA AMBLES into one of the Conrad Hotel's function rooms wearing a t-shirt, shorts and a baseball cap covering most of his face. He has the look of a man who has just rolled out of bed, come down to the first floor and presented himself for media duty.
It is 8am on a Monday morning, after all.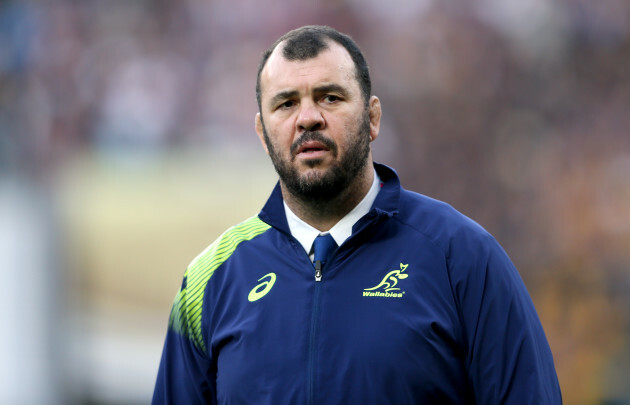 PA Archive / PA Images Cheika presided over a seminal period in Leinster's history before moving on. PA Archive / PA Images / PA Images
As the camera lights turn on, the cap comes off and a brief glance up towards the awaiting journalists brings the first smile of the morning. The sight of a few familiar faces.
Cheika is back in Dublin for the second time since he left Leinster at the end of the 2010 season as he brings his Australian side to the capital for the penultimate leg of their northern hemisphere tour.
A new week, a new challenge but this is a special one for the 49-year-old.
Dublin became a second home for the Sydney native during his hugely successful five-year tenure at the eastern province and any return will naturally rekindle memories and provide an opportunity to catch up with old friends.
"I haven't been back – I was saying last night – to Dublin a lot of times," he admits.
"In 2014 when we came I was just so rattled about being actually the coach of the team I think I didn't really get out and do anything. We were staying out of Dublin so it was not as easy. There's a lot of people here who are close to me. Five years of my life here. I'll try and make the time to catch up with all of them."
Cheika's time in charge of Leinster coincided with the club's upturn in fortunes as he changed the culture and ingrained a winning mentality.
It was a source of considerable pride for the Australia that, during his five years at the helm, he oversaw a transitional period at the province before constructing a team who became Pro12 and European champions in the space of two seasons.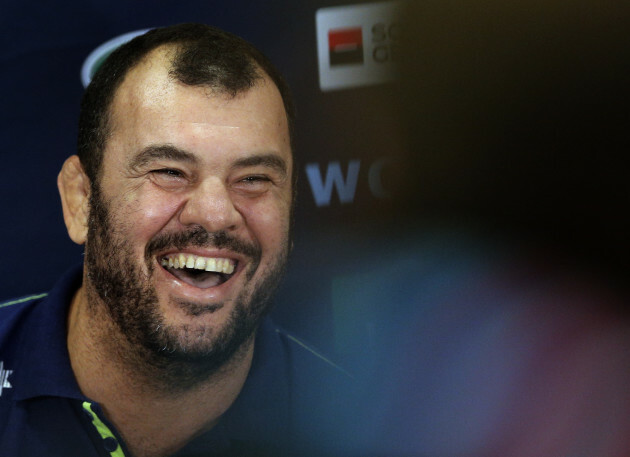 Christophe Ena Cheika is looking forward to renewing his friendly rivalry with Ireland this weekend. Christophe Ena
The foundation he laid facilitated the success achieved by his successor, Joe Schmidt, with that group of players going on to reign supreme on the continent in 2011 and 2012 and add another league crown to the collection.
Anyone you ask around Leinster has only got good things to say about Michael Cheika. He transformed the club and left a lasting impression.
"A lot has been said about how Cheiks came in and how he changed the culture," John Fogarty, who played under him for two seasons before going on to become Leinster's forwards coach, said yesterday.
"From one season to the next, himself and Mike Brewer did a great job with Leinster. In Leinster, there were changes happening anyway with the playing group.
"He certainly put his mark on the team. They were certainly very abrasive, very direct weren't going to get managed in games physically. It stood Leinster very, very well. He left a big mark on Leinster rugby. I'm sure a lot of people here will be glad to see him back this week."
While a return to these shores allows Cheika to reacquaint himself with the city he had so much success in, there is also a hugely significant Test match at the end of it all. It is, after all, a business trip rather than one for pleasure.
"From my point of view this is a big game and a game that I want to make sure we do well in. I know that we can never guarantee the result but in 2014 we went out and didn't appear for the first 20 minutes," he continues.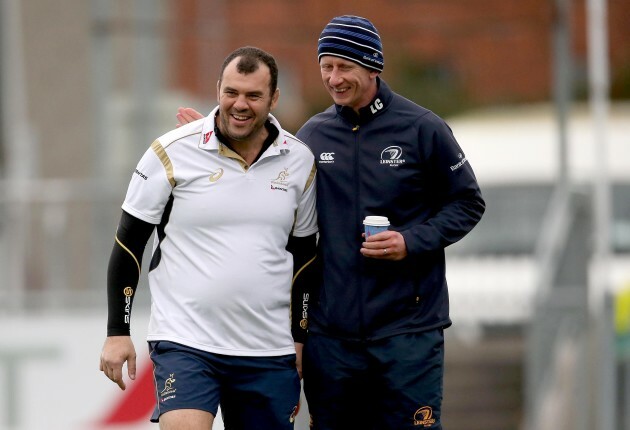 Dan Sheridan / INPHO Sharing a joke with Leo Cullen back in 2014. Dan Sheridan / INPHO / INPHO
"That's not what we want to show our rugby public, who wake up in the middle of the night to watch us play, or the people here, because I'm still very connected to my time here. I want to make sure that people here see that we can play footy, we can play good rugby and that if people at home see it from kick-off to finish."
You get the sense that the last meeting between the two nations still rankles with Cheika. As he said himself, he got caught up in the occasion.
Appointed to the role just days before the Wallabies left for their 2014 Autumn tour, Cheika suffered a win and a loss in his first two games before coming to Dublin.
He watched Schmidt's Ireland — including many of the players he brought up through the Leinster system — charge into a commanding 17-0 lead at the Aviva Stadium as his own side were caught cold.
The visitors did mount a comeback but fell short of pulling off the ultimate rescue mission as they slipped to a 26-23 defeat, before losing their third fixture of the tour at Twickenham a week later.
Just as the landscape of Irish rugby has changed since then, Cheika has been able to stamp his mark on the Wallabies and reaching the World Cup final 12 months ago was an indication of the impact he has had.
He has matured as a coach and been able to shape and sculpt this squad in the way he wants to get them playing the brand of rugby he wants.
"It's going to be the toughest game we've had on the tour," Cheika admits. "We're three games into our tour, every game has been tough, Ireland have beaten the team that no one has beaten over the last 18 months or however long it is and then gone close again.
©INPHO Ireland held on for a narrow win over Australia last time the sides met. ©INPHO
"One in South Africa, you can't deny those numbers. I feel I know them more, I know exactly how hard it's going to be at Lansdowne Road and all that goes with that for us.
"We've got a lot of guys that haven't had that experience before in this squad. We've had 13 debutants this year so a lot of change in our squad and we're starting to get our attitude right. It's still very hard to win away from home.
"Ireland have been so consistent I reckon. They're always up there, they're always competing in every game. Went to South Africa, without Johnny [Sexton], won the first game. Was right in the second game and third game. That's not easy. We know it, we got beat there this year and Six Nations, consistent, consistent, and I'd say that's the hallmark of the coach to be honest.
"They're consistently at a high level. They're very well organised, you see it in all of their games. They've been the consistent marker across teams in Europe for many years now in terms of quality of play and thinking about the game and how the game should be played.
"For me, I feel like they're getting strong, they're getting a new batch of players in now that seem to be – a lot of names I haven't hard of before. So when I know that the names that I knew when I was here are starting to go out of the game and new names are coming in that that's the replenishment of the team but without dropping their standards at all.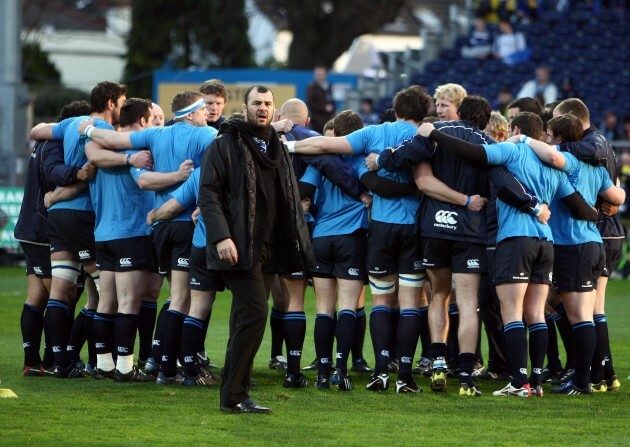 Dan Sheridan / INPHO Cheika won the Pro12 and Heineken Cup during his time at the RDS. Dan Sheridan / INPHO / INPHO
"We just have to start again, get our preparation exactly right. That's one of the big things we've been trying to learn on this trip – everyone to learn how to prep exactly right. And then go out there on Saturday and don't worry about it. Rip in and see what happens."
Rip in and see what happens. His coaching style is in complete contrast to the man who took up the baton at Leinster and will be in the opposition dugout on Saturday.
Cheika leaves much of the review work to his coaching team — he hasn't even watched Ireland's two games against the All Blacks — and instead prefers to focus on his players. The controllables, as Schmidt might say.
And it works. There is a new-found unity within the Australian set-up that perhaps failed to exist under the previous regime. Based back in Dublin city centre for the first time since a breach of team protocols in 2013, there is no chance of a repeat of the late-night drinking session which resulted in six of the playing staff receiving suspensions.
"To show what the Wallabies are about now and open up that story and that's something this team is very passionate about doing," Cheika adds.
"Without being too deep and meaningful, getting more unity around the game and having all our players understand what the team is all about because it's not always apparent from the outside."
What is apparent, however, is the lasting legacy Cheika has left on Irish rugby and he'll be desperate to make his mark again on Saturday, albeit in the opposing trenches.
An old friend, a new foe.
The42 is on Instagram! Tap the button below on your phone to follow us!