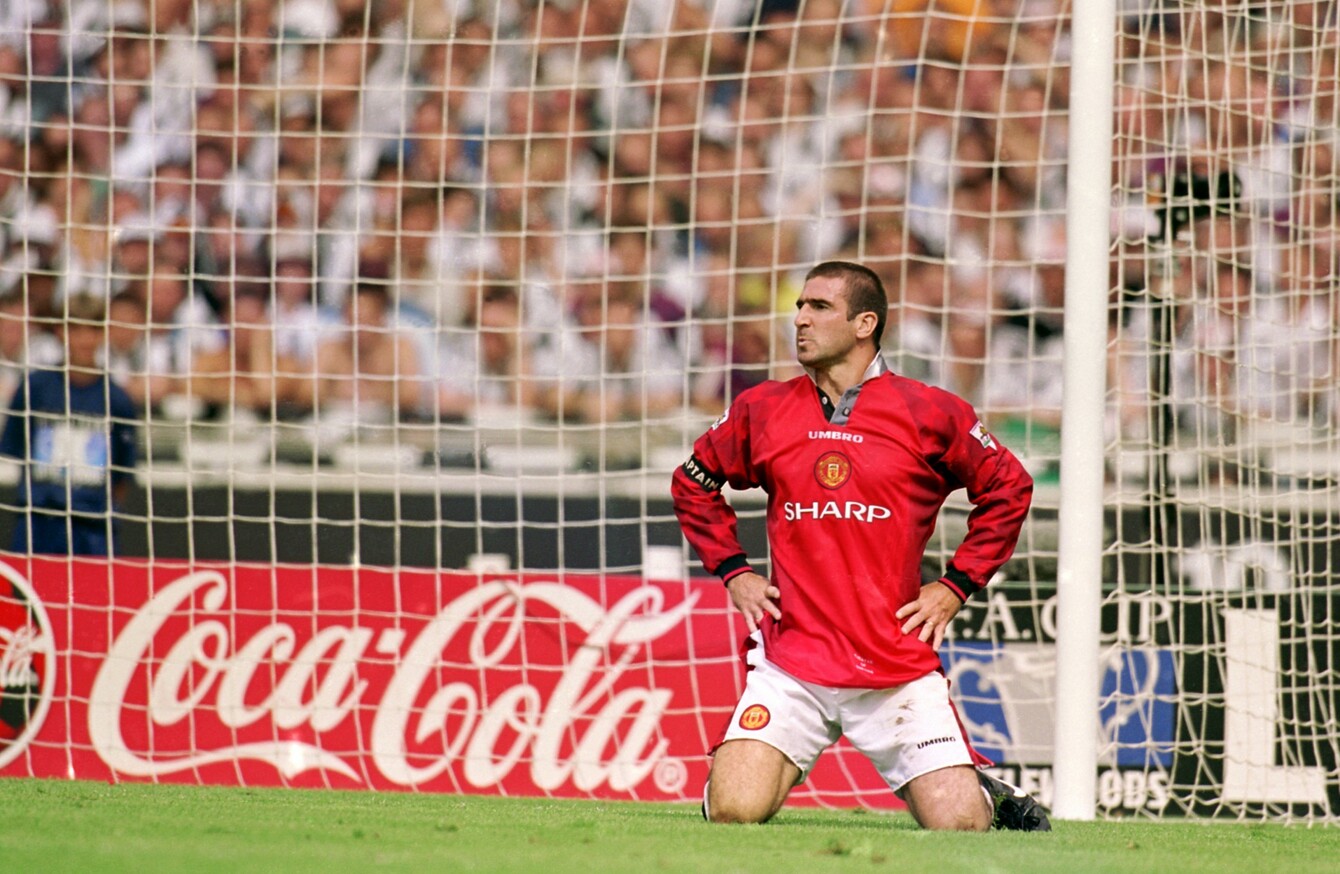 Eric Cantona is widely regarded as one of the most innovative footballers of the Premier League era.
Image: Neal Simpson
Eric Cantona is widely regarded as one of the most innovative footballers of the Premier League era.
Image: Neal Simpson
THE PREMIER LEAGUE has come a long way since its inception almost 25 years ago.
When it began, British football was known for its physical style and route-one football.
Compare that to now where English football features some of the world's best coaches and most sophisticated tacticians, not to mention an array of top-class foreign stars in contrast with the 11 players who represented countries outside of Britain and Ireland in the inaugural 1992-93 campaign.
Whereas back then, 4-4-2 was the dominant formation and rugged, technically inept British defenders were struggling to adapt to the backpass rule, now three-man defences are all the rage and top centre-backs are expected to be as accomplished at starting attacks as well as stopping them.
Michael Cox, a football journalist who writes for publications including The Guardian and ESPN and who is the man behind the popular website zonalmarking.net has written a book on the evolution of tactics in the Premier League era to mark its impending quarter-century anniversary.
Below, Cox chats to The42 about some of the primary themes in his highly entertaining new work, 'The Mixer: The Story of Premier League Tactics from Route One to False Nines.'
Tell us about the background to the book.
I wanted to do something about tactical analysis — it was just trying to find the subject really, narrowing it down to focus on somebody or something in particular. The anniversary of the Premier League was coming up — 25 years this summer. So it seemed like a good time to look back on the Premier League and I realised there hadn't really been a comprehensive book written about it. It felt like the book needed to be written, so I took that challenge on.
Name five key figures from a tactical viewpoint over the Premier League's last 25 years.
When everyone talks about tactics, they think everything is coming from the manager, but I think, especially in the early days, players were as influential as managers in terms of tactics.
The most important figure in the earlier years was probably Eric Cantona, after he joined Manchester United. Alex Ferguson wasn't particularly looking for a player in his mould — a deep-lying forward. But when Cantona came, he just changed the way Manchester United played, and they played in that way for the next five years. He won the title four out of the next five years. He was the first influential figure.
Alex Ferguson as well — the fact that he kept evolving, changing his system. Even though he wasn't always the revolutionary, he was always up to speed with the latest trends and his longevity was remarkable.
Arsene Wenger is not the strictest tactician in the keenest sense, but I think he evolved the way teams played. There was the physiology and he recruited more players from abroad at that time.
Then I think Jose Mourinho is an obvious factor in more recent years. When he came in at Chelsea, they went to a 4-3-3 formation and that kind of revolutionised the way teams played and a lot of teams copied him.
He's only been here a year, but I guess Antonio Conte switching to a three-man defence back in autumn, that's probably the most decisive single decision from a manager in terms of how he just transformed Chelsea's season. I think 17 of the 20 teams by the end of last season had played a three-man defence at some stage.
Even though it's early days, I think you have to put Conte in that category.
Alex Ferguson is often thought of as quite an old-school coach. Is he underestimated in terms of the degree to which tactics influenced his decision-making?
In the 1990s, the English clubs didn't really do tactics in the sense of how we think of them now. You had a way of playing and you'd play that way every week. Ferguson was very much ahead of the game.
The fact that Man United were always in the Champions League, or almost always, meant that he was coming up against the Milans and Barcelonas — the top sides in Europe — and he was seeing that English football was basically behind the times. He was quite ahead of his time (in an English context) in terms of changing your system, man-marking individual players.
The interesting thing about Ferguson, whether by choice or necessity, he changed his assistant manager a lot. Steve McClaren, Carlos Queiroz, they often brought a new manager in. Particularly Queiroz was key to Man United's tactical approach and organisation around the mid-to-late 2000s when they were a really solid and intelligent team. That has helped keep him up to speed with the next trend — the fact that he was always bringing in different assistants to help him out.
Where does the suspicion of tactics, which was seen particularly in the early days of the Premier League era, stem from in British football?
I think in England or Britain, we do just have an island mentality. There is still a deep-rooted superiority complex with English football. There's a sense that we invented the game and gave it to the world.
If you look at the tactical development of world football, England has always been behind the times in that respect.
There's just a negative attitude towards foreign influence, which is very strange considering that the Premier League has almost been entirely dependent on foreign influence. But I do think it's a slightly sad aspect of the Premier League. We're not producing top-level coaches and we depend so much now on foreign influence that the English identity of playing football has kind of been lost. I'm not quite sure what we're trying to do these days, which is a bit of a shame.
But it's a really big question, which maybe I can't fully answer.
Are bad weather and pitches partially to blame for British and Irish football's long association with unsophisticated football?
Yeah, I think climate's a really big factor. The development of pitches over the past 25 years has been remarkable. Going back and watching some of those games from the mid-1990s, you couldn't play possession football then — it was a mud bath really.
You had to get the ball out wide and cross it to the big man, and to a certain extent, that's what a lot of teams did.
The development of pitches has been a really big factor. You can even go back to Tony Pulis at Stoke when he was big on cutting the pitch up — getting his players to train on it the day before they played an Arsenal or Liverpool to hamper their passing football, whereas you don't really see that 10 years on. I think almost every pitch in the Premier League is good these days.
I remember when Guardiola was at Barcelona — him and Xavi were always complaining about the precise length of the grass. I think there are now regulations for the precise length of grass in Premier League football. So things have changed significantly. It used to be about whether there was grass or not, and now it's all about the length of the grass.
Given the speed with which football is played now, particularly at Premier League level, would it be fair to say that it's basically a different game compared to what it was 25 years ago?
I think so. Players just don't have any time on the ball these days, and that's been particularly noticeable in the last few years.
There's been so much emphasis on pressing in midfield — look at what Mauricio Pochettino has done at Tottenham. They're now starting to play good, attacking football in terms of passing and combination play. But for the first few months and even the first couple of years, Tottenham were so much based around pressing and getting the ball really quickly and doing everything really speedily. To a certain extent in the last couple of years, it's taken away from being really good in possession.
The qualities of a team five or six years ago were just being really good in possession, but now it's kind of converged into a physical approach.
Over the 25 years, the game has got incredibly quick. Just in terms of the actual individual speed of players — in the mid-1990s, it was a bit of a bonus if you were really quick, whereas now it's essentially a pre-requisite to be really speedy, especially if you're playing in wide or attacking positions.
You highlight the United-Norwich game at Carrow Road in the 1992-93 season as one of the most tactically important matches in Premier League history. Why do you believe this is the case?
Source: M Ward/YouTube
It was such a clash of styles. That Norwich team was just so good in possession. They were probably quite modern in the sense that they played very good football, they got their full-backs forward, there was really good combination play in the final third. But United were just all about speed really. They attacked them with tremendous ferocity and tremendous speed. Ferguson played three wingers that day essentially, because he had Ryan Giggs, Lee Sharpe and Andrei Kanchelskis in the same team.
It was just astonishing to look at those goals — they were just so quick on the counter-attack. I think, to a certain extent, they set the template not just for Manchester United's play in the coming years but for the Premier League's play over the coming years. It was based around speed essentially with a really quick forward. It was Ryan Giggs playing as a forward and Cantona as a deep-lying forward.
I watched quite a lot of games in the process of doing the book, but that was one of the most interesting. I'd forgotten how good that Norwich side were — it sounds silly that they were in the title race going into April in the first Premier League season. But they were a really good team. In pure footballing terms, they were probably the first great team of the Premier League era.
I'd also forgotten how good Manchester United were — how quick they were. I think they weren't really a great team in the first season of the Premier League, but that really set the tone for the next season, when they brought in Roy Keane, and they had him and Paul Ince in midfield, Kanchelskis and Giggs out wide, and then Cantona and usually Mark Hughes up front. Then later, Andy Cole.
You can kind of use that template to look at a few Premier League sides. Arsene Wenger's first Arsenal team played in a very similar style, with two tacklers in central midfield, quick players out wide, and Dennis Bergkamp playing the Eric Cantona role.
It's easy to forget the impact Ruud Gullit made in the Premier League when he first came in, isn't it?
He was another one whose influence I'd forgotten about really. He came over and wanted to play as a sweeper. Everyone knew him as a number 10.
He'd won the Ballon d'Or. He played as a number 10 in the Netherlands' Euro '88 Championship victory. He came over here and in his first press conference, said he was going to play sweeper.
At that time, we were used to defenders being headerers and tacklers and hoofing the ball clear. Just to go back and watch how composed Gullit was in defensive positions on the ball was quite remarkable. Obviously, he changed the way Chelsea played. He went on to become manager. He was interesting as a manager as well, because more than anyone else, he really focused on bringing in foreign players. Wenger had done it a little bit, he brought in four or five the first couple of years, but when Gullit was at Chelsea and Newcastle, something like 90% of the players he brought in were foreign.
Gullit said something that was quite interesting in the wake of the Bosman ruling and the fact that there was no longer a restriction on foreign players. He said that 'what you have to consider in England is that a Frenchman is no longer a foreigner anymore'. In a way, that was quite a brave thing to say, because strictly speaking, they were foreign players. But that's the extent to which English football would open itself up to foreign influence.
It was no longer just an English game, with English players, it was a really multi-cultural and diverse league, which is still the case now.
If you look at the top 25 in the Fifa rankings, there is only one country that wasn't represented in the Premier League (this season), which was Mexico incidentally.
But yeah, it's been really interesting looking at foreign influence and Gullit is probably quite rare in being influential as a player and, to a certain extent, a manager as well. There are not many that have done that in the Premier League era.
What's been the most significant or radical tactic in the Premier League era?
In terms of one manager or one system changing things, I think Jose Mourinho's 4-3-3 formation was really influential. When he came to English football, it was pretty rare to see teams playing with just one centre forward. Mourinho did that from a really early stage. It was a little bit like Antonio Conte in the sense that teams really looked to copy it straight away. Midway through the season, there were 10 or 12 teams that had switched to playing one up front, having previously played two up front, so that was a really big change.
Mourinho brought a really different way of thinking about the game. In English football traditionally, we'd always considered it to be essentially a weakness to look too much at the opposition. It was all about concentrating on your own strengths.
Mourinho came in and he basically had Andres Villas-Boas as his opposition scout. Obviously, Villas-Boas went on to be a pretty good manager himself, although maybe not particularly successful in Premier League terms. He used to give players a dossier in the training ground every day, focusing on the upcoming opponents.
I think it was Thursday and Friday every week, they'd really focus their approach on the opposition and trying to expose their weaknesses. In terms of the style and also the approach, it was revolutionary. He was immediately influential, which you don't see that often. Probably only Mourinho and Conte have changed something and almost everyone has immediately followed suit.
Finally, what tactical trends do you expect to see in future?
I think it's very difficult to guess really. You just have to look at previous years to try to predict what will happen. What has happened is there's been a real big shift in players becoming universal in style. At the start of the Premier League era, your strikers would just score goals, your defenders would defend. Now, there's a big emphasis on your defenders starting the attacking moves and your attackers starting the defensive pressure. So that's been a significant change and you suspect that will continue to go further and further.
You've now got a funny situation with a player like John Stones who is clearly a very good footballer but not a particularly great defender in the true sense. And you've got a player like Danny Welbeck, who everyone likes and everyone thinks is a really good player, but he doesn't score that many goals for a striker.
You've got all these homogeneous players and that's probably been the dominant theme of the Premier League era (in recent times), so perhaps that will continue to happen in the coming years and formations will become less important — teams fielding seven or eight players who could essentially play in different positions. So hopefully, some kind of total football revolution would be fun.
The Mixer by Michael Cox is published by Harper Collins. For more information, click here.
The42 is on Instagram! Tap the button below on your phone to follow us!