WHEN MICHAEL FENNELLY'S name was not in Brian Cody's starting XV ahead of this year's Leinster SHC semi-final with Galway, many would have been forgiven for thinking it might just be mind games from Kilkenny boss.
However, it soon emerged that Fennelly had suffered a back injury in training that would see the Ballyhale Shamrocks man miss much of his county's campaign when a flare up in the nerves in the facet joints of his spine left him in constant pain.
Why it was happening though, remains a mystery.
"They probably don't know exactly what it is, aggravation of facet joints on the vertebrae.
"I'm not sure how it came about and it lasted a month or a month and a half and I was on tablets to help with the nerves and stop it kicking off.
"The spasms just kept kicking off in my lower back and thankfully then it stopped and I'm off the tablets and everything."
Whatever the cause, the injury left the midfielder barely able to work, let alone pick up a hurl.
"Even when I was walking I was in pain. Even doing anything… it was scary enough.
"If your back isn't right you can't do anything at all. Even doing work, what can you do in work? At the time I was doing a small bit of personal training, helping out in a local hotel, and I couldn't do that either.
"It was really debilitating."
At one stage, the pain was so bad, the 29-year old was worried for his future on the field and off it.
"[I was worried I] might not hurl again and work.
"Hurling is one thing but there's more serious things than that, doing the normal things.
"Even lifting something off of a table, I would get a dart of pain. A spasm just setting off and I couldn't stop it. Thankfully the backroom team got a handle on it and sorted it.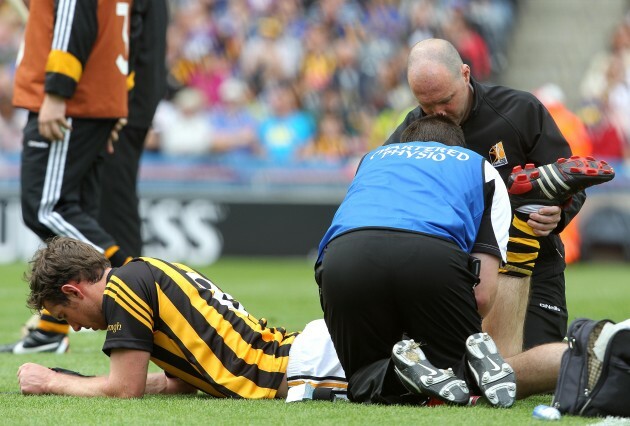 Cathal Noonan / INPHO Fennelly has had injury issues during previous campaigns. Cathal Noonan / INPHO / INPHO
The seven time All-Ireland winner admits that not knowing the cause of the injury was frustrating.
"If you've a broken hand, you're probably six weeks out whereas I hadn't a clue when I'd be back. We were in the middle of the season and the year was kicking on and that's where you want to be. It was really bad even travelling to some of the games.
"Travelling to the Galway game and sitting on a bus and watching the game and coming back from Tullamore again. You could be sitting down for six or seven hours and even that was killing me, I was broken up after that even.
"I'm not sure what exactly set it off and it wouldn't stop, and then I was eager to get back with games around the corner. Maybe a week or two of complete rest might have done the trick."
However, overcoming the injury made winning another Liam MacCarthy back all the sweeter though he'd have preferred to play in every game.
"Ah yeah. I didn't miss the All-Ireland final, it happened in the middle of rather than at the end of the season, which is where you want to be.
"Looking back on the year, it's still disappointing in one sense missing those games. Last year I had a bad ankle injury, the year before a bad ankle injury and missed games.
"I was hoping this year to get a good rattle at it and we played a semi-final in the league, a league final, and I was looking forward but another setback like that is hard to take.
"But I got over and it and thankfully got back."