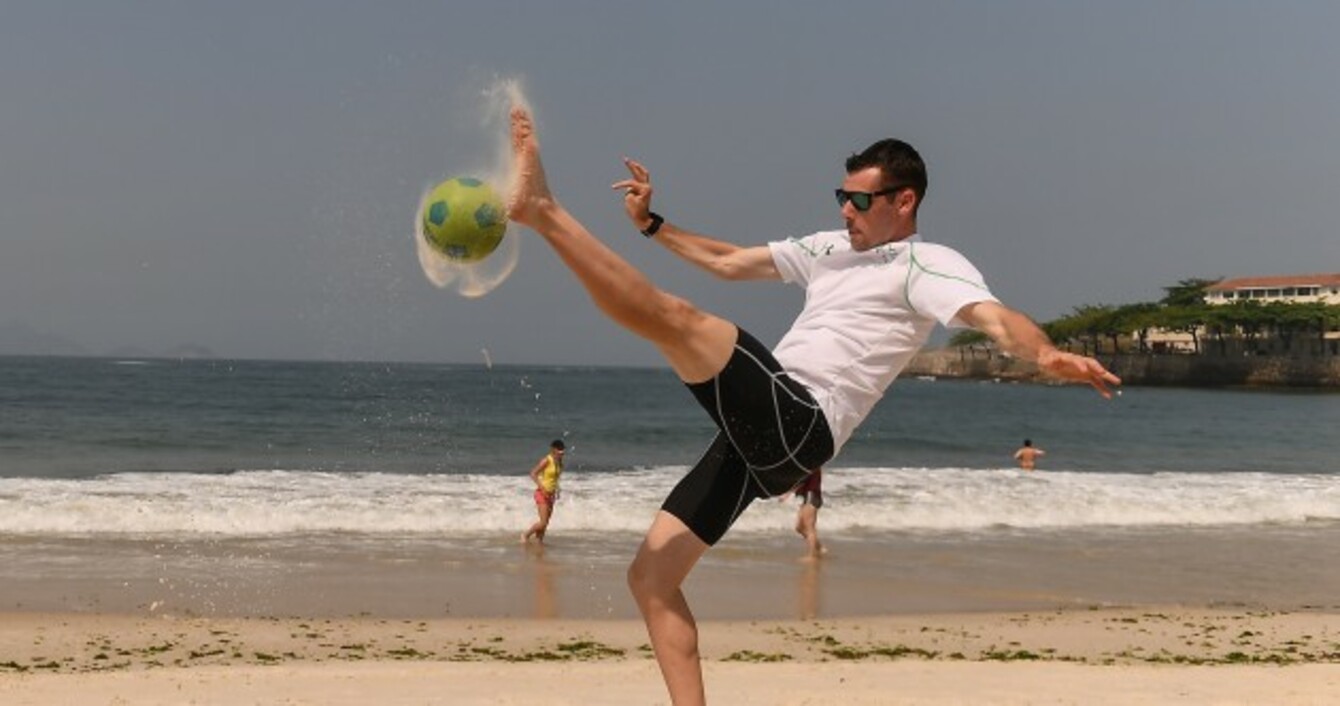 Life's a beach: McKillop playing football on Copacabana last week.
Image: Diarmuid Greene/SPORTSFILE
Life's a beach: McKillop playing football on Copacabana last week.
Image: Diarmuid Greene/SPORTSFILE
IT WAS A rather innocuous question, but it invited Michael McKillop to open up about something he'd dared not do before that moment. He had the medal around his neck, so the shackles were off.
For the previous three months, he had put on a brave face, maintaining his confident, positive and happy-go-lucky persona when in public. But behind it all, deep down, he wasn't right.
When McKillop broke down in the bowels of Rio's Olympic Stadium shortly after winning his fourth Paralympic gold medal, it wasn't all that surprising. Having bottled it all up for so long, it was almost a relief for him to let it all out.
Journalist: It has been a tough time for you Michael, can you put into words what this win means for you?
Standing in the mixed zone, McKillop — with the tricolour draped over him and the gold medal around his neck — struggled to keep his emotions in check. He paused for a moment to gather himself and then revealed the depths he had plunged to before Rio.
A Vitamin B12 deficiency was having serious implications on his health, and training, and then a debilitating foot injury further threatened to throw his T37 1500m title defence off course. Months of frustration, anguish and worry — and the worst part? He couldn't let anybody in on it but his coach and family.
"I had to keep it in-house," he explains to The42. "You have to make sure you don't make a big deal of it because if it gets into the media that can put a lot more pressure on you that you don't need.
"You need to get through the problem you have and be able to move on with it. I've struggled over the last few years but it's kind of like the boxing or UFC mentality. You have to say you're the best and you'll beat everyone and that your training is going magnificently.
"I just had to try to keep quiet and keep my head down and in any media situations I just said everything was fine and didn't talk about medals. I know fine rightly what could have happened and that was the case for me if I got asked in public, it was in my head."
As McKillop pulled away on the far side of the stadium, storming clear of the young Canadian who briefly threatened to dethrone him, it was hard not to think back of a conversation in Dublin about two months previous.
In his one and only media appearance before flying to Rio, the 26-year-old attended the Paralympics Ireland team announcement in City Hall where he was asked about his preparations.
As you would expect, McKillop was confident and positive. At that point, there was nothing for those on the outside looking in to suggest anything otherwise; but it was all for show.
"I couldn't say anything other than what I said," he admitted. "I knew I couldn't go on about being in the best shape of my life as that could have backfired. What would I say to the media if I did get beat, would I be able to speak?
"I had to keep that out of my head and instead believe in myself and these are the testing and challenging times when true champions come out and show they still have the quality they need to perform at a higher level. Thankfully we got the job done.
"Over the years, I've had injuries but have always been able to run through them but this time it was my body letting me down. My health let me down and you can't really push that and that was the frustrating thing."
In the immediate aftermath of his victory in Rio, McKillop spoke of hitting 'rock bottom.' That came a little under a month before he found himself on the podium with a fourth Paralympic gold around his neck.
In an attempt to find form and fitness, the Glengormley athlete decided to run in the Scottish National Championships at the start of August. It was at that juncture when the bubble burst. He came last in his 1500m heat.
"I felt like whenever I ran I didn't know what was wrong," McKillop recalled. "I felt completely drained, I felt so tired. I phoned my Dad [and coach] after the race and asked 'what's going on here, I don't have a clue, why am I this tired?
"We got blood tested on the Monday and it showed I was low on Vitamin B12. We had to do something about it and we went and made sure I was recovering right and I was getting enough food and all the wee small things. Really to be honest my training was really effected.
"I had to train for two days and take a day off and it wasn't able to be sessions, it had to be runs and easy runs because my body couldn't cope with the strain of it. I think the last week and a half before I came [to Rio], I got two sessions and a time trial in and that was all I was able to do in the last five weeks.
"Usually you're meant to be doing your most intense sessions and then tapering down into competition but sadly that wasn't the case. Again I was lucky to get away with it."
"The last Paralympic Games I've been going in really, really good shape but the last few years haven't been the most spectacular for me. I haven't been in that position sadly but it's a case of I went out there and performed to the level I can fitness wise and it paid off and I was able to come away with a win."
Beijing, London and now Rio, McKillop exerted his dominance at this level and put all of his injury struggles, health problems and mental demons behind him to reign supreme once again.
But unlike 2008 and 2012, he had to find an extra gear. Canadian Liam Stanley asked the question of McKillop, only for the defending champion and world record holder to lay down the law again; this is his territory and he's not prepared to give it up just yet.
"Despite everything, I'm always confident because I have a mental one-up because I'm unbeaten and I've won every single time I've gone out to compete. That on the start line is a little bit of a bonus, also I know in any situation that I'll never give up, I'll always push.
"Going into it I knew there was problems with my health and fitness but all of the team and my coaches were so supportive and helpful and kept me in a positive mindset before the race.
"Stanley's coach actually contacted me on Facebook wanting to speak to my Dad. Because he's so new, last year his coach wanted to find out how my Dad coaches a Paralympic athlete or an athlete with Cerebral Palsy.
"We were very reluctant to give anything away and my Dad basically just said treat him as an able-bodied athlete and see where that gets you. That's what I've done my whole life, I've never been technically a Paralympic athlete training, I've always trained with able-bodied people and competed against able-bodied people."
It's that mentality which has engendered such success for 'Team McKillop.' He speaks so passionately and intelligently about the sport and his career, but also about the Paralympic movement. You can tell he loves what he does and would love to enhance the cause further; it's not all about winning medals.
"As a Paralympic athlete I need to be the brand ambassador within Ireland. I always say I need to promote myself but working with the media is a key element in conveying my thoughts in a positive way and also to try to convey the importance of Paralympic sport.
"We've been so successful as a team and we came here as a team, we won here as a team and we supported each other like a team and that's a great team.
"I see myself as a key member within that team but nobody is bigger than the team itself. I know if I can get back to my best and performed at my best in able-bodied events, I can then produce world record attempts and that's where I want to get back to.
"I don't just want to be known as the athlete who runs around every four years and wins gold medals. I want to be the one who showcases Paralympic sport and breaks world records to bring our sport and team to new levels."
For now, however, another box has been ticked. He went to Rio, battled his demons and came away with another gold. Job done.
"Life is incredible," he adds. "I'm going home to my fiancée, we have a wedding to plan and we have just a bought a new house. That's going to completely change my mindset when I go home and that's a good thing because I don't want to think about athletics all the time.
"I have a big winter of training ahead of me to get back to where I want but for the time being I can reflect on Rio and while that medal sitting on my bedside locker means it's all worth it, the most important thing is that somebody has been inspired by what we've done.
"It was a hard task for me personally just to get there but we got through it and brought home the medal. I think I've lived up to people's expectations again."
The42 is on Snapchat! Tap the button below on your phone to add!