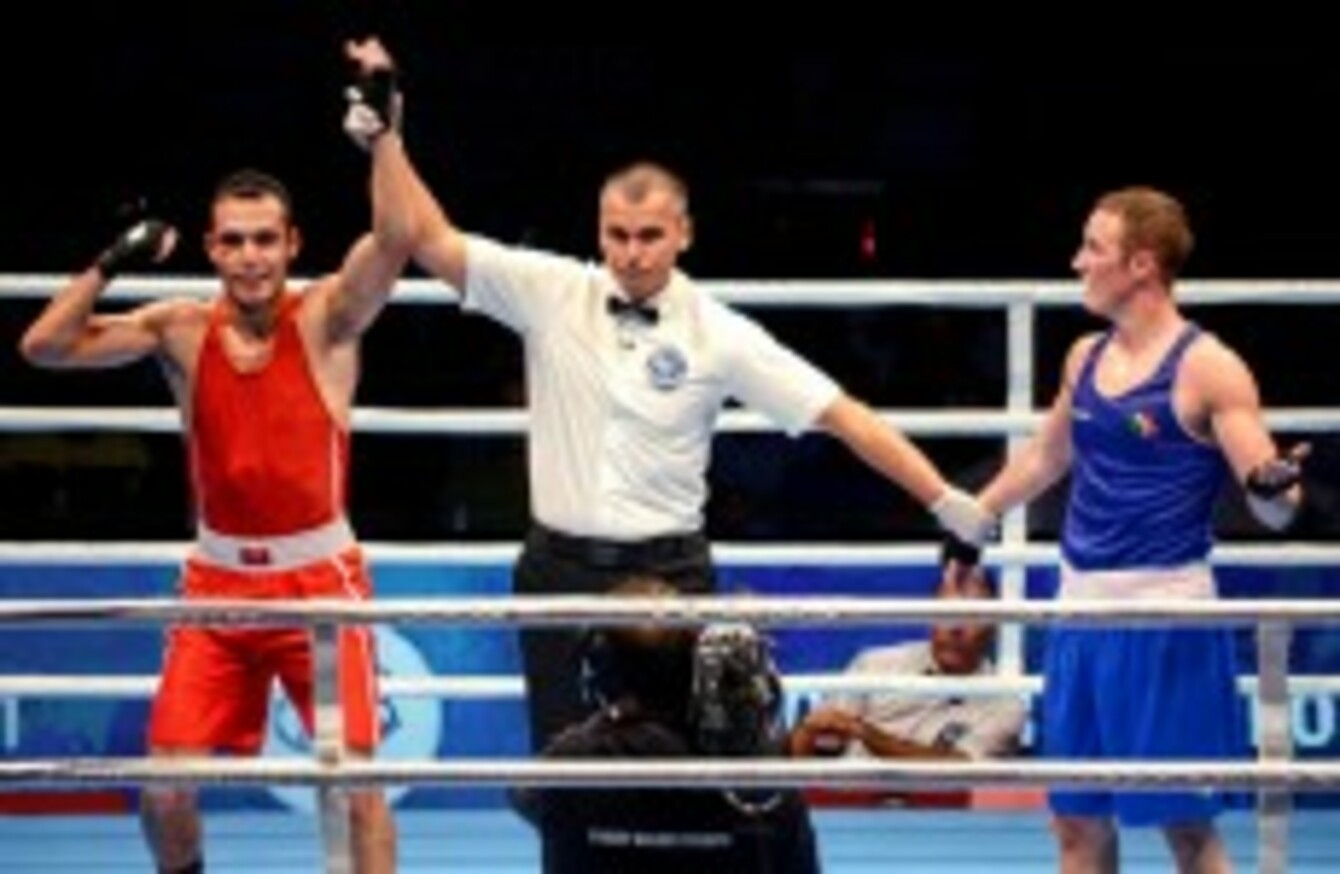 O'Reilly expresses surprise after losing his fight yesterday.
Image: Francis Myers/INPHO
O'Reilly expresses surprise after losing his fight yesterday.
Image: Francis Myers/INPHO
IABA PRESIDENT PAT Ryan says he was stunned at the points decision awarded against Ireland's Michael O'Reilly in the third-place middleweight box-off for Olympic qualification at the World Championships in Doha yesterday.
Ryan, who has coached O'Reilly and many other promising Irish boxers at the Portlaoise BC, was similarly perplexed as everyone else seemed to be at the judges' highly contentious decision to award the bout in favour of African champion Hosam Abdin.
"After the first round I just couldn't believe that Michael was down," Ryan told The42. "The commentators actually thought that the judges had got the colours mixed up. [I thought] that explained the first round.
"I thought Michael was in control, boxing the way he should be boxing. I thought he pushed it a little bit more in the second round, as the boys told him that he lost the first round.
"He made a few more attacks and seemed to be quite successful with them and he was still controlling the contest. His opponent was doing very little to determine the outcome.
"The decision went against him again in the second round and I thought 'what's going on here?'"
Ryan recalled how even O'Reilly seemed certain that he had secured his place at Rio 2016.
"I was looking at Michael's body language and he seemed to be quite content with where he was. To me, he was being told that he was winning the contest and his actions would have mirrored that.
"And I thought in his last round, he was exceptional. But Christ almighty, it was a really unbelievable decision. I was gutted for Michael."
Ryan has been in contact with both O'Reilly and coach Billy Walsh since the controversial fight, and says they are all at a loss to explain how the situation panned out.
"I spoke to Michael about a half an hour ago and Billy rang me as well — he was shocked at the decision. It was one of those decisions where you say 'everything's going well' and then all of a sudden 'bang'. It's a massive shock all of a sudden.
"There's no answers to it. You can't explain it," he added.
Ryan is also not optimistic that the decision will be overturned despite the controversy that surrounded it.
"There's always a jury observing these contests and what they're looking for is an infringement on the rules. In truth, there were no infringements on the rules by either boxer. The referee didn't make mistakes.
"Now sometimes, they just get it wrong and they have a bad day, but this was an awful decision.
"But you'd need to be breaking some rule to have an appeal upheld."
O'Reilly must now overcome this disappointment and focus on his remaining opportunities to qualify for the Olympics.
"We have to re-set ourselves now and accept that that's the decision. These are the hard calls in boxing. Unfortunately, it's subjective and the fact that they're not using the five judges is a worry to me. You should have a better consensus. You get the judges to sit on all sides of the ring and view it from every angle. You should get a better decision. But three of the five judges are selected randomly. The other two judges could have voted for Michael.
"He has two more competitions (to try to qualify for Rio). At this stage, we have to look at another opportunity that's there in terms of WSB (World Series of Boxing).
"With Ireland being ranked so highly in the world, we should have a franchise here for the WSB, which is another pathway for the Olympics — not just for Michael, but for the rest of the team as well."
Yet Ryan remains confident that his fighter can overcome this setback and prevail in the fight for a place at Rio 2016.
"There's going to be a few days of disappointment and that has to be the case — you have to allow it to work its way through and let it out.
"When we get him home, we'll get him ready for the Senior Championships and re-build. Michael has sustained performances over the last two years, and each time, he's climbing the ladder.
"We have to look at it as if the game is on for 60 minutes and there's only 20 played. We've definitely two more qualifying tournaments and Michael is still growing into the middlewight division and can even work more on the physical and technical aspects of his game.
"So the experience he has gained from these major championships and the opponents he has had to out-box will all assist him to hopefully ensure he qualifies for Rio."