BEATING CORK IN an All-Ireland final was absolutely massive for Dublin yesterday.
And Mick Bohan makes no qualms about it. 
The rivalry was played down time and time again in the build-up from inside the camp, but their manager admitted under the Hogan Stand yesterday that they had to beat 11-time champions Cork to be remembered as a great team.
The Sky Blues finally put the heartbreak of their 2014, 2015 and 2016 decider defeats to the same opposition to bed as they ran out five-point winners in Croke Park and made it two in-a-row for the first time in the county's history.
"We're obviously absolutely thrilled," he told the media afterwards.
"We couldn't make it out to be more than a game for this group coming into it, but everybody knew that it was and that wasn't shying away from it.
"If we were to build it up in the camp, it could become an immovable beast and we didn't want that. But we're incredibly proud because realistically we have been building for this for 18 months since we came in (as a management team).
"We thought it was going to happen sooner and when we came in, we would have felt that they were the standard-bearers and for us to get the crown we would have had to take them out.
Tommy Dickson / INPHO Katie Murray, Leah Caffrey and Lauren Magee celebrate. Tommy Dickson / INPHO / INPHO
"And that's said with massive respect to them (Cork) because they brought the game to that level and it has been our goal to try and set a standard higher than them."
The Clontarf clubman added: "Not in our camp they weren't (written off). Are you joking me? After all the scars they've left here, why would we do that?
"We'd have the utmost respect for Cork and that's really what makes this prize today that little extra more special.
"It's always going to be special but to beat the standard-bearers, that was really important for this group because it was always going to be something that was going to be thrown back at them long after their boots were hung up — 'You couldn't beat the great Cork team'.
"People can say that they've lost their leaders or whatever else, but the tradition that they've built up in their own county in women's football is a huge testament."
It was a fiery battle played out in front of a record-breaking crowd of 50,141 and two goals from Carla Rowe and a haul of 1-7 from captain Sinéad Aherne proved vital.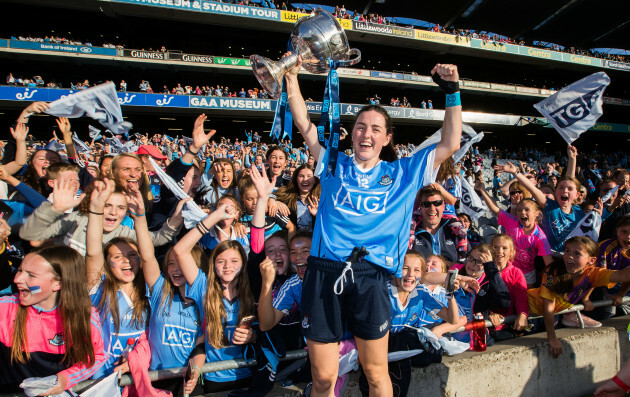 Tommy Dickson / INPHO Lyndsey Davey with the silverware. Tommy Dickson / INPHO / INPHO
The showpiece had it all, with physicality, athleticism and an admirable standard of football on show throughout.
"You'd have to take your hats off to the contest out there today from both teams," Bohan continued. "For anyone trying to promote women's sport, it was brave, honest, it was relentless.
"I think the rules of the game went out the window, rightly so, because it just became an absolute white heat of battle contest. The bravery in going for the ball. It just was absolutely fantastic to see.
"I hope you enjoyed the spectacle, I thought both teams magnificent.
The42 is on Instagram! Tap the button below on your phone to follow us!