IT'S EIGHT MONTHS since Mick Clohisey and three of his Irish team-mates clocked Olympic qualification times but still the anxious wait goes on to hear who will be on the plane to Rio.
With less than four months until this summer's edition of the Games, the selection dilemma for those in power is becoming more and more of a headache.
While Team Ireland is beginning to take shape with many athletes now knee-deep in preparation, the names of those set to take to the marathon start line are very much undecided.
In total, there are eight men, and seven women, in contention having met the qualification time requirement but only three of each can get the nod for Rio.
The official announcement will be made on Monday 23 May, leaving the 15 athletes anxiously waiting for the phone to ring.
"It's coming around, I suppose. It has seemed like ages," Clohisey tells The42. "You kind of have to get on with it and train under the presumption you're going.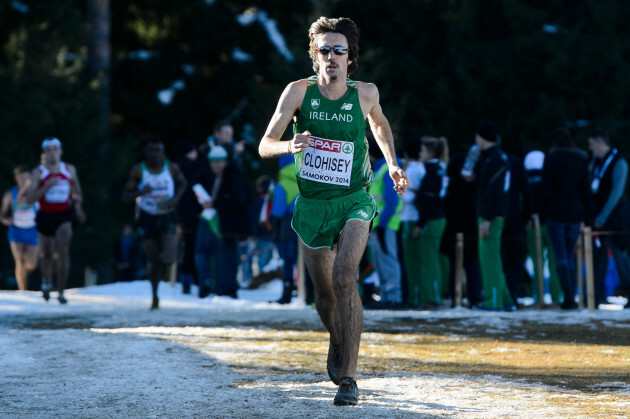 Sasa Pahic Szabo / INPHO Clohisey in cross country action. Sasa Pahic Szabo / INPHO / INPHO
"We've all known about this date for a long time and I've been focused on this period. I've done everything I can do and am pretty confident I've done enough but you just never know until it's finalised."
The Dubliner, along with Segiu Ciobanu, Kevin Seward, Paul Pollock, Gary Thornton, Sean Heir, Thomas Frazier and Martin Fagan have all achieved the Olympic qualifying time of two hours and 19 minutes.
A five-man panel will now deliberate over form and fitness and each of the athlete's credentials before deciding who will wear the green vest in Rio.
30-year-old Clohisey achieved the qualification time back in September at the Berlin Marathon, which was just his second over the 26 mile distance.
It would be a stretch to say the intervening months have been a protracted waiting game with a busy schedule keeping the long-distance runner focused on the task in hand.
"I've been back in training the last 10 weeks or so since my last marathon. Two weeks were spent in Portugal and I've a couple of races coming up too," he continued.
"I've been concentrating on shorter races but that will gradually build up. I am running in the 10,000 metres on the track in Highgate in London shortly.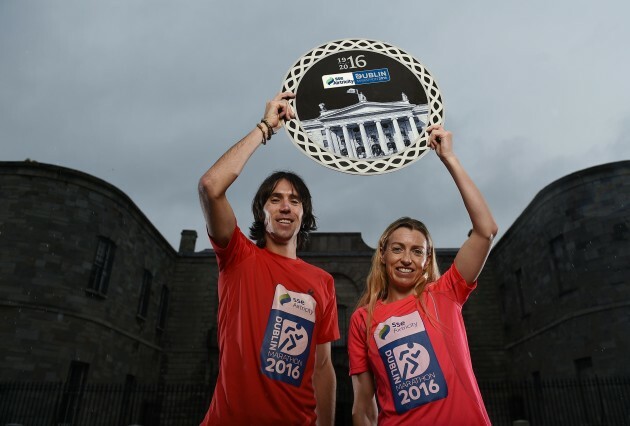 Paul Mohan / SPORTSFILE Clohisey and Lizzie Lee yesterday launched the 2016 Dublin Marathon. Paul Mohan / SPORTSFILE / SPORTSFILE
"I love racing because it just focuses your mind on that event. I mean if you sat back since September and rested on your laurels it would be a long process. It's not too much of a stress for me because I'm training away."
Clohisey, who only ran his first marathon 12 months ago, has certainly hit a purple patch in form. After getting the job done in Berlin, he then raised the bar in Seville with a 10th place finish.
Add in an Irish National Cross Country Championship title and it has been a pretty productive, and fruitful, winter for the Raheny Shamrock runner.
"I like to keep busy," he explains. "The races keep my mind from thinking about Rio and they're sort of a distraction.
"It also allows me to show the selectors that I'm consistent and if I do miss out I can look back and know I did everything to get picked. I would have loved to run a minute quicker in Seville because that would have sealed it but it is what it is.
"It would be massive to get selected. The Olympics in athletics is the pinnacle and the marathon would be special. Because of the way things are I haven't really thought that clearly so I can't really get too distracted by it.
"But it would be absolutely massive."
Competing in Rio would complete a truly remarkable comeback for Clohisey. Having raced from a young age, he then walked away from competitive athletics because of what he describes as 'burn out.'
Donall Farmer / INPHO Clohisey has only run three marathons. Donall Farmer / INPHO / INPHO
Yet he maintained his fitness levels and after a few years out of the picture, suddenly rediscovered his appetite for success.
"I just lost the competitive edge," Clohisey explains. "I wanted to travel and do other things with my life. Naturally I got that hunger back but it's hard to explain.
"I made the European cross country team in 2013 and it all just kicked off from there, although I would never have imagined getting to this level.
"One thing just led to another and now I want to keep pushing on and I'd like to think I have a few more years in me yet because I'm only getting into marathons.
"It was an event myself and my coach always felt would be my strength so we said right we'll give it a crack and it went well."
With D-Day looming and the competition for places intense, will Clohisey begin to feel the nerves over the next fortnight?
"I've done everything now and just have to wait," he replies. "It's sport and there is always going to be competitiveness because each of us want to be there.
Paul Mohan / SPORTSFILE The Dubliner is hoping to make a big impression in Rio. Paul Mohan / SPORTSFILE / SPORTSFILE
"I've been in touch with Paul Pollock and have sent him the odd message. I'm doing the Terenure 5 mile on Sunday and I hear Segiu is doing it, so there will be a competitive edge there but it's a good thing.
"None of us are enemies, as far as I know. We'll shake hands after regardless of who gets on the plane.
"I'm not sure how that works, I presume we get a phone call but you never know with these things. Someone could tell you before you even know. It will come around and it will be nice to have a clear picture as to what's happening.
"If it goes go my way, you have a good chance of doing well. The thing with the Olympic marathon is that there is only three runners from each country, there's not a whole rack of African guys so anything can happen.
"It's a championship race so tends not to be as fast as the city marathons, it's unpredictable. I suppose it's just get yourself in the mix and compete and remember you're there racing against other countries, wearing the Irish vest, you never know what will happen."
Mick Clohisey was speaking at the launch of the 2016 SSE Airtricity Dublin Marathon and Race Series. For more information visit www.sseairtricitydublinmarathon.ie 
The42 is on Snapchat! Tap the button below on your phone to add!