MICKEY HARTE HAS called Ciaran Whelan to task over his analysis of Aidan O'Shea's 'dive' on 'The Sunday Game'.
The former Dublin midfielder criticised the Mayo man for diving to win a penalty in Saturday's All-Ireland qualifier win over Fermanagh, but said players subjected to the 'blame game' should be protected from abuse on social media.
Tyrone boss Harte reckons that was in stark contrast to last year when Whelan claimed McCann should make an immediate public apology for diving in last year's All-Ireland quarter-final after getting his hair tousled by Monaghan's Darren Hughes.
"The person who made those comments is the person who has to take a look at himself and decide why was he so adamant in one case about what ought to be done – and how it ought to be done immediately – yet that's not on his radar on this particular incident," said Harte.
"Only he can answer that. Why would he get so animated or agitated about one thing and be conciliatory towards the other, whenever there's not a lot of difference in the two things that happened?
"You have heard and seen what happened last time. You have heard and seen what happened this time.
"Everybody who looks on with an objective eye on those two incidents has to make up their own minds, and I'd ask the public and everyone else to do that."
Harte felt the heated comments about McCann cost Tyrone in the All-Ireland semi-final defeat by Kerry.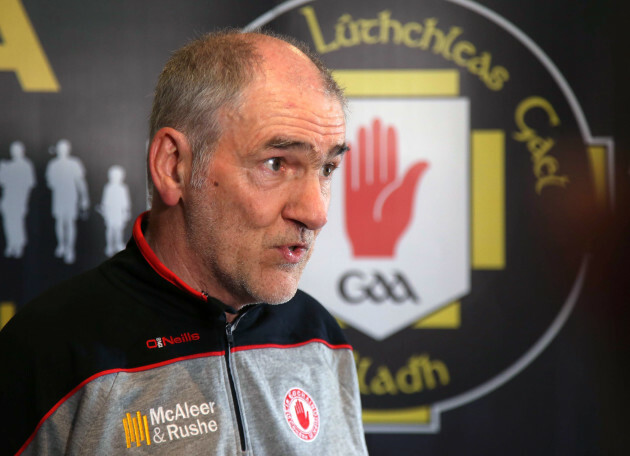 Presseye / Darren Kidd/INPHO Presseye / Darren Kidd/INPHO / Darren Kidd/INPHO
Tyrone had a strong case for a penalty but Padraig McNulty was instead given a yellow card for diving.
"People use this term 'dive' and it cost us possibly last year in the All-Ireland semi-final where one of our players was accused of diving, when I believe he didn't dive," insisted the Tyrone boss.
"Not only was he accused but he got a yellow card for it, which I don't ever remember anyone getting one before or since.
"It's a pity that people respond or react to something somebody might have said the week before. That affected what happened in our case."
Harte hinted that McCann regretted his diving incident which prompted ridicule on social media and other forums.
Exclusive Six
Nations Analysis
Get Murray Kinsella's exclusive analysis of Ireland's Six Nations campaign this spring
Become a Member
"It (diving) happens from time to time but I don't think any manager sends anyone out to feign injury or try to gain some advantage in that way.
"I think it's a spur of the moment thing that happens to some people in some situations, and if they are extreme in what they do, then they would probably regret that and would probably try to do something different the next time.
"But I don't think it's an epidemic.
"I don't think it's something that we have to get worried about and God forbid we have to introduce some more rules, because I think we have enough of them.
"All you need is for people to interpret what goes on with clarity and consistency."