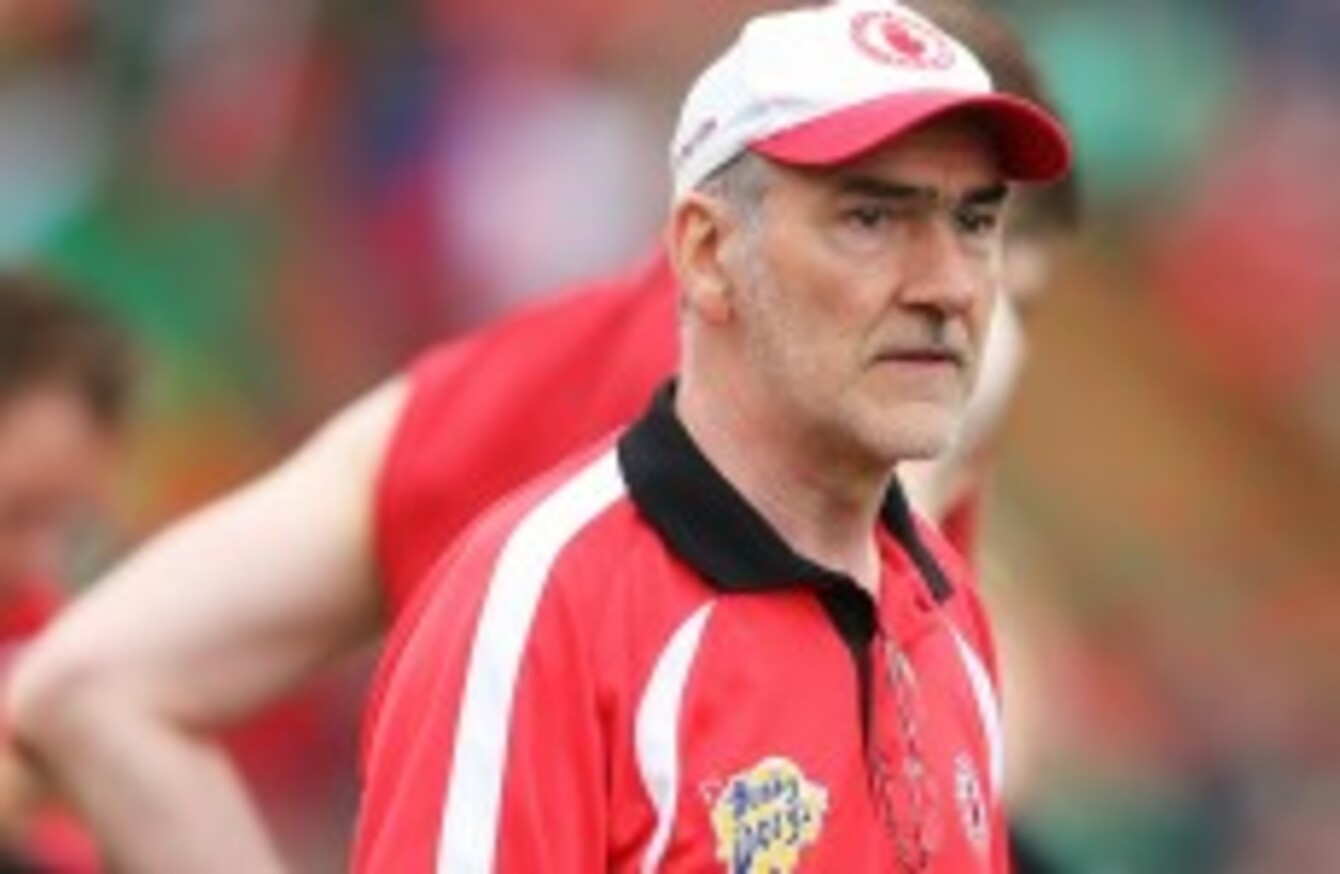 Tyrone manager Mickey Harte after yesterday's game.
Image: INPHO/Cathal Noonan
Tyrone manager Mickey Harte after yesterday's game.
Image: INPHO/Cathal Noonan
MICKEY HARTE HAS expressed his annoyance that Tyrone were not awarded a free for the challenge that lead to Peter Harte having to limp off in the early stages of yesterday's All-Ireland semi-final against Mayo.
Harte was forced off after suffering a pelvic injury in the 7th minute of the match in Croke Park when he came off second best after challenging for possession with Mayo's Tom Cunniffe.
Couple with the loss of attacker Stephen O'Neill later in the first-half, Tyrone boss Harte lamented the absence of key figures.
"It was absolutely crucial and in particular losing Peter Harte, who's new to that level, but was playing very well for us in the last number of games. He was going to be just instrumental in our game plan.
"What annoyed me more than anything was that he didn't get a free for what made him have to leave the field on crutches.
'There's another anomaly if you like in the way we're looking at this game through certain lenses. It was actually his pelvic bone, it got hit there, on his hip.
"And the nerve went right down his leg and he wasn't able to go on. So that was most disappointing, when that happened to him.
"Then later on when Stevie had to to go. That's two players at different ends of the spectrum but crucial to our performance on the day, and we lost them too soon."
Harte also responded to the decision not to award Tyrone a penalty in the second-half for a perceived footblock by Lee Keegan on Ryan McKenna's shot.

YouTube:
Fintan O'Toole
Harte noted the difference in Mayo's composure yesterday compared to previous encounters his team had with the county.
"They're different. They had the composure. Coming in off huge wins, and finding themselves in a different position than they had been all year, they were able to keep themselves in the game.
"That's a mark of the difference there is with them. Then when they got the opportunity to stamp their name on the game they did that too.
"Maybe in the past if they were under the cosh like we had them for the first 30 minutes they might not have had the resilience to come back and get that march on us before half time."
Pic: TheScore.ie
Harte also insisted that it was too soon to speculate on the future of Tyrone's long-serving players like Stephen O'Neill, Pascal McConnell and Conor Gormley.
"Now is not the time to be speaking about imminent retirements, or putting that before anybody. Players are sensible, honest, hard-working people, and they know when the decision is to be made.
"But everyone needs time to reflect, then can make a better decision when they do. There won't be any knee-jerk reactions."