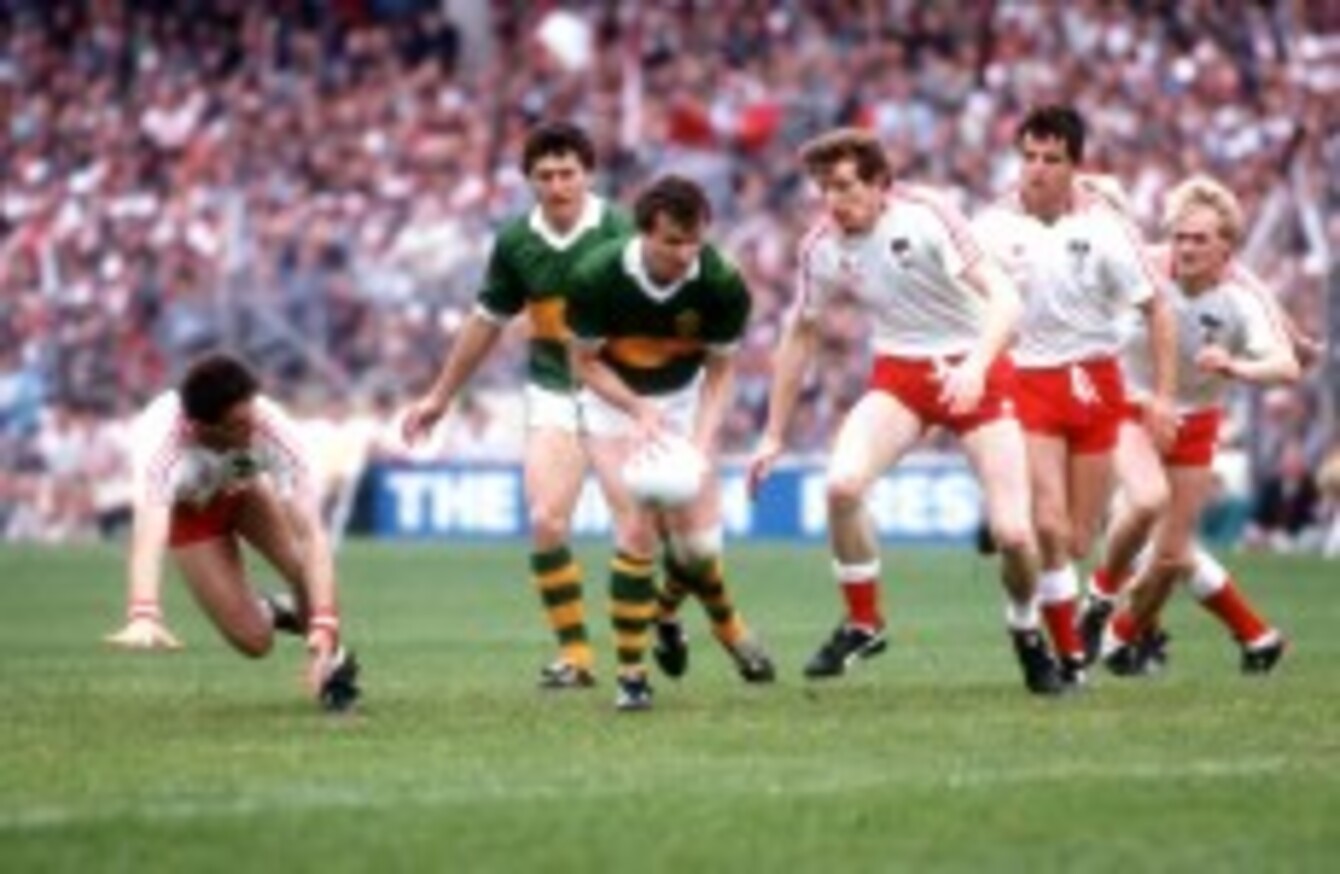 Mikey Sheehy in action against Tyrone in the 1986 final
Image: Billy Stickland/INPHO
Mikey Sheehy in action against Tyrone in the 1986 final
Image: Billy Stickland/INPHO
HE WAS A celebrated player in one of the most storied periods in GAA.
But multiple Kerry All-Ireland winner Mikey Sheehy isn't keen to join in with the showers of negativity cascading down upon modern Gaelic football.
Ex-Kerry player, current Kerry selector and well placed to contribute to the interminable debate over standards in Gaelic football.
Sheehy applies some perspective to all the romantic reminiscing about Kerry's exploits in the 70s and 80s.
"I mean, it's a known fact, watching some of our games (from the '70s and '80s) and I've seen some of them myself, and they're horrific games!
"The 'Golden Years' … they're dreadful games, they're slow games. It's not that (they were one-sided), it's just they were slow. You see, there was no quick free in those days. The ball was put down and, Jesus.
"I'd assume that on Sunday you'll have a huge crowd at the Kerry/Tyrone game. We played in All-Ireland semi-finals and I'd say you'd 20, 24, 25 thousand people – and about 24 thousand people of those were from the opposition, there wasn't too many there from Kerry! That's fact.
"So, despite what people say, and a lot of people talk about the negativity of the game, there's still huge crowds going."
Time to place the quarter-final bouts of Tyrone against Monaghan and Donegal against Mayo under the microscope.
"The two games last weekend (week), now I'd beg to differ," says Sheehy.
"The first game, in my eyes, was a fascinating enough game. Tyrone scored, what, 18 points in the game.
"The second game was an exceptionally good game; I really enjoyed it. And I thought, not because we were involved, but I thought the replay of the Munster final was quite a good game as well, in bad conditions."
Is the concept of breaking down defensive systems frustrating for one of the greatest corner-forwards of all time?
"I suppose sometimes, when you see teams setting up defensively, it's a thrill to be involved with a team that is trying to break down these systems.
"Obviously, as a corner-forward, in the day that we played, there certainly was more space and it was easier to create space.
"But nowadays, if you've two fellas around you, they're always going to lose concentration at some stage.
"And it does happen, particularly as the game moves along into the 40th or the 50th minute. Fellas get tired and you see concentration levels lapsing.
"No, it would be fascinating. Jesus, I'd give anything to be playing in Croke Park, it's such a fabulous facility, and it's such a big, big, big pitch as well."