FOR A DEVELOPING outfit like Connacht, the signing of Mils Muliaina comes at exactly the right time.
The 34-year-old brings with him 100 caps worth of international experience, as well as a thirst to "play some competitive football" after a 2014 Super Rugby season that was ended early by an elbow injury.
That same problem means he won't make his Connacht debut until October, but the Kiwi's work in Galway is already underway. The capture of Muliaina began with a phone call from the province's head coach Pat Lam around February of this year, but stems back to the pair's time with Auckland in 2004 and 2005.
Initially, Muliaina admits he "hummed and hawed" over Lam's proposition of a move to Ireland, but the former Samoa back row's persistence and clear communication gradually convinced the Chiefs fullback of the value of joining Connacht.
The things that he was actually saying really excited me, particularly the young backs we've got, his vision of where Connacht could get to considering where they've come," says Muliaina.
"Where he saw me was coming in and helping. Those were the kind of things I've really enjoyed over my career, helping young guys be better than what they are, giving back some of the knowledge I've learned and that ambition to be successful.
"He also mentioned about the fans and things like that. All those things really excited me and made me think 'Man, I wouldn't mind going over there.' I haven't been a big fan of going too far away from New Zealand, but I've only been here a week and I've absolutely loved it. It's been awesome and I kind of wish I had come a little earlier."
James Crombie / INPHO Muliaina with new Connacht captain John Muldoon. James Crombie / INPHO / INPHO
Lam has mentioned on more than one occasion in recent weeks the importance Muliaina will have to Connacht as a mentor, a figure in whom the squad's promising young players can seek technical and mental advice.
How does that role work on a practical level?
"Because I'm not ready [to play] for a wee while, I'm just going around and talking to a lot of guys, telling them what they can do to be a bit better in terms of their running lines, in terms of how they can position themselves," explains Muliaina.
"Also, being in the leadership group and having a role there, being in the meetings. You talk about giving feedback to players, but it's also giving feedback to coaches. I think Pat's really good about that, he's really open to stuff you talk to him about."
Muliaina has already been encouraged by the quality in Connacht's young backline, just a seven days into his time in Ireland. He makes particular mention of the fact that the squad's less experienced players are eager to learn.
There's a lot of young talent and I've been really impressed with the way they've trained. It's really impressive the way they go out and train on the pitch, but also in here [in the gym]. The attitude as well, being open to listening and taking on feedback.
"Sometimes you go into some teams and they don't really accept it. These guys here are really coachable, they want to learn new things, they want to learn different things and they ask questions. I've been really impressed by that."
Not that Muliaina's role with Connacht will be restricted to the training pitch. The fullback is anticipating his eventual debut with some excitement, even if ongoing rehab means a longer wait that would have been ideal.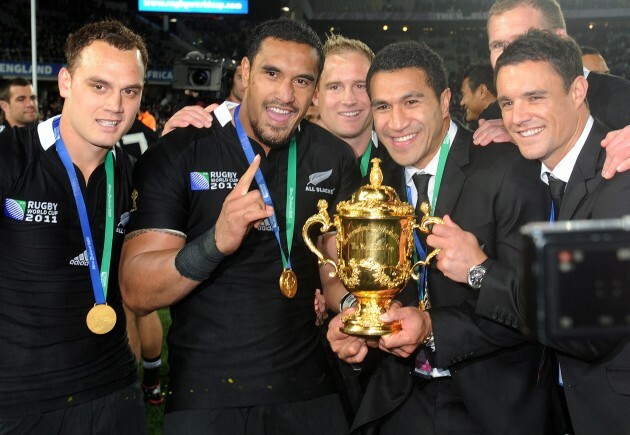 Muliaina played on New Zealand's victorious 2011 World Cup campaign.
"On a personal level, I'm really looking forward to getting out there. I'll be vying for a starting position. That's always been the way to lead for me – you've got to lead from the front.
Exclusive Six
Nations Analysis
Get Murray Kinsella's exclusive analysis of Ireland's Six Nations campaign this spring
Become a Member
"The only way you can lead from the front is by being out on the pitch and not being in the stand. The mentoring role has really started by helping guys out before I get back out there playing."
Muliaina admits head coach Lam has changed in the 10 years since the duo last worked together in the Auckland provincial set-up. The fullback had a "chuckle to myself" when he heard Lam using some of the same terminology in training that he had called on at Auckland, but overall feels Lam has "changed a heck of a lot."
Away from rugby, Muliaina has brought his partner – a former resident of Amsterdam and therefore more accustomed to being in Europe – with him to Ireland, in what is a  "massive life change."
These are early days in his adventure, but Muliaina is certain he has made the right move.
I've never been a big traveler, I've never been one who wants to get too far away from home. Looking back at it now, I can see why the likes of Dougie Howlett, Isa Nacewa and those guys loved it here.
"The people here are similar to New Zealanders, they're welcoming – great people in a great country. I'm really stoked to be here."
*******************
Mils Muliaina is Connacht's new official Mazda Ambassador for the 2014/15 season. Mazda has confirmed that it will continue its long-term support of Connacht by becoming Official Car Sponsor, providing a fleet of over 55 Mazda cars to the squad.
Mazda will take their sponsorship 'on the road' by running three Rugby Clinics around Ireland featuring Connacht players and former Ireland internationals. See www.mazda.ie or Mazda's Facebook page for updates.