James Crombie / INPHO Muliaina finally got to pull on the 15 jersey on Friday. James Crombie / INPHO / INPHO
IT WAS A long time coming — for Mils Muliaina as much as for the Connacht fans.
A crowd of nearly 7,000 packed into the Sportsground on Friday night to see the World Cup-winning All Black make his long awaited debut.
He didn't get on the scoresheet but Muliaina's vast experience was evident from the start as he set up Danie Poolman for the first of five tries in a 43-3 win to savour.
It was his first action seven months on from an operation on the elbow injury that disrupted his return to Super Rugby with the Chiefs last season.
Speaking to TheScore.ie, he outlined his long road to recovery:
Surgery
"This was the second time I had the same injury. In my first game back, I reinjured it again so I needed an operation."
Stability
"The first two to three weeks is really about keeping it in a cast, not being able to move the tendon, and then progressing into a brace that I had to wear for six weeks."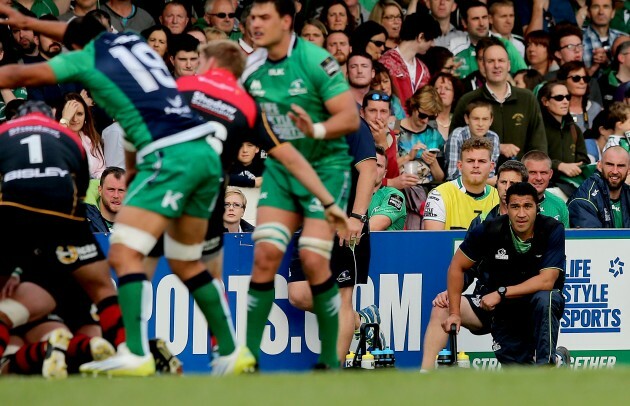 James Crombie / INPHO Watching an early-round Pro12 game from the sidelines. James Crombie / INPHO / INPHO
Strength
"This time around, after having it repaired for a second time, it wasn't quite as strong. I had to be a little bit patient.
"You start slowly increasing your weights and making it a little bit stronger. I went from lifting 1kg on a single arm to lifting 15kg. It's relatively still pretty weak but in terms of what we need to do in rugby, you get by."
Stamina
"The thing that people don't realise is that you're not just rehabbing your elbow or the injured part of your body. You've still got to run and make sure that you can run fast without breaking any other parts of your body.
"That's probably the biggest thing that I've been anxious about: was the rest of my body going to hold up and take on the intensity of contact?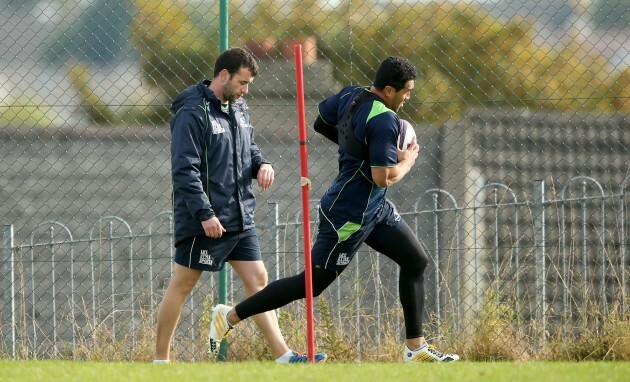 James Crombie / INPHO Working with Connacht's senior fitness coach Jim Molony. James Crombie / INPHO / INPHO
Sharpness
"One of the pleasing things over the last seven months is that the appetite to get out and play has still been really good. I'm hoping that being back at training over the next couple of weeks will sharpen things up.
"At times [on Friday] I probably felt that I was a little bit sluggish and didn't protect the ball as much and didn't finish the way that I know that I could have. There are plenty of things to work on over the next few weeks.
- First published 24 November.