Liveblog
Welcome to Croke Park for today's All-Ireland SFC Round 4B qualifier between Monaghan and Down. The game is live on Sky Sports Arena, but we'll be keeping you up to date with all the action right here.
Here's how the teams are named to start:
Monaghan
1. Rory Beggan (An Bhoth)
2. Fintan Kelly (Cluain Eois)
3. Drew Wylie (Béal Átha Beithe)
4. Ryan Wylie(Béal Átha Beithe)
5. Colin Walshe (Dubhamlacht)
6. Neil Mc Adam (Na Cláirsigh Mhuineacháin)
7. Karl O'Connell (Tigh Thalainn)
8. Kieran Hughes (An Bhoth)
9. Darren Hughes (An Bhoth)
10. Gavin Doogan (Machaire Cluain)
11. Dermot Malone (Fág An Bealach)
12. Shane Carey (An Bhoth)
13. Owen Duffy (Leachtain)
14. Jack Mc Carron (Curraichín)
15. Conor Mc Manus (Cluain Tiobraid)
Down
1. Michael Cunningham (Caislean an Mhuillin)
2. Niall McParland (An Ghleann)
3. Gearard McGovern (Boireann)
4. Darren O'Hagan (Cluain Daimh)
5. Darragh O'Hanlon (Cill Chua)
6. Conaill McGovern (Boireann)
7. Caolan Mooney (Caislean Ruairi)
8. Peter Turley (Downpatrick)
9. Niall Donnelly (Tulach Lis)
10. Kevin McKernan (Burren)
11. Conor Maginn (Ath Bhriain)
12. Shay Millar (An Ghleann)
13. Jerome Johnston (Cill Chua)
14. Connaire Harrison (Glas Droimmain)
15. Ryan Johnston (Cill Chua)
As always we want to hear your views. Let us know how you think today's game will go in the comments section below. 
One late change for Down, Sean Dornan replaces Jerome Johnston.
Three late changes on the Monaghan team. Owen Duffy, Neil McAdam and Jack McCarron are out, Kieran Duffy, Ryan McAnespie and Darren Freeman are in.
Brilliant effort from Darren Hughes on outside of the right to send Monaghan into the lead.
Monaghan 0-2 Down 0-0
Kieran Hughes lands a gorgeous point off his left. Good patient move by the Farney there.
Monaghan 0-2 Down 0-1
Darragh O'Hanlon gets Down on the board with a close-range free.
Monaghan 0-2 Down 0-2
Down win the break from the kick-out and Caolan Mooney bombs over from distance.
Monaghan 0-3 Down 0-3
Darren Hughes scores his second point with his fourth possession. Very good start to this game. Almost immediately Shay Millar equalises.
Monaghan 0-3 Down 0-4
O'Hanlon feeds Connaire Harrison, who drives over.
Monaghan 0-4 Down 0-4
McManus swings over a free.
Monaghan 0-4 Down 0-5
The free is moved forward and O'Hanlon  converts after Niall McParland was fouled.
Monaghan 0-4 Down 0-6
Karl O'Connell hits the post at one end and Harrison skins his man and points at the other.
Monaghan 0-4 Down 0-7
O'Hanlon feeds a wonderful ball into Harrison who swings over.
Monaghan 0-5 Down 0-7
McManus lands a free from well outside the 45.
Monaghan 0-6 Down 0-7
McManus curls over another fine free.
Monaghan 0-7 Down 0-8
McManus (free) and McKernan trade scores.
Monaghan 0-7 Down 0-9
Beautiful curler by Conor Maginn for Down.
GOAL! Fintan Kelly hits the net for Monaghan!
Monaghan 1-8 Down 0-9
Another free from McManus who has scored every free out of his hands after his first missed free off the ground.
GOAL! Harrison scores with a low finish for Down!
Monaghan 1-9 Down 1-9
Kieran Hughes brings Monaghan level with a free from a tight angle.
Monaghan 1-9 Down 1-9 – HT
No Monaghan forward managed to score from play in the opening half. We might well see Jack McCarron and Conor McCarthy enter the fray in the early stages of the second-half. The Farney need to bring something new to their attack.
1-3 for Connaire Harrison in the opening 35 minutes despite the presence of a sweeper in front of him. It's been quite the display from the 26-year-old so far.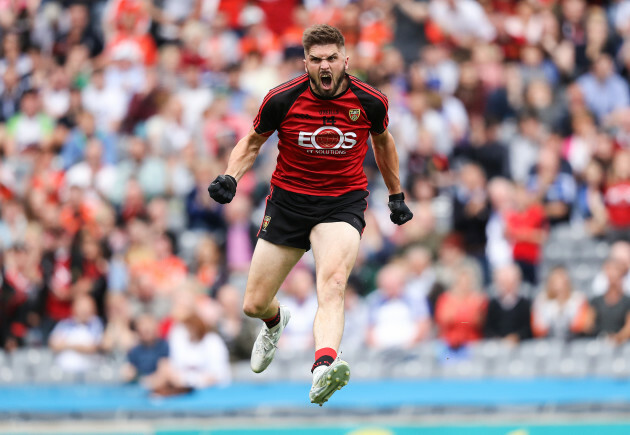 Source: Oisin Keniry/INPHO
Two Monaghan subs at half-time. Owen Duffy is in for Dermot Malone, while Jack McCarron replaces Shane Carey.
Monaghan 1-10 Down 1-9 
McManus wins a free and slots it over himself. That's his sixth.
Monaghan 1-11 Down 1-10
Mooney feeds Maginn who lands a fine score off the upright. That all stemmed from a great Turley catch in midfield. At the far end Kieran Hughes slots over.
Monaghan 1-12 Down 1-11
McKernan strokes over a lovely effort after joining the attack late on. Ryan Wylie slots over from a really tight angle.
Monaghan 1-13 Down 1-11
McCarron sells a lovely bounce dummy and slots over. He's the first Monaghan forward to score from play. Conor McCarthy is on for Freeman.
Monaghan 1-15 Down 1-11
McCarthy handpasses over from a near impossible angle. Then McManus opens his account from play. The Farney have the wind in their sails now.
Monaghan 1-16 Down 1-11
McCarthy finishes another good move with a point.
Five points in-a-row for Monaghan but Down have the chance to reduce the deficit with a free.
MISS! O'Hanlon hits a 13m free wide and he really should be scoring from there.
That's O'Hanlon's second free to miss in the second-half.
Jerome Johnston splits the posts not long after being introduced. Aidan Carr is in for Turley.
Monaghan 1-17 Down 1-12
McManus lands another free.
SAVE! Rory Beggan saves well from Maginn who was bearing down on goal from a narrow angle.
Monaghan 1-18 Down 1-13
Johnston and McCarthy trade scores. Monaghan have looked far better with an inside trio of McManus, McCarthy and McCarron.
Monaghan 1-19 Down 1-13
McCarron scores from close range after Kieran Hughes intercepted a Down breakaway.
GOAL! Golden chance for Harrison after a long ball inside but he blasted it over.
Monaghan 1-20 Down 1-14
Down are standing off their men and Duffy adds a point.
Yellows for Drew Wylie and Johnston.
Monaghan 1-21 Down 1-15
Johnston swings over a free from close range. At the far end McManus curls over.
Monaghan 1-22 Down 1-15
McManus hits the upright from a 45 and Darren Hughes fists over.
We'll have five minutes of additional time.
Monaghan 1-22 Down 1-16
David McKibbin scores a point for Down but this game is well over.
Monaghan 1-23 Down 1-16
McCarthy again for the Farney.
Monaghan are about to book their place in the All-Ireland quarter-final for the fourth time in five seasons under Malachy O'Rourke.
Monaghan 1-24 Down 1-16
McManus lands another free.
Monaghan 1-24 Down 1-16 – FT
Contribute to this story: