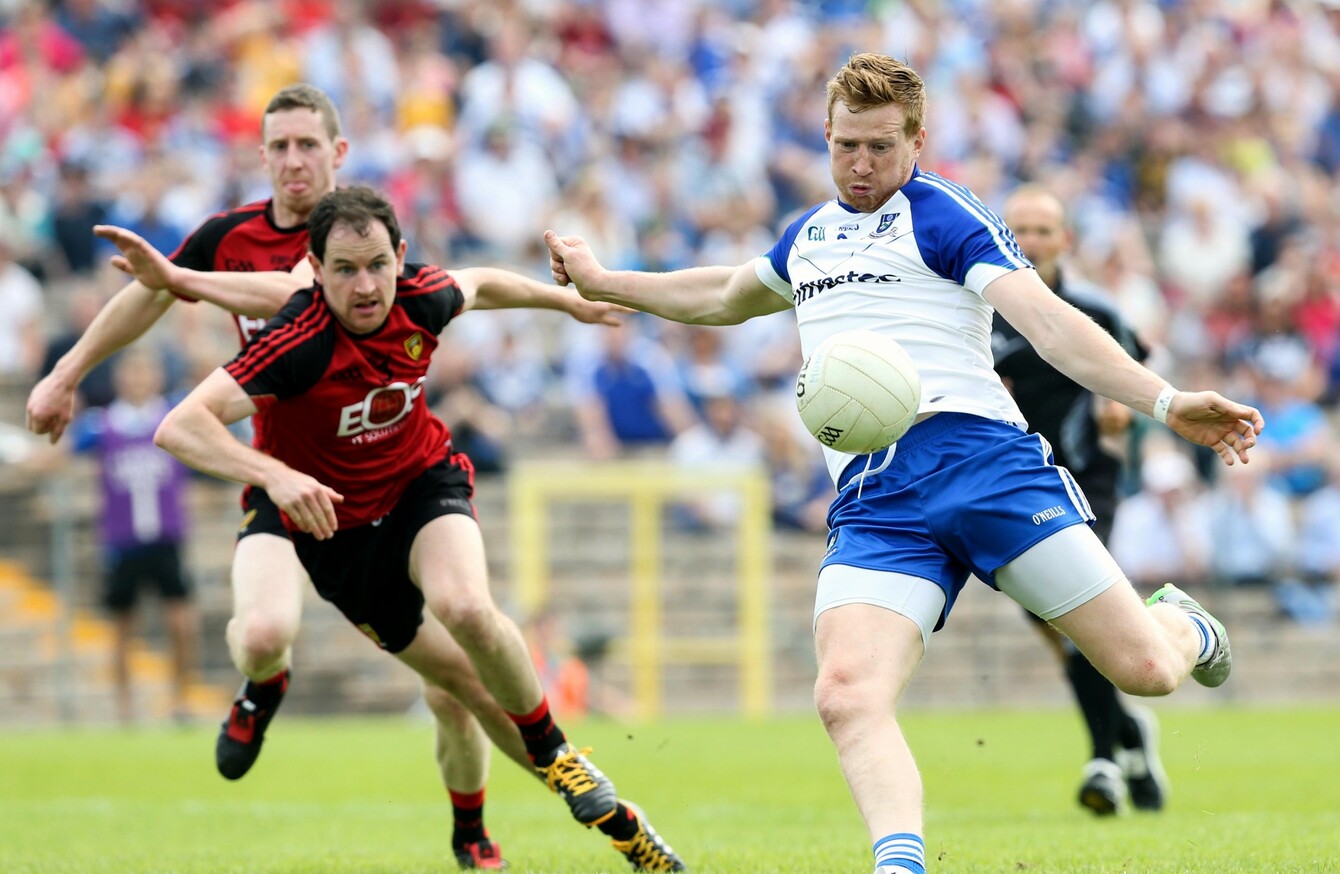 Image: Presseye/Andrew Paton/INPHO
Image: Presseye/Andrew Paton/INPHO
Monaghan 2-22
Down 0-9
DOWN HAVEN'T WON a game in league or championship in 14 months, and that record was in no danger of ending in Clones on Sunday.
Monaghan opened up the defence of their Ulster crown with a dominant 19-point win over Down.
Despite a decent display in the first-half, where Monaghan were fortunate to lead by 0-9 to 0-6 at the break, Down fell to their worst ever defeat in championship football.
Down's challenge simply fell apart in the second half. Donal O'Hare kicked the first score after the turnaround, but Monaghan posted 1-7 without reply to put the result beyond doubt.
Kieran Hughes brilliantly dispatched Monaghan's first goal while Owen Duffy bagged their second late on.
More to follow…
Monaghan scorers: C McManus 0-8; K Hughes 1-2; O Duffy 1-0: R Beggan 0-3; C McCarthy 0-2; S Carey 0-1; D Malone 0-1; R McAnespie 0-1; K O'Connell 0-1; D McKenna 0-2, D Clerkin 0-1
Down scorers: B O'Hagan 0-1; C Maginn 0-2; D O'Hanlon 0-2; M Poland 0-1, D O'Hare 0-3
Monaghan
1. Rory Beggan
2. Colin Walshe
3. Drew Wylie
4. Ryan Wylie
5. Dessie Mone
6. Vinny Corey
7. Karl O'Connell
24 Conor McCarthy
9. Kieran Hughes
10. Shane Carey
11. Dermot Malone
12. Ryan McAnespie
19 Kieran Duffy
14. Darren Hughes
15. Conor McManus
Down
1. S Kane
2. G Collins
3. G McGovern
4. D O'Hagan
5. D McKibbin
6. A Carr
7. D O'Hanlon
8. P Turley
9. K McKernan
10. C Maginn
11. M Poland
12. J Murphy
13. C McGovern
14. C Harrison
15. B O'Hagan