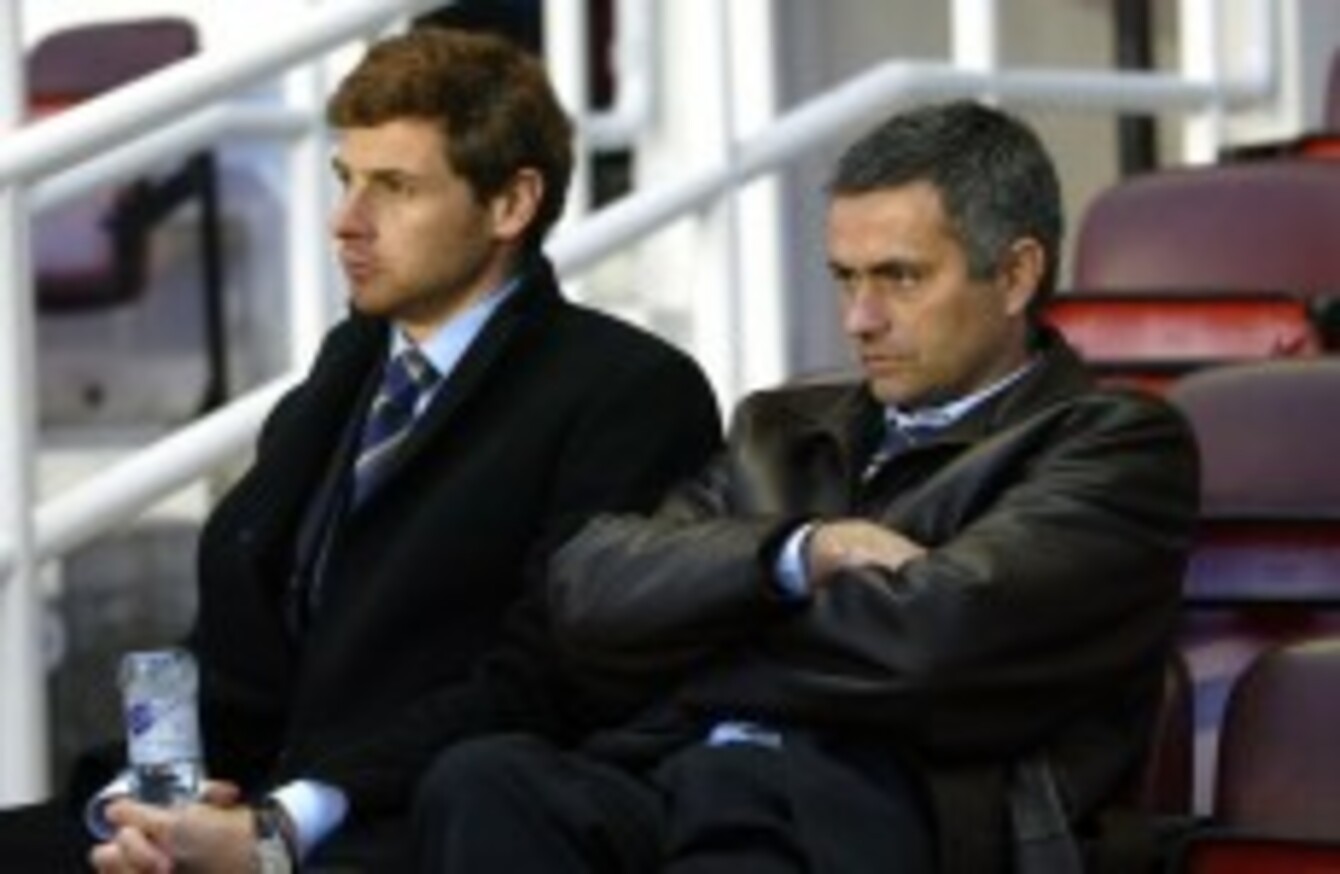 AVB and Mourinho during their first spells with Chelsea in 2004.
Image: Mike Egerton/EMPICS Sport
AVB and Mourinho during their first spells with Chelsea in 2004.
Image: Mike Egerton/EMPICS Sport
Perhaps the question was mischievous, but the answer was still revealing. André Villas-Boas had stood to leave his pre-match press briefing on the eve of the transfer deadline a little over a year ago when one last query was flung from the floor. The inquiry was nominally provoked by Tottenham Hotspur's new commercial partnership with Real Madrid, but actually sought to determine how the Spurs head coach would engage with the Spaniards' manager at the time, José Mourinho, with whom he has history. "I worked for José for seven years but we haven't spoken for quite some time," he said. "I haven't even got his number now." And with that, he was gone.
That history will be revisited on Saturday lunchtime as Chelsea visit White Hart Lane and sides led by Mourinho and Villas-Boas, the Portuguese football thinkers schooled by Sir Bobby Robson at Porto, collide for the first time. There will no doubt be a handshake and smiles staged for the cameras on the touchline prior to kick-off, but theirs is a relationship that fractured long ago. Now, as rivals across the London divide at title contenders whose mutual antipathy runs deep, reconciliation will have to wait.
Their story is a tale of a protégé attempting to cut loose from another's influence and forge his own reputation, only to find himself forever in the shadow of his mentor, whether at Porto, Chelsea or even just in the Premier League. It can all be traced back to 1994 and Robson's appointment at Porto. Mourinho was the Englishman's interpreter at Sporting Lisbon and followed him north, Villas-Boas the teenage supporter who lived in the same apartment block as the new manager and sought him out on the stairwell to protest against Domingos Paciência's omission from the first team.
Robson was so impressed by the tactical analysis Villas-Boas would cram weekly into his postbox that he arranged for the youngster to enrol at Lilleshall, despite being under age, and spend time under George Burley at Ipswich and in Scotland gaining his coaching qualifications. He was working with the youth teams at Porto when Mourinho returned to the club as manager in 2002 and was duly asked to create the club's opponent observation department.
That covert scouting brief, compiling dossiers on individual players and rival teams, became integral to Mourinho's meticulous approach as he stockpiled trophies in those heady years with Porto and Chelsea. Villas-Boas, the mysterious figure forever tapping away at his laptop, was referred to by the manager as "my eyes and ears". He leaned heavily on his reports and the assumption was that, as a key member of Mourinho's entourage, the pair were inseparable. Yet Villas-Boas had always aspired to be a manager in his own right and, by the time the pair had upped sticks for Internazionale, he sensed his moment was close.
Villas-Boas had attempted to secure more input on the training pitch – the notion that it was his idea to play Samuel Eto'o wide at Inter, rather than Mourinho's, has been mooted in Italy – and in the spring of 2009, with his coaching badges completed, the scout was duly sounded out by Braga as a replacement for Jorge Jesus, bound for Benfica that summer. Villas-Boas informed Mourinho he wished to leave.
As it was, and ironically enough given that tete-a-tete with Robson 15 years earlier, it was Domingos Paciência who secured the job at Braga and Villas-Boas, still contracted to Inter, returned to San Siro apparently with cap in hand. If he had hoped for greater responsibility, even overseeing some aspect of training, he was to be frustrated, with his scouting duties, if anything, actually scaled down. Yet, privately, he felt his point had been made and he was freer now to pursue his options. When the struggling Académica de Coimbra approached Villas-Boas later that year, Mourinho, with José Morais lined up as a ready-made replacement in the scouting department, gave the younger man his blessing. There was little hint of the subsequent animosity between the pair in the leaving of Italy.
In truth, it was only once Villas-Boas moved to Porto, the club where Mourinho had made his first grand impression, in the summer of 2010 that relations became strained. Theories abound as to why. One suggests the recently appointed Real Madrid manager suddenly saw Villas-Boas and Porto, a side who would sweep the board domestically and claim the Europa League, as a threat, even if he had claimed Inter's own treble, complete with the Champions League, prior to departing for the Bernabéu. Maybe Villas-Boas's successes were uncomfortably reminiscent of his own impact while at Estádio do Dragão. Another explanation is more personal: that Villas-Boas overplayed – whether intentionally or not – the late Robson's influence on his fledgling career and therefore underplayed that of Mourinho. It was as if each Portuguese was competing to be the late England manager's student-made-good. Regardless, the tone of their public messages shifted markedly, any admiration for the other offered only grudgingly or in passing.
On the one hand Villas-Boas would praise Mourinho as "the greatest coach of all time" while, on the other, appearing to distance himself from his influence. At Porto, he once admitted, he had found it impossible to escape his former colleague's presence, suggesting the latter "was omnipresent in our press conferences, almost as if he was sitting next to me". He would insist he was a football purist whose philosophy was more aligned to that of Pep Guardiola, Real's tormentor at Barcelona. In 2011 he spoke of his motivation to "promote the players' talent and nurture that ability". He said: "If you are a dictator, players will not be able to show their capabilities to the full. You have to free them and let them make their own choices during a game. I left Inter because I wanted the extra edge to fulfil my ambitions as a professional coach, so I took the risk to find my own job." Mention of dictators and stifling style felt pointed, the implication all too clear. At a time when Mourinho and Guardiola were at loggerheads, Villas-Boas had apparently backed the Spaniard.
Indeed, it was intriguing to hear him dedicate Porto's Europa League success in Dublin that year to Guardiola, Robson and, with far less fanfare, Mourinho. "Pep was always an inspiration to me when I left Inter because of his methodology, and the way he plays such fantastic football," he explained, the pair having met earlier in the year with Villas-Boas sponging up information from the Barça coach. "His philosophy is Barça's philosophy. He defends the spectacle of the game. José introduced me to professional football, so I'd also like to dedicate this to him, and to someone who has already left us but was decisive in my career: Sir Bobby Robson. I never had the opportunity to say farewell to him, but I must thank him for everything he's done for me."
The sentiment expressed for Robson was sincere, the admiration obvious, but the notion Villas-Boas was craving a more sophisticated style of football will have riled Mourinho even as he watched on at Real, a side playing their own swashbuckling brand. He addressed his apprentice's rise in his own way, not least when asked in an interview with the Portuguese broadcasters RTP earlier this year which of his compatriots he considered to be his closest challenger. "I would say Rui Faria," said Mourinho, nominating his erstwhile No2 at all the major clubs he has overseen, "and he hasn't even coached his own team yet." He listed Villas-Boas, by then at Spurs after his own choked spell at Chelsea, alongside Jorge Jesus, José Peseiro and Jesualdo Ferreira, adding that he had enjoyed "some benefits the others didn't", primarily working under him. Asked whether there were any similarities between the two, Mourinho added. "No. None at all."
The notion the younger man is reaping the benefits of a seven-year tutelage under his compatriot is a recurring theme. "Anyone who works for me finds my office is not locked," the returning Chelsea manager had explained this summer while in Thailand on pre-season when asked to comment on Villas-Boas's progress. "There are no files hidden under my bed. Everything is there for them. They have a chance to learn, to study, to be part of discussions and the training process. So with him [Villas-Boas], with Steve [Clarke], with Brendan [Rodgers], I'm happy when they decide to go and they become successful. It's up to them and their qualities if they succeed, but I was happy to help in their formation in the same way Mr Robson or [Louis] van Gaal did with me. When they fly, and fly well, I'm happy."
That was a reminder of hierarchy in the grander scheme. On Saturday, at White Hart Lane, Villas-Boas will send out a side that, while not yet soaring clear, has edged ahead of Mourinho's Chelsea to sit joint top of the division. Fellow countrymen meet as old acquaintances turned rivals, each attempting to establish an immediate ascendancy over the other. This has been a meeting long in the making.
This article titled "José Mourinho and André Villas-Boas: how the inseparable duo grew apart" was written by Dominic Fifield, for theguardian.com
© Guardian News & Media Limited 2014