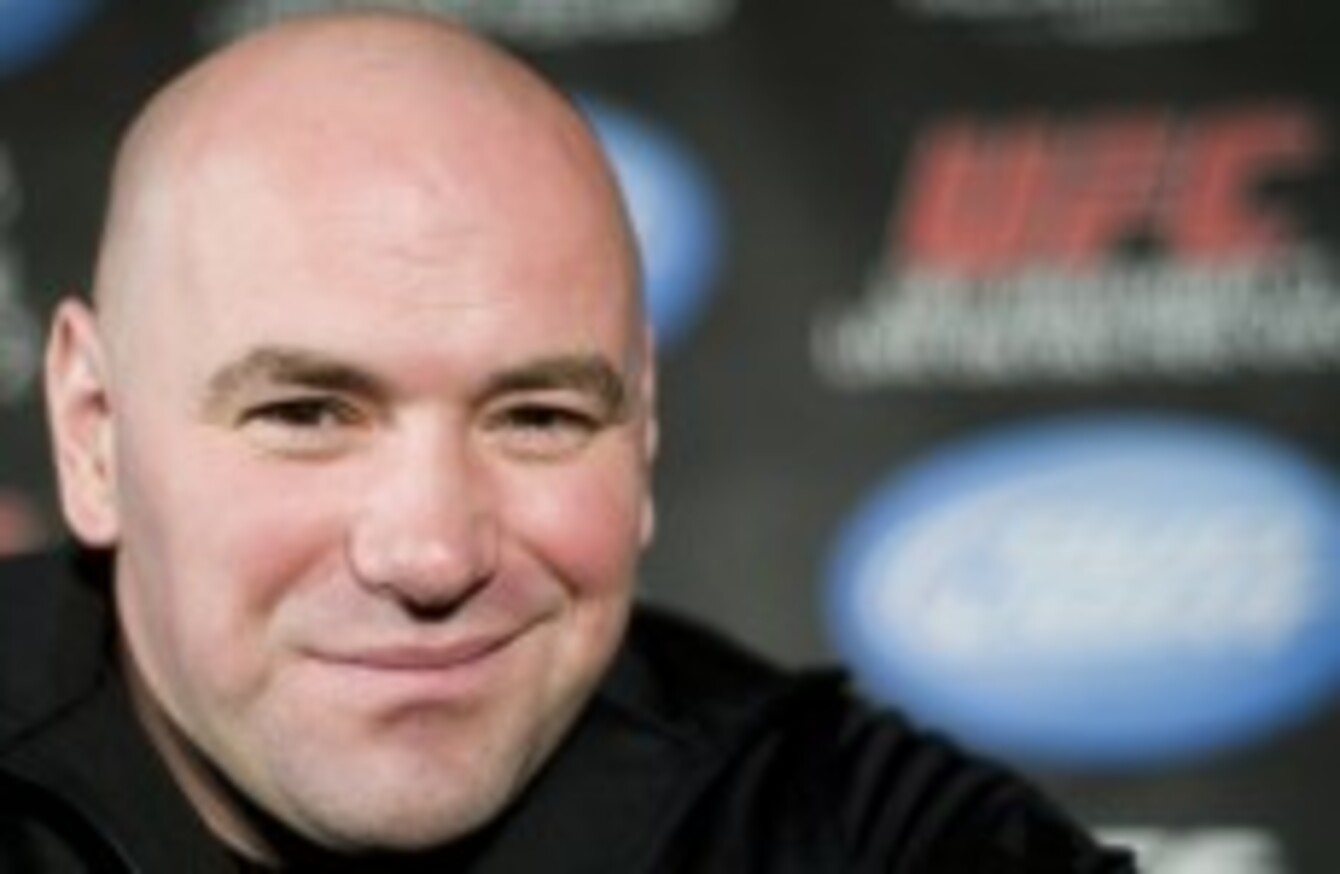 Dana White: in Ireland this week.
Image: Graham Hughes/The Canadian Press/Press Association Images
Dana White: in Ireland this week.
Image: Graham Hughes/The Canadian Press/Press Association Images
Reproduced with permission from Action81
UFC supremo Dana White was in Dublin last night to receive the Honorary Patronage of the Phil in Trinity College but he gave one fan something just as precious. Emmet Ryan looks back on a unique visitor to the society's debating chamber.
OVER THE COURSE of an hour of questions Dana White was asked about title shots, Irish prospects, and the Olympics but the highlight came towards the end of proceedings.
Dave Fogarty, from Curragha Co Meath, asked White for the chance to wrap the belt around the winner of the UFC Interim Featherweight title fight between Renan Barao and Rory MacDonald this weekend. "Done," was the simple one-word answer from the UFC boss.
This is the type of fan interaction and appreciation White has espoused throughout his 13-year tenure with the mixed martial arts (MMA) goliath. How did the card of UFC 160 break? He told a few guys in the pub on Monday night that Cain Velasquez would defend the heavyweight belt against Antonio 'Bigfoot Silva', with Alistair Overeem vs. Junior dos Santos as the co-main event. They started tweeting but rather than being annoyed, White confirmed the fights in Trinity on Tuesday. "I asked them to keep a secret and then they started tweeting it," he said.
With Dublin's Conor McGregor recently signing with UFC after impressing in Cage Warriors, White had plenty to say about UFC's presence in Ireland.
"The fact that Joe Silva thinks he's good enough means he's good enough for me. At the press conference at UFC 93 [in Dublin] I said once we do a live event here, we're going to see an explosion of interest. People will start training and more and more fans will migrate to UFC. Sure enough here we are at UFC 157 and Conor's fighting in UFC," said White.
Regarding events coming to Ireland, the UFC supremo said the company still had work to do in the market. "We're seven or eight years behind over here and it's because we haven't got the television deal we need. Once we get that, we'll have events in London, Dublin, and Northern Ireland. We'll have the same event every year, and I'm talking big events," said White.
Garry Cook of UFC UK gave a thinly-veiled hint that BT Vision, who take over ESPN UK's English Premier League rights next season, are in the running to take on the MMA promotion. "We've got a change our television partnership. Sky pretty much call the shots in the market, what we really need is a good competitor. I can't divulge too much but there's a pretty good competitor coming along," said Cook. BT's new station is the only incoming arrival with the financial clout to attract UFC and the MMA promotion's fan-base would provide the subscribers needed to get BT Vision through the teething stages.
White's appearance in Dublin came within hours of the International Olympic Committee (IOC) removing wrestling from the 2020 games. Much of the UFC's current roster have amateur wrestling backgrounds but White sees an opportunity in the IOC's decision. "It's not good, it's a bad thing but because now wrestling isn't an Olympic sport maybe they should start looking at mixed martial arts," he said.
"Whether it's the Olympics, or college wrestling, whatever it is the key is to sell tickets. You want spectators," said White."There's no doubt that wherever you go in the world there are people that want to see mixed martial arts. Maybe it's part of the evolution of the Olympics accepting mixed martial arts."
See Sport
Differently
Get closer to the stories that matter with exclusive analysis, insight and debate in The42 Membership
Become a Member
Dana white on stage last night. Pic: Emmet Ryan.
The latest Olympian to join the UFC's ranks is Ronda Rousey. White sees her as a trailblazer for Women's MMA. "I keep using Ronda Rousey as a big example. This girl has been training since she was 6 years old, she's got an Olympic bronze medal," he said. "There was a lot of backlash about her being in the main event but she's the champion, she deserves to be the main event.."
The Trinity event came about via contact over social media, unsurprising given White's embracing Twitter and Facebook.
"I've had lots of trouble with the media in the past. Rather than go through a middle man, I can go through the fans. It's an awesome way to have a one-on-one relationship with fans."
It's his openness with fans that makes the UFC such a popular draw. One, seated beside me, asked for a job. White told him to get in touch with Cook. This is the type of crowd White draws. Roger Goodell and SeppBlatter should be so lucky.