THOSE WHO WITNESSED Diarmuid McCarthy's 2008 Senior Cup season will never forget the Limerick man's sensational talent for rugby.
Two superb tries from McCarthy helped an excellent Castletroy College side past PBC in the semi-finals, before the centre scored a scintillating 40-metre solo effort against CBC in the final as Castletroy secured their first title less than eight years after the school had been founded.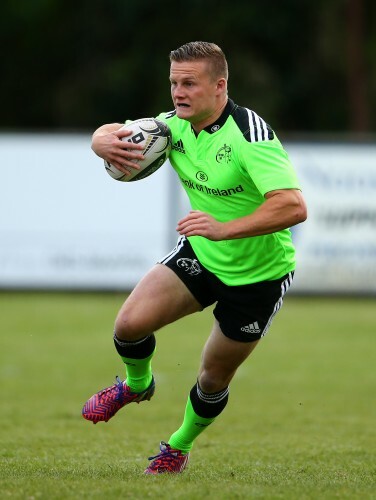 Cathal Noonan / INPHO McCarthy has looked sharp for Munster 'A' in recent times. Cathal Noonan / INPHO / INPHO
The stage seemed set for McCarthy to advance into Munster's academy system with his speed, explosiveness, footwork, vision and aggressive confidence on the pitch, but the youngster opted against taking up the province's contract offer.
It was a blow to Munster at the time, given that McCarthy was seen as one of the finest prospects to have played schools rugby in the province. His involvement in the sport was sporadic in the proceeding years, but this season has seen the Limerick flyer return in style.
McCarthy was an important part of Young Munster's run to the Ulster Bank League semi-finals as head coach John Staunton took him under his wing, while Anthony Foley called the centre/wing into the Munster squad during the Six Nations.
A well-taken try in Young Munster's agonising semi-final defeat to Lansdowne was one of many recent markers of McCarthy's ability, while a pair of tries for Munster 'A' against the Ulster Ravens last month made even more people sit up and take notice.
McCarthy was yesterday named in the Ireland Sevens squad for this summer's schedule of international events, having spent recent months involved in the training camps run by director of sevens Anthony Eddy.
Munster are now understandably keen to ensure that McCarthy is part of their squad next season, although head coach Anthony Foley didn't go into details regarding a contract for the wing.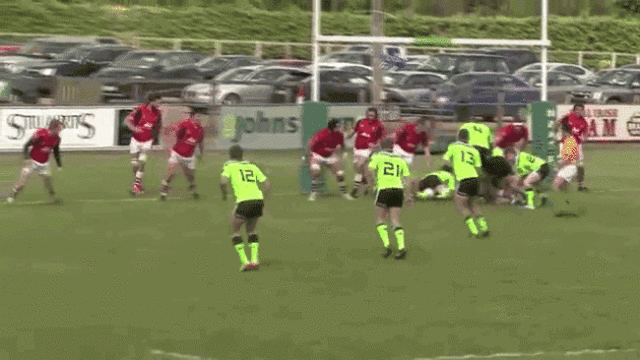 Munster Rugby McCarthy's first try against Ulster Ravens last month, having come off the bench. Munster Rugby
"Diarmuid at the moment is obviously a work in progress," said Foley. "He's involved in the Irish Sevens at the moment, we've just got him back.
"He was out of the game for a period of time, we brought him back in to train with us and get involved in the S&C [strength and conditioning], try build his tolerance up to the rigours of the professional game so he doesn't ship an injury.
We're constantly monitoring him and hopefully we'll have him back in our pre-season squad during the year and see where we can go from there."
Foley first worked with former Ireland U18 international McCarthy during his time as head coach of the Munster U20s, when he saw up close just how talented a player the Limerick man is.
While acknowledging that those gifts remain, Foley pointed out that McCarthy has as much improvement to make as any player with his lack of experience in a professional rugby set-up.
"He does have an ability, we all recognise that but within that there's a lot of aspects of his game that need to go to a level that he can play professional sport," said Foley. "That's to be fair to everyone, it's not just Diarmuid but the players around him as well, players who are coming through.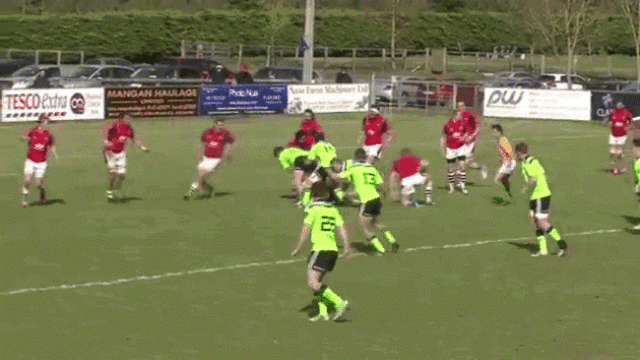 Munster Rugby McCarthy's second try versus the Ravens in Naas. Munster Rugby
"It's about being fair but actually recognising this guy; I'm sure you've seen the tries he's scored. He can score a try. You travel around the world looking for fellas like that, so we'll do our best by Diarmuid and make sure we look after him."
Indeed, McCarthy's athletic ability stands out as unique even after several seasons out of top level rugby. His pace remains as impressive as before, while his confidence and willingness to take on defenders stands out too.
Speaking to Munster players, even senior ones, the general feeling is that McCarthy looks like he hasn't really been away from the game. The playing group at the province has been impressed with what they've seen and there is much goodwill towards McCarthy.
He has an ability to do stuff that maybe other guys haven't," said Foley. "He's got a rawness around him that he doesn't care, he goes after the game, he goes after who's in front of him. He's done that since day one when he rocked up to a skills session with us."
"It think all the boys would have known him. I was the 20s coach when he was U20s and he left the scene at that stage, which was disappointing at the time. But people have to find their own way in life and it's good that he's back with us.
"Hopefully we can engage further, he can get a run in the sevens team and see where that takes him."