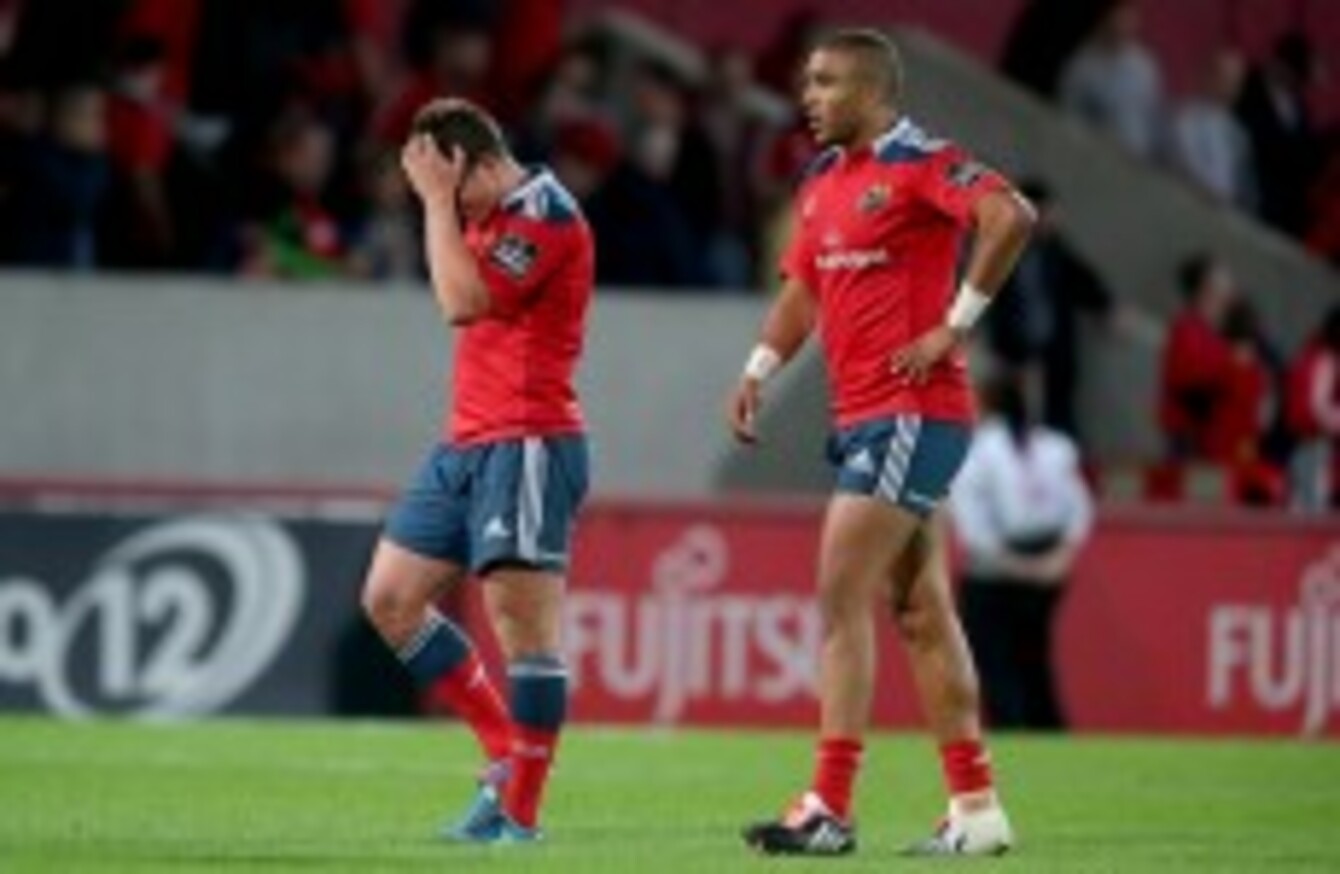 Ian Keatley and Simon Zebo show their disappointment after the loss to Edinburgh.
Image: Dan Sheridan/INPHO
Ian Keatley and Simon Zebo show their disappointment after the loss to Edinburgh.
Image: Dan Sheridan/INPHO
DONNACHA O'CALLAGHAN BELIEVES Munster were not distracted by the fall-out from the leaked management report during the build-up to last night's 14-13 defeat to Edinburgh at home in the Guinness Pro12.
The southern province delivered a disjointed and error-ridden display against Alan Solomons' much-improved outfit, losing out repeatedly in contact and being beaten at the breakdown by the Scots.
O'Callaghan – who captained Munster at Thomond Park yesterday – claimed Munster's deficiencies were not caused by the furore around the email accidentally circulated to the entire squad on the 27th of August.
"I don't think so, I think we prepped really well," said O'Callaghan post-match. "I think outside of course it's a big story, but it isn't within the group. Everything that's on it was given to your face. In the business world, something like that is quite big but we work in a ruthless game where the red dot is on you in reviews.
So you're toughened, hardened to that kind of stuff. I know it's a big story because in business it doesn't really happen, but in our set-up it happens a lot. You put your hand up.
"From my review, two of the things were two of the points that I went to coaches with. The other points were stuff that I'd heard off all five of them. I'll be honest, I like that honesty we have in the group and I don't think we can lose it.
"I don't think it was a distraction to be honest with you. I know it's big outside, but it's not in our group."
Similarly to head coach Anthony Foley, O'Callaghan instead pointed to Munster's failures in contact against a lively, well-organised Edinburgh team. The 35-year-old felt that is what truly cost his side on the opening night of the Pro12.
"We lacked the physicality that's needed in the earliest part of the season and to be fair to them, they dictated that, especially in the breakdown part of the game. Small things – we were a bit high going into contact and we fluffed around in third gear.
"They had a bit of dog about them and they won that battle, they won the physical battle. To be honest, as a pack, that's tough to take. It's not good enough, so it's disappointing."
O'Callaghan explained that Munster's dressing room had not seen shouted words or dramatic statements in the immediate aftermath of the defeat, although constructive criticism is likely to be involved in the squad's review session on Monday.
It's just disappointment after a loss at home," said the second row. "Thomond Park is special to us and stuff like that. Getting your season off to a good start is always important and a bit of momentum.
"Disappointment and frustration is the only way you could describe the dressing room. There wasn't a whole lot of chat, but you don't need any after that kind of performance. Words can be hollow, can't they?"