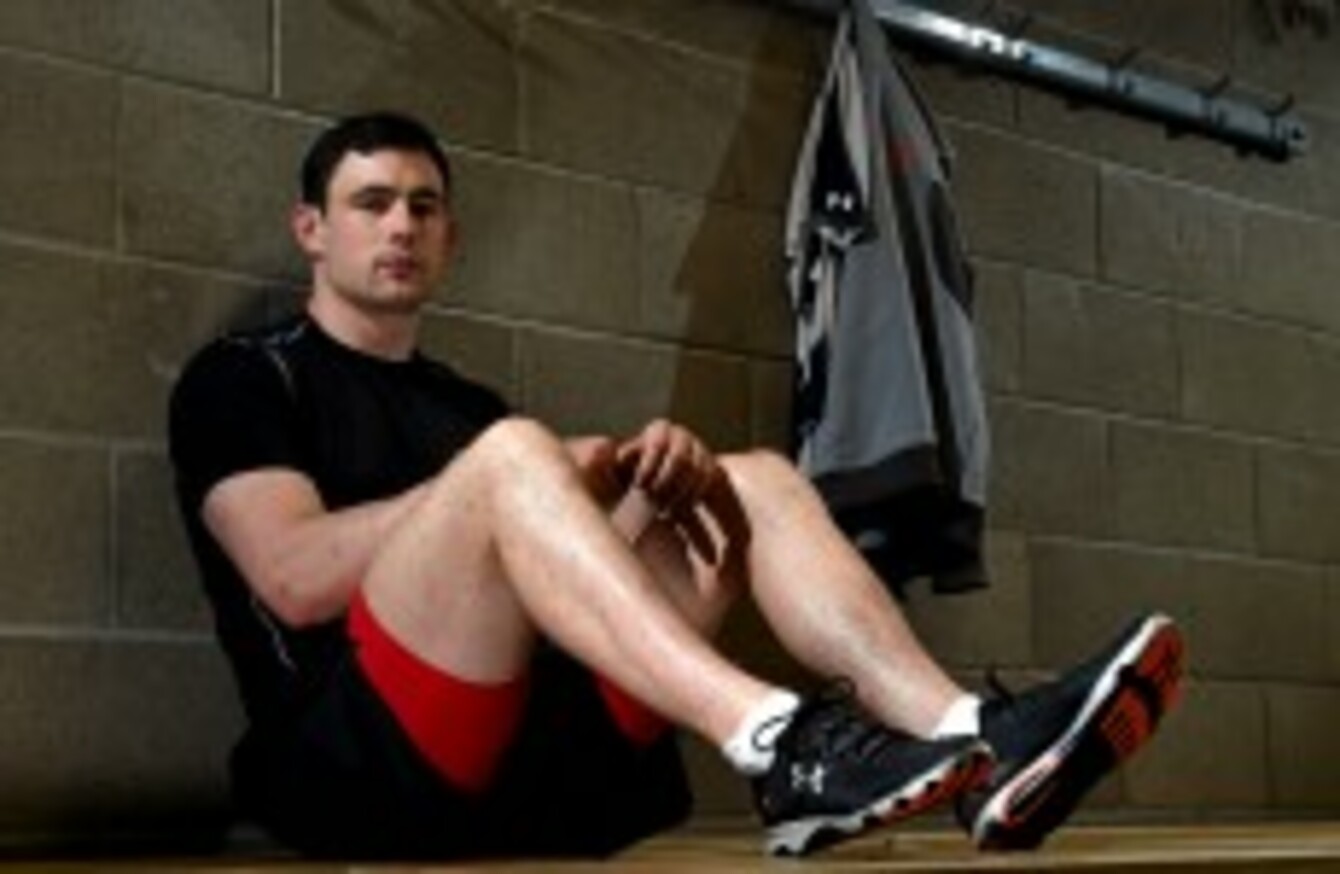 Felix Jones.
Image: Diarmuid Greene/SPORTSFILE
Felix Jones.
Image: Diarmuid Greene/SPORTSFILE
RUGBY IS A constantly evolving game, with different areas of the sport fluctuating in importance from season to season.
Right now, the back three [the fullback and two wings] are vital to every team in the professional sphere, and not just because of their ability to score tries.
The demands on fullbacks and wings have rapidly increased at the highest level. No longer is it enough to have searing pace and dazzling footwork; back three players cannot simply wait for the ball in wide channels and finish chances when they come their way.
Chasing kicks with determination, work rate and a leap off the ground are essential parts of a back three player's repertoire, as Munster fullback Felix Jones highlights.
"In a general sense, it's becoming such a massive part of the game, kick chase. If you look at Leinster's game and Ulster's game – two of the top teams in Europe – they really base a lot of their game around their kick chase and presenting unbelievable pressure on the receiver so that there's very little opportunity to counter-attack off it.
"You look at Ireland during the Six Nations and there was a huge focus on it. You need to be able to go up into the air, and then to present a very strong line with massive integrity and very few dog legs and very few holes.
"I think that's something that a lot of teams are doing and obviously something that we  [Munster] try to do as well."
Kicking strategies are a large part of many team's weekly and seasonal preparations, helping each player to fully understand their role when the ball has been kicked. Jones outlines that in this sense, the chase is not merely about the back three.
"I think most teams, when they're exiting that red zone inside their half, they have certain 'go-to' plays, whether that's box kicks or moving it to the edge and then kicking it. They're not just moving it to the edge and booting it.
"Guys are ready [to chase] and players on the inside have a clear understanding of where they need to get to. They have an assembly point, they know which guys need to be inside and outside. It probably doesn't look it straight off, but there's a lot of detail even in just kicking the ball.
If you kick poorly, you can often be punished, especially when play breaks up and you're kicking back. Generally speaking, if a team makes an error in the air or a team can win the ball in the air, it often results in points.
"That's a massive part of the game and the aerial battles are so important."
Despite that concentration on smothering kick chases, there clearly still remain opportunities for the fullback and wings to counter-attack. Jones himself did that on several occasions against Treviso last weekend, beating five defenders in total.
The 26-year-old reveals that Munster had analysed a weakness in the Italians' kicking game, whereby they kick loosely when "straightened up" and then follow those wayward punts with a "fragmented" chase.
The opportunities flagged by the performance analysis staff [led by the talented George Murray] appeared at Thomond Park, and Munster made gains in that area. One particular counter by Jones sticks in the memory, whereby he ran between two forwards to break the line, even if the outcome was unsuccessful.
Before going on to underline the importance other players have in creating a linebreak for a counter-attacking fullback, Jones agrees that searching for 'fatties' to run at is usually a smart initial ploy.
"That's the idea! In an ideal scenario, that's the idea. But there's a huge amount – and Joe Schmidt is great at emphasising this – of responsibility on the guys around you. As you're taking the ball, your eyes are on the ball and it's hard for you to be looking ahead.
"It's down to the guys that are behind you [usually the wings], if possible, to try and direct you and tell you where to go. On top of that, you need a massive work-rate from the guys in front of you.
The guys who were in the defensive line can get back and try and create a little bit of traffic in front of and around the catching player, or maybe cause a little bit of indecision [as Paddy Butler and Dave Foley both do in the video above, taking their retreating runs into the paths of chasing players].
"For example, if I'm getting the ball in the air, and I can get the two centres working all the way back outside me, just their presence outside me will take the heat off, because the defensive line that's coming on to me will have to respect their presence outside."
*The video below provides an illustration of Jones' last point. After Brice Dulin launches his garryowen, keep a close eye on New Zealand's Ben Smith [13] and Kieran Read [8, but acting as a centre in this instance].
That pair work their way from midfield all the way back to the very outside left of the catching Israel Dagg, while Dan Carter [10] and Charles Piutau [11] also work into position on the fullback's more immediate left.
The end result is that France must 'respect' those outside presences and cannot flood onto Dagg as he attempts to make his catch, thus allowing him the time to cleanly win the ball and then launch the counter-attack.*
The reliance on teammates to create favourable situations is not restricted merely to counter-attacking for the modern back three player. Much of a fullback or wing's most important defensive work is done away off the ball, in positioning themselves ideally to cover the opposition's kicking game.
Jones underlines that good positioning is not a defined notion, but rather a facet of the game that can alter in a split-second out on the pitch. For himself and his wings, creating as advantageous a situation for themselves as possible is the objective.
"There's lots of things that the winger has to consider. If they're sitting back deep, they're obviously going to be showing space up in the front line on the edge of the defence, and then that would force them to have to close up quickly [if the opposition move the ball wide through the hands].
Coming in at high speed on the edge against a winger with good footwork is difficult to do. But when you're in the backfield, you're almost playing a game with the 10. You're showing him a bit of space and kind of hoping he'll play to it and then you close it off.
"If you've done your video analysis you might be able to spot their trends and almost put out fires before they even start. But there is an element of wingers and 15s showing the space and then closing if off, or encouraging the out-half to go somewhere you want him to. You're presenting pictures you want him to see.
"Say, for example, there's a scrum and he looks up and goes 'Right, there's space on the edge' and then literally as he's getting the ball, the picture has changed. There's quite a few different things going on."
Jones admits that some out-halves are better than others at ignoring the pictures the defensive back three are attempting to paint, none more so than the retired Ronan O'Gara.
"Luckily for me, I had lots of times where I was in the same team as ROG. But the times where I was training against him, I always found it really difficult because of ROG's style of kick.
"He had a low spiral and he could put it in either direction and ping it into the corner. I always found him quite difficult to read and that was a true mark of a guy who had that particular skill mastered."
That Jones should mention training against O'Gara is of real relevance to this particular topic. How does a team get better at covering space in the backfield? How does a back three really learn and improve at the art of painting those favourable pictures?
"That's where a lot of credit has to go to the guys that are outside of the 23 for a game day. During the week, how good they are will often determine how good the training reps are and how good we get in D [defence].
That's where some of the good teams have depth in the squad and they can have quality players running in the bibs, or whatever you want to call it. A quality 10, and other quality players who can spot if guys have missed the jump on something.
"I think that's something that makes a massive difference and I don't think they get the same credit that they deserve. Because a lot of the time during the week, if the bibs are pushing the first team, that really stands to them at the weekend."
What are they
really like?
Rare insights on sport's biggest names from the writers who know them best. Listen to Behind the Lines podcast.
Become a Member
Again, the message is one of dependence on teammates to improve. The starting back three can only get better by the fringe players truly testing them in training. But even with the most individual of skills, Jones is keen to stress the importance of others.
The former Seapoint RFC man is a superb one-on-one tackler, possessing a rare ability to power into hits without greatly reducing his running speed. Is that skill a result of pure mental commitment or constant training of his pre-tackle footwork?
"It's probably a bit of both. It's something that I've always had in my game, so that's why I continue to do it. It's an aspect of my game that I'm confident about. Look, it doesn't always work and any winger or fullback will tell you that they don't get it right 100% of the time, no one does.
"Although I might have got there to make the hit, or a winger might get the credit for making a tackle on the edge, a lot of it is to do with the work done on the inside or having the security behind me to do that.
So my blind winger comes across and says 'You're good to go' or my winger can be confident because I'm in his ear saying 'You're good, you can go for this.' He can make that tackle in the full knowledge that if he misses it, there's somebody covering. Of course, the guys on the inside being able to shift if you're wedging are important too."
Despite the co-dependence and teamwork involved, fullback is possibly the position in which players are faced with the most frequent one-on-one tackles that prevent tries. The front-line defence does get broken occasionally or the opposition bursts clear on the counter attack.
Many fullbacks struggle in this area of the game, simply because one-on-one tackles in an open area of the pitch are extremely difficult to pull off. Jones walks us through his own mental process in those situations.
"Depending on where it is on the pitch, you're generally quite a distance away from the attacker. You'd be buying time and hoping that one of the inside defenders or a scrum-half maybe – because he's often in that bobby position for most teams – that they're going to cover across and kill it [as below, with Conor Murray halting Votu and Jones making the next tackle].
"But if it's danger and there's the threat of a score, the carrier needs to be chopped down as quickly as possible, giving that attacker the least amount of time to make a decision. So one, make a decision and two, you need a support player to get on him.
"It definitely depends on situation to situation and it's tough to articulate it, because at the time your thinking is literally one second or less. Training kind of takes over in that situation and you just go with what suits it.
I think it varies situation to situation, but generally speaking, I'd be of the opinion to shut it down and give it the least amount of time and take that space away from him if possible."
Another aspect of the game a fullback must consider is their own kicking game, for those occasions when there is no support for counter-attacking or as part of a pre-defined kicking strategy.
Jones says he is consistent in his practice of kicking the ball, as are most professional backs. Like every other skill in his collection as a 15, there can never be total satisfaction.
"It's an area that we continually work on. If you are around at the end of training, I guarantee that you'll see most 10s and centres kicking the ball and a lot of the back three guys retrieving the balls and putting the ball back up, a lot of those types of kicks.
"For me personally, it's an area that I'll be continuously working on. Everyone has work-ons right up until the end of their career. You look at ROG or Dougie [Howlett]; those guys were working as hard in their final years as I would imagine they were at the beginning of their careers.
"It's a continuous work in progress."
Under Armour ambassador Felix Jones has announced the launch of Under Armour's new footwear innovation Speedform Apollo. Under Armour is proud to unveil its latest game-changing running shoe as part of its ongoing dedication to continually innovate and help make athletes better.  Available from Lifestyle Sports Dundrum or online at www.UnderArmour.com