THE MODERN HISTORY of Munster and that of the Heineken Cup are inextricably linked.
While Ulster were winning the competition against Colombiers in 1999, Munster had already started building the bond.
They broke ground against the eventual runners-up in that late '98 quarter-final. And through defeat, their hunger for the competition grew.
For the following decade, that became their template. Munster would set the bar high for Ireland's provinces. They strode alongside the best Europe could offer and their insistence on victory on French (and Spanish) soil made them a team beloved of rugby fans far beyond the north borders of Waterford, Tipperary and Clare.
The Bull in Bordeaux
YouTube credit: Mildy Mac
17 months after tasting defeat in France, Munster returned and began to forge the legend.
The southern province survived a yellow card to Mike Mullins and beat the darlings of France, Toulouse, by three tries to one.
John Hayes, Jason Holland and Ronan O'Gara (five of his total 21 points) each crossed the try-line with only scrum half Jerome Cazalbou able to do likewise for the designated home side in Bordeaux.
With a 25-31 win, Munster marched on towards Twickenham and Northampton.
Eddie Halvey hauls down Christian Labit.  ©INPHO/Patrick Bolger
Lille margins
If O'Gara suffered criticism for his missed kicks in the 2000 final, he had righted many wrongs in the space of a year.
However,  his five penalties in Lille were not enough to overhaul the French Champions who had Diego Dominguez and a Cliff Mytton try to thank for the 16-15 scoreline which delivered a place in the final.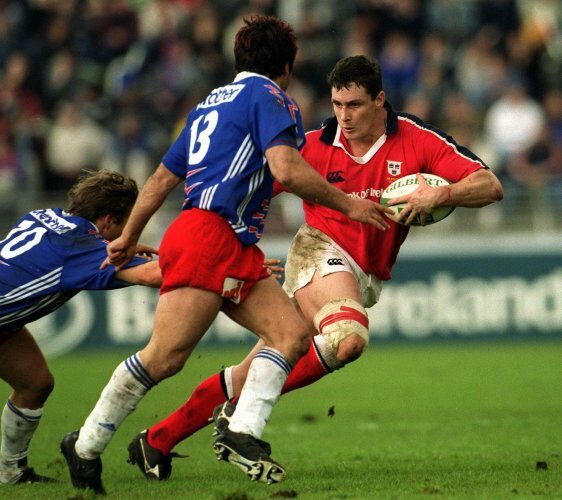 David Wallace carries the fight. ©INPHO/Billy Stickland
Making a habit of it
The mystique around playing in France was well and truly blown away by the summer of 2002. Less than a year after the national team won in Paris, Munster took their pedigree on the road and won… twice.
Having exacted revenge with a 14-16 win over Stade in the quarters, Castres stood between them and another final. Again, it was the boot of ROG which paved the way: his six penalties and conversion of a John Kelly try gave the visitors a relatively comfortable 17-25 win.
Some pup called Paul O'Connell breaks through Castres' defence. ©INPHO/Patrick Bolger
Not this time, ROG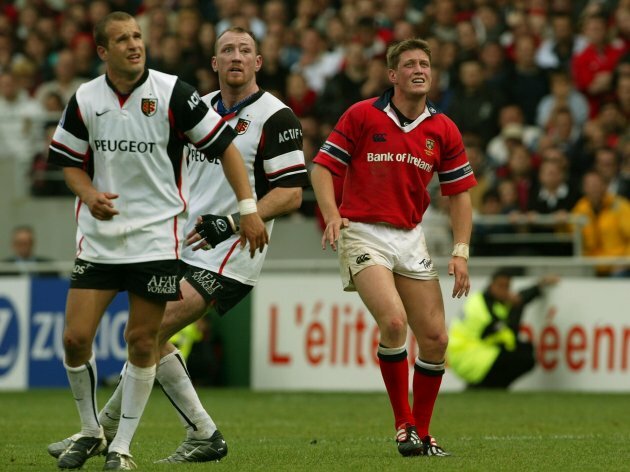 INPHO/Billy Stickland
Toulouse 13, Munster 12. Even closer than the scoreline suggests.
Little over a month after snatching victory with a late drop-goal against Wales, O'Gara's late attempt at the Stade Municipal drifted agonisingly wide and ensured Trevor Brennan would be the only meaningful Irish presence at the Dublin final.
As Munster struggled to create genuine openings, O'Gara once again provided all the points. His two drop-goals and two penalties were washed away into history by a 75th minute try from Freddy Michalak and a conversion by substitute Jean-Baptiste Ellisalde.
A Basque beating
Playing in France is one thing, but crossing the official border into Spain makes Biarritz a much more ferocious animal.
Five years after suffering in San Sebastian, Munster were back for more. Though this time, they took the confidence of two Heineken Cups with them, the intense atmosphere smothered them again.
©INPHO/James Crombie
Keith Earls' clinical try 12 minutes before the break gave the visitors a 7-3 lead at half time, but the final 40 were all about Dimitri Yachvili.
The scrum-half landed all six of his penalties as the Basque club bullied Munster out on a scoreline of 18-7.