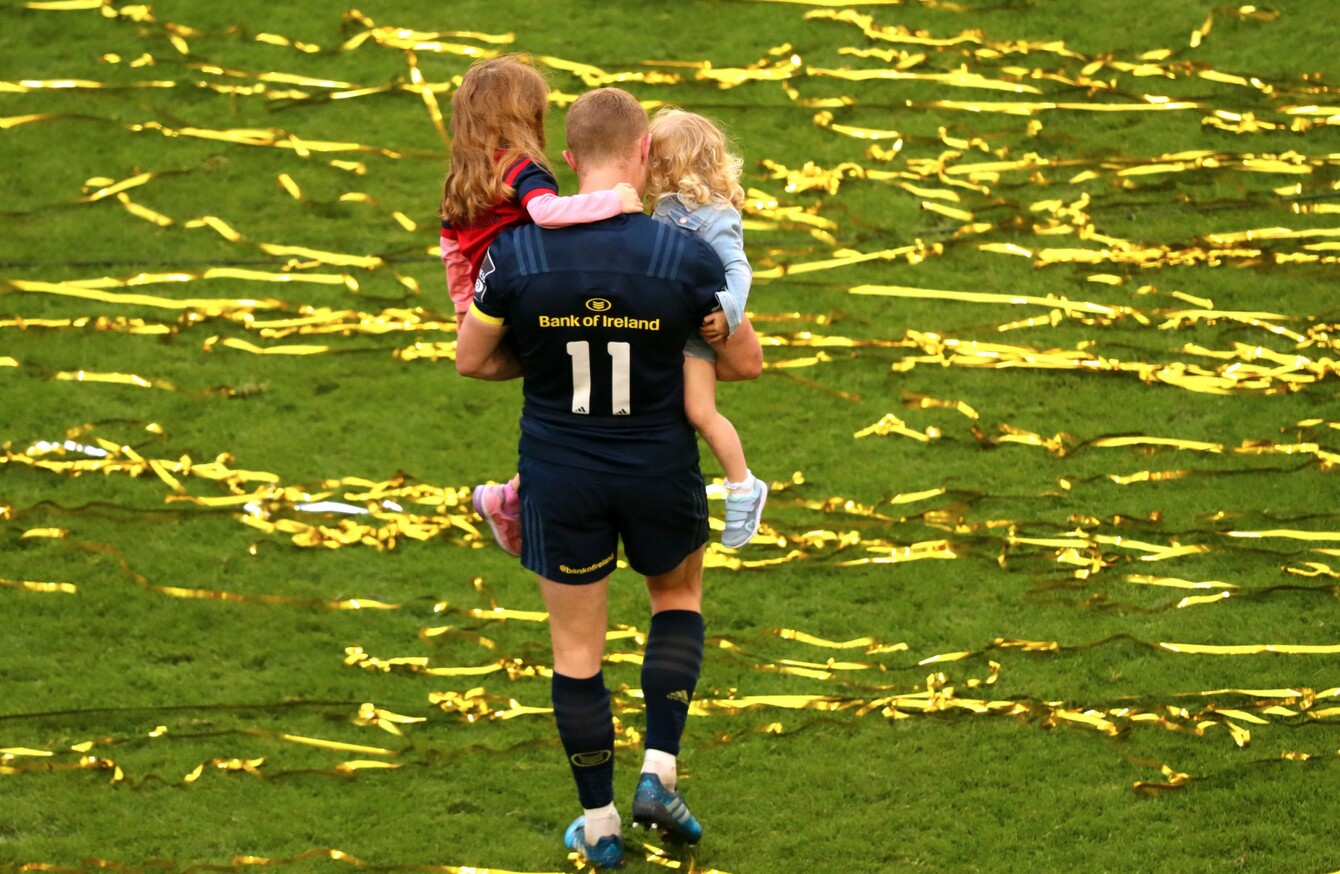 Keith Earls and his daughters Ella May and Laurie after the game.
Image: James Crombie/INPHO
Keith Earls and his daughters Ella May and Laurie after the game.
Image: James Crombie/INPHO
THE MUNSTER PLAYERS who made their way out to the astroturfed-room within the Aviva Stadium looked well beyond the shell-shocked state you would expect after a final defeat.
Though they believed victory was possible through half-time after forcing the deficit back to 10 – 29, a part of them must have known the day was already lost.
Early last week, we floated the idea that the 2015 final to Glasgow Warriors might provide some cautionary tale or fuel for Munster. Such is their squad turnover though, there were few players who were involved in both finals. No reason to fear. But post-match on Saturday, it was a reference point the senior decision-makers couldn't help but touch on as they began to accept the outcome.
"We leaked a lot of tries. They attacked us, it was the same as Glasgow a couple of years ago," said Simon Zebo.
They attacked us from the get-go, we didn't. We didn't have the balls to do it, fair play to them they did and they won. Deserved winners."
There's no arguing with that. Scarlets claimed the trophy with six tries against the tournament's best defence. A week earlier, they needed just 14 men to inflict Leinster with their first RDS Pro12 defeat in over two years. Since losing their opening three matches of the season, they have tasted defeat just twice in the tournament. And yet Munster appeared surprised and rattled early and often.
Until Liam Williams' first-half try, it had been an incredible season on the field for the southern province and there must be plenty of solace to be taken from the strides they have taken since finishing sixth last year.
"I've been told to say yes," says Billy Holland with a wince, "but right now? No."
"For me, look, in a couple of weeks when we come back to pre-season, we'll see where we've gotten to over the season and there has been a huge amount of progress made.
"But at the end of the day I've another silver medal in my back pocket, which is not what I want."
Munster have this painful memory, coupled with their inability to break down Saracens, to take through the off-season. When they come back, Holland expects Rassie Erasmus to build a more expansive gameplan on top of core fundamentals which had been solid up until Scarlets went at them with a flamethrower.
"I wouldn't say it was a step too far. We need to evolve, we will evolve, we've only been at this… this is week 49. So we will evolve over the summer, we will evolve next season."
It's not necessarily a question of personnel, Munster have players who are undoubtedly capable of playing the same style of flair game that has delivered the Pro12 to Glasgow Warriors, Connacht and Scarlets in successive years — all when faced with an Irish province over-committed to structure.
"It's probably a mind-set," says Zebo after accepting that he was among those who were let down by their skills on the day, "Rassie knows it, we are capable of throwing the ball around as well.
"Decision-making is a big part of it as well, ability to execute on the big day and trust. Big game players will develop into our squad now, they're not there at the moment now across the board. But I'm sure we will get that in the next year or two."
"When we have a more dominant field position, when we can strike a tiny bit wider, we can have more balls to call the big plays. Because you can't win semi-finals, finals by playing within ourselves. That's what we've done to get here. But it's been a learning curve and hopefully we will be better next year."
Talk of 'learnings' may ring hollow for many disappointed supporters in the wake of a final hurdle collapse like Munster's. But cliche's become common for a reason. Lessons and the prospect of putting them to use in future are what players must to cling to in times of crushing disappointment.
"It looked liked they were way better than us tonight when that isn't the case. The occasion got to us. But a few young players will learn a lot from this experience, I will learn, Earlsy will learn, Donnacha Ryan will learn!
"Hopefully, it will push us on to be better next year."
The42 is on Instagram! Tap the button below on your phone to follow us!