WHILE MUNSTER'S COACHES and players have taken the brunt of the criticism over the province's miserable run of form that culminated in the depressing defeat to Stade Français last weekend, questions have also been asked of the organisation itself.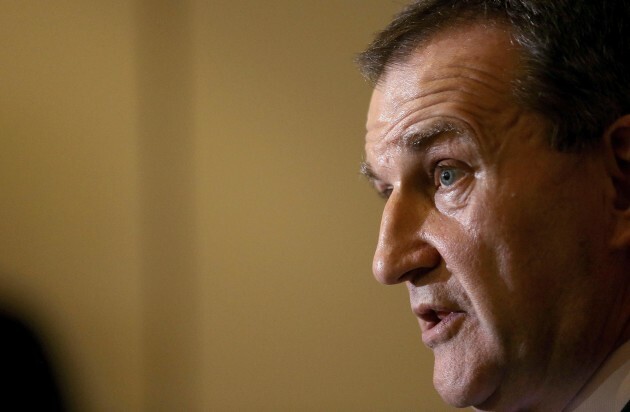 Donall Farmer / INPHO Munster CEO Garrett Fitzgerald spoke to the media today. Donall Farmer / INPHO / INPHO
Speaking on Sky Sports after Saturday's loss in Paris, former Munster back row Alan Quinlan stated his belief that the province must undergo a root-and-branch review.
"I think this whole organisation needs to be dissected now and they need to look at the structure from the top to the bottom – including everyone – to figure out what's gone wrong," said Quinlan.
Quinlan's comments struck a chord with many of the province's supporters, with the growing consensus being that Munster have been mismanaged off the pitch as well as on it.
With Garrett Fitzgerald meeting the media this afternoon following the appointment of Andy Farrell as a temporary consultant, there was an opportunity for the Munster CEO to react to Quinlan's suggestion.
"I've been involved, before I ever got involved in rugby, in business and different things like that. Every organisation needs constant reviewing," said Fitzgerald, who worked in banking for 15 years before joining Munster.
"There's lots of organisations in this country that don't like the word 'change'. We have certainly been through lots of changes over the last number of years. There is a recommended structure from the IRFU in each of the four provinces that probably replicates what they do at national level.
We've complied with all of that. We've been proactive over the years in promoting change. We've had at least two to three separate consultants in different areas of the organisation going back along with academy, domestic game, with everything else.
"We took part in Plan Ireland, the IRFU review of the professional game in Ireland. There's ongoing reviews and we certainly will look at ourselves and always do. It isn't as if we haven't changed and I think an organisation that doesn't change isn't going to work any more. I have no issue with change and review."
Whatever about Fitzgerald's insistence that review has been a constant part of Munster's modus operandi since he joined in 1999, the arguments that the province didn't engage in forward planning during their era of Heineken Cup success will persist.
With attendances dwindling at Thomond Park and the province seemingly struggling to attract a consistently high-quality of signing from overseas, the feeling is that Munster is a fading organisation.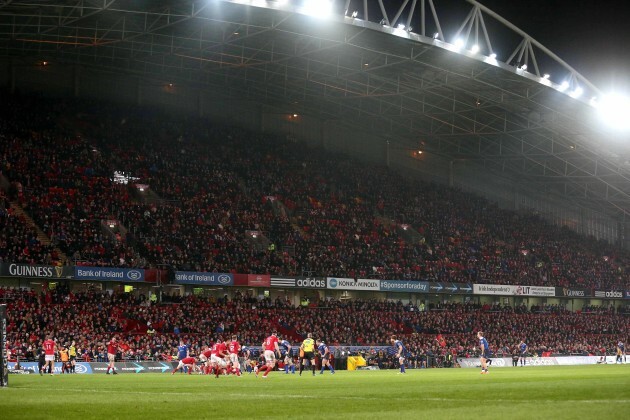 Billy Stickland / INPHO Attendances at Thomond Park have been cause for concern. Billy Stickland / INPHO / INPHO
Fitzgerald, however, doesn't totally agree that more could have been done during the glory years to safeguard for the current struggles.
"If you look at what Munster did over the good years, we developed a stadium that cost €39million that has only €9m owed on it after about 10 years," said Fitzgerald. "Lots of people would like to be in that position.
"Part of the long-term payment on that is the renewal of season tickets in two years' time. Would we prefer to have more of the debt paid off? Yes, but as regards to a scaling of a debt over a 10-year period, to only owe €9m on €39m, that's an unbelievable position to be in and we have to thank everyone that helped us with that.
"It does put a drain on cash-flow, and the IRFU have helped us in that situation to make sure that we're able to do some of the things I've been asked about [recruitment].
"We have put in two new pitches at Thomond, we have put in a new facility in Irish Independent Park in Cork, we are in the process of building a new training centre. We have constantly invested in the game, which you have to do.
"The business we operate in is very difficult to plan for. You plan as much as you can. When we won our first Heineken Cup, I don't think some people in the room even knew who Toulon were. They were in Pro D2 at the time, I think.
"It's a completely new market, it's a completely new television-funded market that is now at nearly €75m in France. I think it's up to £40m sterling in the Aviva Premiership. I think we're at about €12m for the Pro12. It's a completely new market that's ever changing and you throw in private investment with that.
"I think no matter how much you do and how much you plan, it's such a changeable feast, it's very hard to keep with it. The difference in funding is television and private investment. There are plenty of players in Ireland on competitive international market rates that are happy to stay here, but it's competitive and I think we've done really well.
"We've invested in the game, but at the present moment it's a challenge and it has been for a lot of other businesses. The IRFU have been really supportive and helped us, they've helped other provinces too and will continue to do so."
The current travails of Munster on the pitch are alarming to those on the outside, with the defeat to Stade Français ranking as one of the worst ever European performances from the province.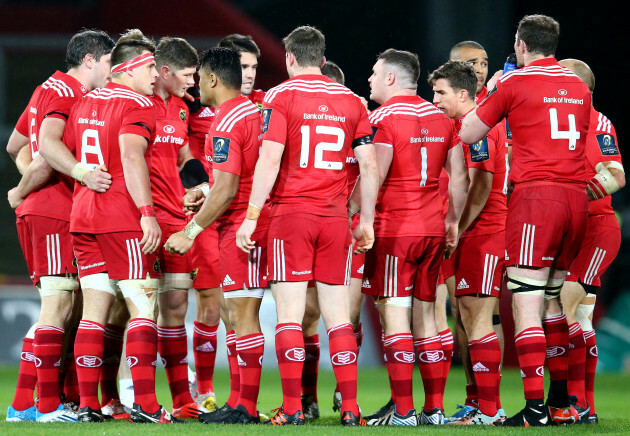 Cathal Noonan / INPHO Fitzgerald feels Munster are struggling after a loss of experience. Cathal Noonan / INPHO / INPHO
In that regard, Fitzgerald commented that the defeat to Saracens last year had also been suggested as Munster's worst in Europe, and that neither result is "what you'd want it to be."
Surely that situation – where two of Munster's worst ever days in Europe have come in consecutive seasons – is cause for deep concern?
"The situation is, if you look at the age profile of rugby teams that are winning rugby competitions today, you look at fellas that play at World Cup level, like Brad Thorn with Leinster [in 2012]," said Fitzgerald.
"The profile of our team at the moment, I think we lack experience in some areas. We have a lot of young players and people coming through the system. We have players who are new to Europe and new playing in France last weekend. I'm certainly not happy with the situation we're in rugby-wise, I'd prefer to be in a much stronger position.
"But the reality of it is that we've lost a huge amount over the last number of years and we've struggled to replace them in experience, rather than in bodies. And the opposition is certainly getting stronger. The performance against Saracens and the the last day are not what you want.
"In this business, you can't hide from it. You've got to get out and work on it the following day. We've reviewed it and we've got to make sure it doesn't happen again in the future."